You have /5 articles left.
Sign up for a free account or log in.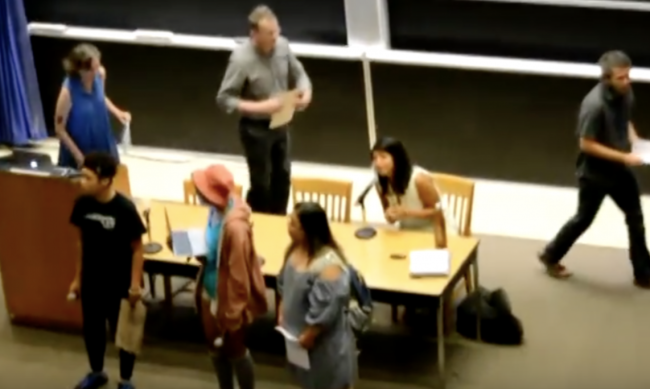 Reed College announced major changes to its signature humanities course Wednesday, months after student protesters charged that the course was too white, too male and too Eurocentric.
Instead of focusing on the ancient Mediterranean, the team-taught course -- which all first-year students take together, at the same time -- will now consist of four different time- and place-based "modules."
Students will still study the humanistic traditions of the ancient Mediterranean and Athens in the first part of the course. But in the second half, students will engage with history and texts related to Mexico City in the 15th through 20th centuries, and Harlem from 1919 to 1952.
The changes to Hum 110, as the course is known, take effect next academic year.
Like many institutions, Reed has faced student demands that it make its curriculum more inclusive of people of color and non-Western traditions. But those demands took a distinctly Reed-like turn when a group of students staged a months-long sit-in of Hum 110 lectures, through the fall.
The protesters, associated with a group called Reedies Against Racism, reached a kind of agreement with the Hum 110 faculty that they could be present as long as they didn't disrupt class. It worked for a while, but things came to a head at the beginning of last semester, when some protesters insisted on using lecture time to introduce themselves to incoming first-year students.
The dispute resulted in a canceled lecture and soul-searching for Reed, which prides itself on its flat organizational structure and dialogue-based approach to conflict resolution.
Change was already under way, however, as the faculty had previously committed to beginning Hum 110's decennial review one year early. The new format announced Wednesday, recently approved by the program's faculty, marks the end of that review.
Members of Reedies Against Racism have previously said that they targeted Hum 110 for criticism, in particular, because it is required of all students -- meaning it not only grounds their future studies but also communicates what matters at Reed. They've also said the course ignores how some of the works studied have been used over time to perpetuate violence against people of color.
Meanwhile, defenders of Hum 110 -- which currently begins with the Epic of Gilgamesh and ends with the Bible and Apuleius' The Golden Ass -- have argued that critics err in transposing modern notions of race into the course, or even misunderstand it altogether.
"The idea that Hum 110 is a 'white' course is very strange to me," Jay Dickson, a professor of English, recently told Reed Magazine. "It presupposes that our contemporary racial categories are timeless."
Lucía Martínez Valdivia, an assistant professor of English and humanities who was to deliver the canceled Hum 110 lecture at the beginning of the year, had planned to tell students that the course is technically called Introduction to Humanities: Ancient Greece and the Mediterranean, not Western Humanities, "in part because much of it is drawn from geographic areas not traditionally considered Western areas," such as Iraq, Iran and Egypt.
In a version of the canceled lecture that has since been shared online, Martínez Valdivia said it's hard to even define "Western," and that the concept is challenged throughout the course.
Elizabeth Drumm, the John and Elizabeth Yeon Professor of Spanish and Humanities at Reed, oversaw the more than 30-meeting review process as Hum 110 program chair. She and colleagues surveyed students, alumni and faculty members and were pleased to learn that they were committed to the idea of a unified, year-long course -- even though it would have been easier in many ways to abandon the format and let all 25 instructors teach individual sections however they saw fit, she said.
Based on that feedback, professors kept talking to each other, alumni and students -- including those critical of the course -- about how it could be improved upon. Eventually, Drumm said, they agreed on the module format, which will make it easier to address essential humanistic questions through the history and literature of varied times, places and peoples.
Drumm said she discovered during the review process just how much the course has changed over time already, such as when it added content from Egypt. The changes announced Wednesday are significant but yet another chapter for the course, she said, and the new module format will make updating it easier going forward.
"We are not saying that the ancient Mediterranean is not important," Drumm said, asked how she might answer those humanists who believe that Western civilization-style courses deserve a permanent place in liberal arts curricula. "We just recognize that there are other questions we can ask that are vibrant and important to humanities, as well."
Kevin Myers, college spokesperson, said there have been no Hum 110 sit-ins since the fall.
Nigel Nicholson, dean of the faculty and Walter Mintz Professor of Classics, Greek and Latin Literature at Reed, said there are many similarities between the current and new Hum 110 class, but that the latter could be even more "successful."
"What we're trying to do with the material was not pedagogically effective for a lot of students," he said. "The [new] class will still be tremendously demanding, as it was before. We're maintaining a lot of what we have but exploring some new areas to create some new intellectual dynamics."
Nicholson added, "I'd invite people who think we're watering down this course to come visit and see the class for themselves."
Reedies Against Racism responded to the Hum 110 revision in a Facebook post late Wednesday, saying that the college's announcement failed to sufficiently recognize the role of students and faculty members of color and their allies in forcing change. The group also expressed concern that some of the more diverse texts currently offered in the course — specifically those relating to the Middle East and North Africa — would be cut to make room for the Mexico City and Harlem modules. 
"Reed freshmen will still receive the message that learning about white culture is more urgent and foundational to a college education," the post reads, asking faculty members to look beyond Athens and Rome, specifically to Jerusalem and Cairo, in the first half of the course. 
"In short, we're calling for the Humanities 110 faculty to pick different cities from the old syllabus for the first two semesters," the post says. "We feel that these cities should be outside of Europe, as reparations for Humanities 110's history of erasing the histories of people of color, especially black people."