You have /5 articles left.
Sign up for a free account or log in.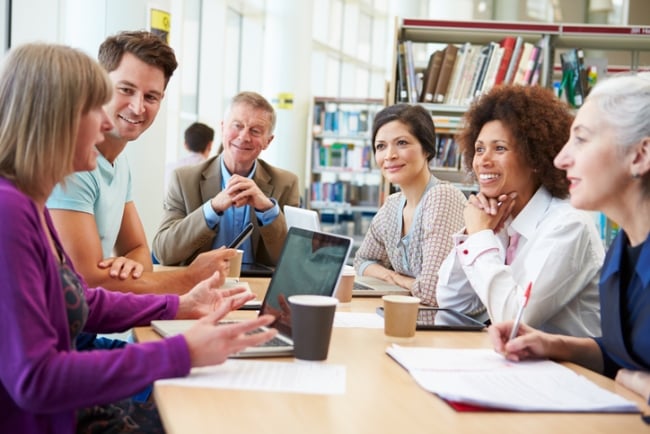 When Tennessee launched its free community college program four years ago, some questioned why recent high school graduates were the only ones to benefit.
Then last year, Bill Haslam, the state's Republican governor, announced an expansion of the widely heralded tuition-free benefit to all adult residents, in an initiative called Tennessee Reconnect.
Higher education officials in Tennessee expected 8,000 adults would apply for the scholarship. But as of April 18, nearly 12,000 have applied.
"Tennessee Promise changed the conversation about going to college in our state, and Tennessee Reconnect may be the next logical phase for having more Tennesseans with a college degree," said Mike Krause, executive director of the Tennessee Higher Education Commission.
Tennessee isn't alone in trying to eliminate tuition for adult students.
The State Higher Education Executive Officers Association, with nearly $4 million in grants from the Lumina Foundation, is helping five states -- Indiana, Maine, Minnesota, Oklahoma and Washington -- develop pilot Promise programs aimed at adult students.
"At the time the grant was first given to us to use, it was a crazy concept, and now it's taken off in other states," said Andy Carlson, vice president of finance policy and member services at SHEEO.
As states and policy makers have started to examine their degree-attainment goals -- and the difficult paths to reaching them -- providing tuition scholarships for adults has become a less crazy idea, he said.
"There was a disconnect between what states needed to do to hit attainment goals and the popularity among lawmakers creating Promise programs for traditional students," Carlson said. "Policy makers and states are starting to get this: if they are going to have the work force they need for the economy they desire, they're going to have to increase postsecondary degree attainment for some-college, no-degree students or adults who have no college education."
Tennessee isn't just giving out scholarships to qualified adults; it's also offering resources and information to help students be successful once they're enrolled. But to figure out what these students need, the state's higher education department needed to know more about them, beyond the fact that they're older than traditional just-out-of-high-school students. So the Reconnect application included additional questions about potential students' highest level of education, time elapsed since they attended school, if they have internet access at home, whether they have children or reliable transportation, and which times they would be available to attend classes.
"The primary reason we're asking these question of the applicant is that we've also asked for an inventory along those lines of our institutions so we know what is offered at the Tennessee Reconnect community college," said Jessica Gibson, assistant executive director for adult learner initiatives for the commission.
The program then maps those needs for each individual applicant onto a map connecting them to the available resources at the college they are applying to attend, she said.
"If they're a veteran, we give them information for a veteran center on campus," said Gibson. "If they have dependents and the college offers childcare or dollars for childcare, it's all presented right there up front."
So far, the state has learned that, of the adults who applied from February to mid-April, 57 percent will work full-time while attending classes, while 26 percent will work part-time and 4 percent will hold multiple jobs.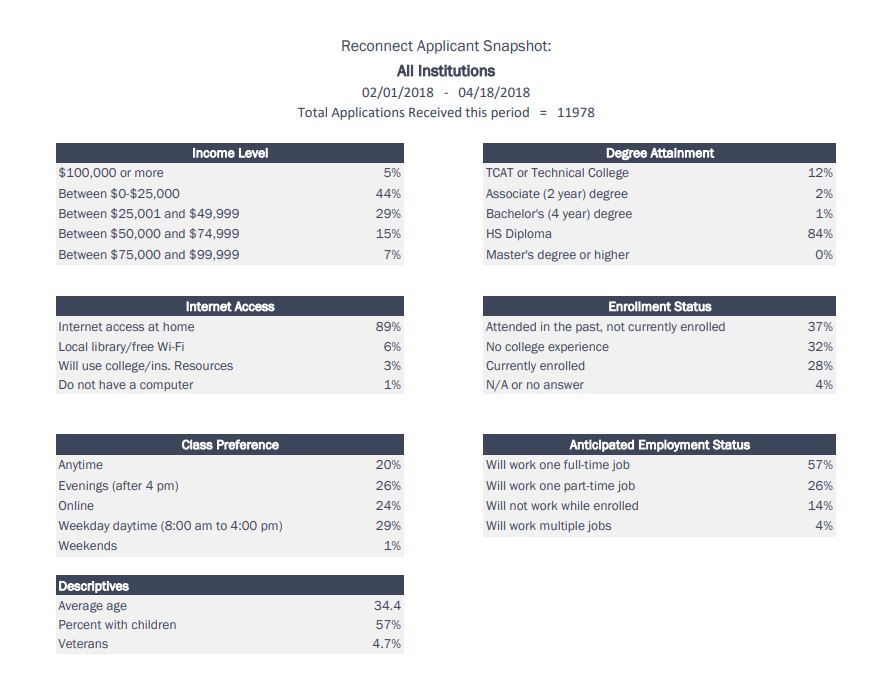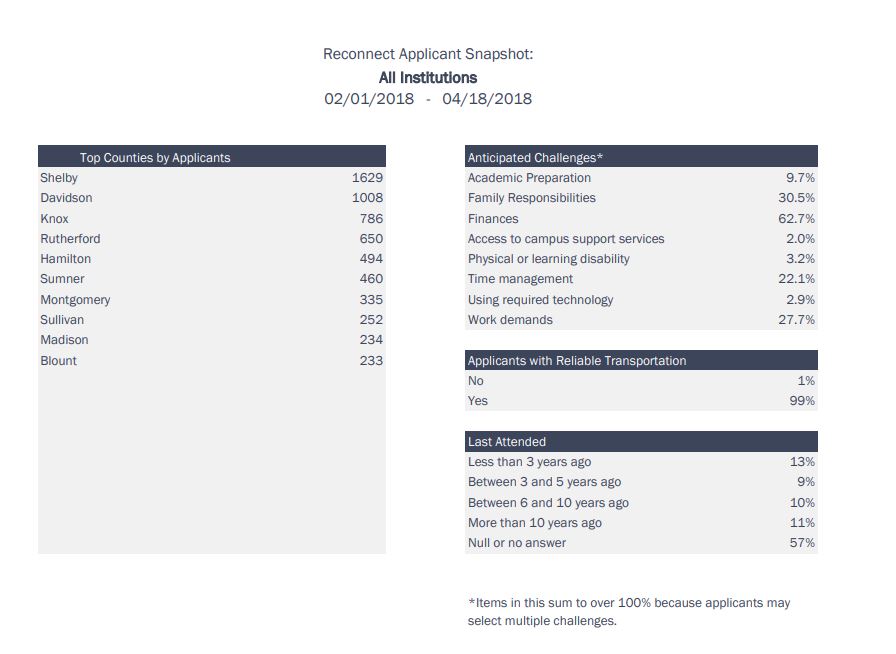 The system said 44 percent of applicants earn up to $25,000 a year, while 29 percent earn between $25,001 and $49,999. Thirty-two percent of applicants have no college experience. The majority of applicants reported having reliable transportation, while 62.5 percent said they anticipated that finances would be their No. 1 barrier to attending college.
"This belief that Americans aren't seeing the value of college just isn't true," Krause said. "Many Americans understand that a postsecondary credential is the path to higher wages. The numbers show that Tennesseans understand the way to have a high-skill job that is durable through a recession is by having a postsecondary credential … and it might not be a bachelor's degree. It might be a short-term technical degree."
Gibson said she and other Tennessee officials expect the questionnaire to change over time.
Colleges were asked whether popular offices that oversee financial aid, veterans' services and student support were open on weekends or past 5 p.m. on weekdays. They also were asked about food pantries on campus, available childcare or adult-specific orientation.
"We had a lot of reaction to the questions," Gibson said, adding that institutions left blank their responses to questions they couldn't answer. "If they didn't fill out the particular piece, it doesn't mean they're not working on it, and when it exists we'll let students know."
Some institutions are creating summer boot camps in writing and math for adult students, she said, or adding virtual advising and nontraditional hours -- initiatives the questionnaire didn't suggest -- before the first group of Reconnect students enrolls this fall.
Southwest Tennessee Community College in Memphis is designing accelerated courses in business and computer information around adult students.
"We do have to set it up for students to complete, and having a creative schedule for students is going to help," said Chris Ezell, vice president of academic affairs at the college. "We need to design our courses around students who are parents and need to get their children to school and come in to classes themselves. We need a consistent number of offerings in the evenings, so students can start a program or finish a program rather than take time off from work."
Ezell said the college is ready and has the capacity to handle the more than 1,600 adult applicants from Shelby County, where the college is located. Southwest Tennessee will be the only college in the state this fall with a new funeral services program, which the college is expecting to be popular with older students, and officials also are expanding programs in allied health, business and career and technical education that are popular with adult learners.
"We think this will be key for economic development as we work toward having a well-prepared work force," Ezell said. "Tennessee Reconnect can provide a ready work force for businesses and industries looking to expand and locate in Shelby County."
Some of the colleges also are working on faculty development that focuses on adult students, Gibson said.
"We need to think about the role of faculty and how important that role is, because the adult learner's main connection to that campus is in the classroom, and that's where they gain a sense of whether or not they're college material," she said. "If their experiences from outside the classroom are valued in the classroom, they tend to participate more. And the more they participate in their learning, the more they will stick with it."
The program provides an additional layer of support with its Tennessee Reconnect Community Navigators. The state pays local people who are "institution neutral" to serve as navigators by working with adults from the moment they think about going to college until they graduate.
"What these navigators become varies based on the needs of the adult learner," Gibson said. "Some adults need higher-touch support, and they provide that. Some adults don't … but part of the navigation process and the support that is provided is emotional and psychological, in a lot of these cases. So, when those adults are thinking, 'This is too much and I can't do it,' those navigators encourage them to reach out."
Adult learners who don't apply for the Reconnect scholarship still will benefit from adult-focused services, she said, including navigators, resource maps and additional initiatives the colleges provide for Reconnect students.