You have /5 articles left.
Sign up for a free account or log in.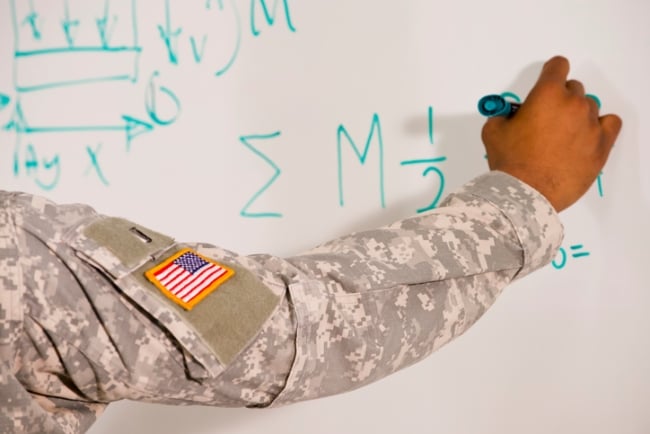 As Republican leaders look for support within their caucus to pass an ambitious higher education bill, their efforts are being complicated by opposition from an institution President Donald Trump said would be a key focus of his administration -- the Department of Defense. 
The U.S. Department of Defense issued a document earlier this year stating opposition to the PROSPER Act, House Republicans' plan to overhaul the Higher Education Act, over the bill's plan to eliminate the Public Service Loan Forgiveness program, an unusual if not unprecedented move.
The document began circulating publicly recently thanks to veterans' organizations that hope to block the bill. The Pentagon's position could not only make it more difficult for the GOP to win votes for PROSPER -- it also suggests an uphill battle over the long term for proponents of eliminating PSLF, a priority for many Republican lawmakers.
"I think this is going to be a serious roadblock," said Will Hubbard, vice president of government affairs at Student Veterans of America, an organization that opposes the legislation in part because it would eliminate the loan forgiveness.
But a significant number of congressional Republicans still support ending the program. And the DOD document isn't in line with the Trump administration's official position -- in two consecutive budget proposals, the White House has called for eliminating PSLF.
Public Service Loan Forgiveness, which was created with bipartisan support in 2007, promises that student loan borrowers who work for employers in the public or nonprofit sector and make 120 qualifying monthly payments will have the remainder of their federal loan balance discharged. It potentially makes the armed forces, as well as other public employers, attractive to younger workers who might not consider that option otherwise, the Defense Department argues.
The first group of applicants became eligible for the benefit only this year, and just a handful are expected to qualify initially. Some conservatives argue that increasing cost projections for the program over the long term are cause for limiting the benefit.
But the Pentagon, and many veterans' organizations, have argued that PSLF is a key recruiting and retention tool for the armed services and the U.S. Department of Veterans Affairs when competing against private employers. That's especially true, the document said, for specialty fields like the Judge Advocate General Corps, which requires graduate degrees.
"The absence of this program, particularly in a strong economy, makes recruitment and retention especially difficult in specialized occupations," the Defense Department document said.
As the economy improves, the Pentagon said, it will become increasingly difficult for the armed services to compete with the private sector for highly educated employees.
Laura Seal, a spokeswoman for the Defense Department, said the agency periodically provides informal input to Congress on proposed legislation.
"Sometimes this is done by request, and sometimes it is proactive," she said. "We share these views directly with representatives or their staffs. We do not make them public."
The office of Representative Virginia Foxx, the North Carolina Republican who chairs the House education committee, declined to comment on the Defense Department's position because, a committee spokesman said, the document couldn't be authenticated.
"The committee was never consulted on this paper from DOD, and question its validity because the president's position on the future of PSLF has been clear for some time," the spokesman said.
Recruiting Service Members
Foxx huddled with members of the Republican conference in a meeting on the PROSPER Act last week. The committee spokesman described the discussions as "standard procedure for any major bill going to the floor." Foxx's office also last week posted two letters of support for the legislation -- from a coalition of community college districts and from Purdue University president Mitch Daniels -- offering praise for the bill. But no information has emerged about renewed momentum behind PROSPER.
The legislation cleared the education committee in December on a party-line vote after a marathon markup session. Since then there's been no movement to bring the bill to the floor. But numerous college groups, student representatives and veterans' organizations have spoken out against it.
Much of the opposition to the bill has focused on elimination of student benefits like PSLF.
During the markup, even some Republicans argued against eliminating the program. Representatives Glenn Thompson and Lou Barletta, both Pennsylvania Republicans, joined committee Democrats in backing an amendment to add the benefit to the legislation. That amendment failed, however, by one vote.
Barletta said in a statement that he is the father of two teachers and that student loan debt "continues to skyrocket" despite a number of repayment plans, deferment options and loan-forgiveness programs. But he said he wouldn't let the proposed elimination of the loan-forgiveness program stop him from supporting the bill.
"While the PROSPER Act is not a perfect bill, and I remain concerned with some of its provisions, such as the elimination of the Public Service Loan Forgiveness Program, which I voted to preserve, I do not believe in letting perfect be the enemy of good," he said. "American students and families are too important."
The Defense Department said that, should Congress decide to sunset PSLF, it supports language in PROSPER to grandfather in service members who anticipate loan forgiveness and to continue eligibility for loan forgiveness for loans disbursed through June 2019. But it said elimination of the program should come with funding for an alternative recruitment and retention program to offset the loss.
Hubbard said the Pentagon's position points to why lawmakers will find it difficult to move forward any proposal to kill off PSLF.
"Whether it's PROSPER or future HEA reauthorization next year, you can guarantee it's something that will be a point of concern both for the veterans' community as well as the Defense Department," he said. "There's no overcoming that."
The Pentagon's statement on the bill said about 6,800 current service members expect to receive loan forgiveness.
But because of a lack of data on the program, it's difficult to test those claims or compare demand among service members to others working in the public or nonprofit sectors. About 800,000 borrowers have filed employment certification forms to confirm that their workplace would qualify them for the benefit.
Many borrowers who may be on track for it, however, may not have filed the form. And others who have may not quality for loan forgiveness after 10 years because of factors like a career change.
"The way this program is designed makes it super, super complicated to figure out who is expecting forgiveness and who is actually going to get it," said Kim Dancy, a senior education policy analyst at New America.
Dancy said the academic research into loan forgiveness as a recruitment tool for employers is also limited. But her own analysis for an upcoming project examining earnings across employment sectors found that, as individuals attain higher levels of education, they see a higher wage premium for going to work in the private sector.
Loan forgiveness could be a valuable tool for public agencies looking to retain highly educated employees in particular, she said.
Jason Delisle, a resident fellow at the American Enterprise Institute and a critic of the program, said if lawmakers are concerned about recruitment, they could simply choose to increase the pay of government workers or service members.
"If they're having trouble attracting people to these positions because they have too much debt, then they have all the means to fix that problem by increasing their pay," he said.
PSLF provides a benefit to employees of the armed services that comes from the Education Department's budget -- so DOD doesn't have to make the case for funding the program in its annual budget request. However, Delisle said, boosting employees salaries would be more transparent and arguably a more effective recruitment tool.
"People would probably value an extra dollar in pay more than a dollar of loan forgiveness 10 years down the road," he said.