You have /5 articles left.
Sign up for a free account or log in.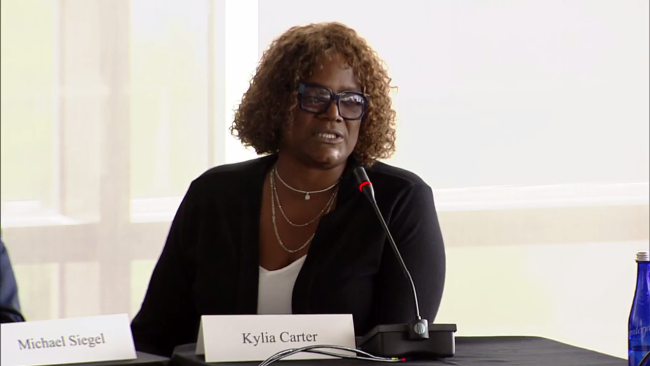 WASHINGTON -- Her voice shaking from emotion, Kylia Carter -- mother of a former star Duke University basketball player and likely first-round pick in the National Basketball Association draft -- made a stunning comparison at a meeting of the Knight Commission on Intercollegiate Athletics.
She likened the National Collegiate Athletic Association to overseers of a system similar to slavery or prison. Those are the only other models in which laborers aren't compensated for their work, Carter said. The NCAA and its member institutions buy the talents of athletes but don't let them share in the money, she said.
"At the end of the day, the talent is being purchased," said Carter, a former University of Mississippi basketball player herself. "The talent is being purchased."
"It looks like there is an attempt to legalize purchasing people," she said later. "It's what this looks like."
Carter's outpouring underscored a long-standing debate over paying players and whether the NCAA's cherished amateur model holds up given the big money involved in college sports (the NCAA reported $1 billion in revenue last year). It was an argument that was recently restarted amid the scandal rocking the world of college basketball, and was the focus of the meeting of the Knight Commission, a watchdog in college sports, here Monday.
Federal officials alleged a scheme to push recruits to certain institutions in exchange for thousands of dollars. Assistant coaches with four high-profile programs were arrested last fall, and prosecutors at the time hinted at much more widespread corruption.
The Carter family was also touched by this. Kylia's son, Wendell Carter Jr., who in April announced he would leave Duke after just one year for the National Basketball Association, was named in a Yahoo Sports report as one of the athletes who dined with an agent who was arrested last year in connection with the case. Carter would have been in high school at the time of the meal -- but Duke in a statement said it did not find him ineligible.
Certifying agents was among the recommendations a special NCAA commission on college basketball, led by Condoleezza Rice, put forth recently. Others included stricter punishments for coaches and institutions, creating a new body to investigate more complicated violations of NCAA policy, and elimination of the phenomenon the younger Carter had taken advantage of -- one-and-done, in which athletes depart for the professional league after a single season. Kylia Carter was neither asked nor addressed during the Knight meeting whether she viewed one-and-done as problematic, but she has given interviews suggesting that she wanted her son to remain in college.
To get rid of one-and-done, the NBA and its union would need to change its rules to once again allow athletes to sign with teams immediately after high school graduation.
David Robinson, a former NBA player and a member of both the NCAA basketball panel and the Knight Commission, said Rice and other members wanted to preserve amateurism in college sports (another Knight panelist, Jay Bilas, a well-known ESPN analyst and former Duke athlete, said that the NCAA has never consistently defined the concept).
The system is a huge boon for most athletes, Robinson said. Though he agreed that it's wrong to force players to attend college if they don't want to, he said most of them benefit tremendously from a college education, when only a tiny fraction will go on to play professionally.
The basketball commission punted on addressing athlete pay or players being paid for their name, image and likeness, which is disallowed by the NCAA.
In addition to the reforms suggested by Rice's group, which are due to be considered by the NCAA's leaders in August, the Knight Commission also announced new proposals it wants the association to adopt.
The basketball commission recommended adding five outside members to the NCAA's highest body, the Board of Governors. But the Knight commission wants the association to make both the membership of that and the Division I Board of Directors majority independent, starting with six new members of the Division I board. Right now, it's made up of representatives from NCAA institutions.
The Knight Commission also lobbied for employees at NCAA member institutions -- coaches, particularly -- to disclose when they are paid by sports apparel companies, and to have those disclosures be made public. Adidas executives were among those charged last year.
Coaches and other administrators should also need approval from a university's chief executive for any athletically related income (such as from apparel companies), the commission said. This was an NCAA rule from 1992 until 2016.
One of the chairs of the Knight Commission, the former education secretary Arne Duncan, said the Knight members are unconvinced that the NCAA can continue to govern college sports under the current structure. It's a "day of reckoning" for the NCAA, he said.
Duncan, responding to a question on Kylia Carter's speech and whether racism existed within the NCAA, said "it's disingenuous" to suggest that the association is immune from racism.
"As a society and as a country, it's part and parcel of who we are -- not to acknowledge that is less than honest," he said.