Syracuse challenges a former adjunct instructor's assertion that he was dismissed for defending students' right to offensive speech. He hasn't taught there since 2015, the university says.
Stuart Card, a sometime adjunct instructor of engineering at Syracuse University, has gained attention from conservative commentators and free speech advocates in recent days over his public account of his separation from the faculty: Card says he's no longer a Syracuse instructor due to his private objection to how the university handled a recent case of apparent racism involving fraternity members.
Most news reports and blog posts have asserted that Card was fired by Syracuse for privately expressing his support for the fraternity members' freedom of speech. But Syracuse is pushing back on that characterization, saying Card has not taught on the campus since 2015.
"The university has had no formal relationship with him since that time," Sarah Scalese, a Syracuse spokeswoman, said Monday. She declined to share or provide details about an email that an administrator wrote to Card, allegedly saying he won't be asked to teach there again, however.
Card called that statement "technically accurate but disingenuous," saying he teaches only when he can take time away from his primary work in engineering and the university has a need. Even during his time away from campus he was listed as an adjunct associate professor, he said, a status that is now terminated.
Late last month, Card posted a lengthy statement online called "Why I Am No Longer SU Faculty." In it, he said he'd received a mass email requesting the engineering faculty's feedback on Syracuse's handling of the fraternity case in April and that he'd answered honestly, to see his adjunct status revoked.
"I write this brief statement to explain, to my coworkers and friends, the change in my academic status, and as a warning: we are tearing down the long proud intellectual traditions of western [sic] civilization, which made the United States of America one of the most productive, prosperous, safe and free countries in history," Card wrote (emphasis his).
"Students, beware professors who will tell you only what you are comfortable hearing, and not demand critical thinking based on empirical observations! Parents, beware the complaints of your student children, who might prefer your lifelong financial support to their learning hard lessons," he continued, also telling professors to beware the loss of their "essential nature" as teachers and even perhaps their "souls."
Card shared what he said was his full email to Syracuse regarding its expulsion from campus of the Theta Tau fraternity and pending disciplinary cases against 18 members over two leaked videos of skits the organization has since defended as satire. The skits include numerous racial slurs, offensive comments about people with disabilities and a joke about rape.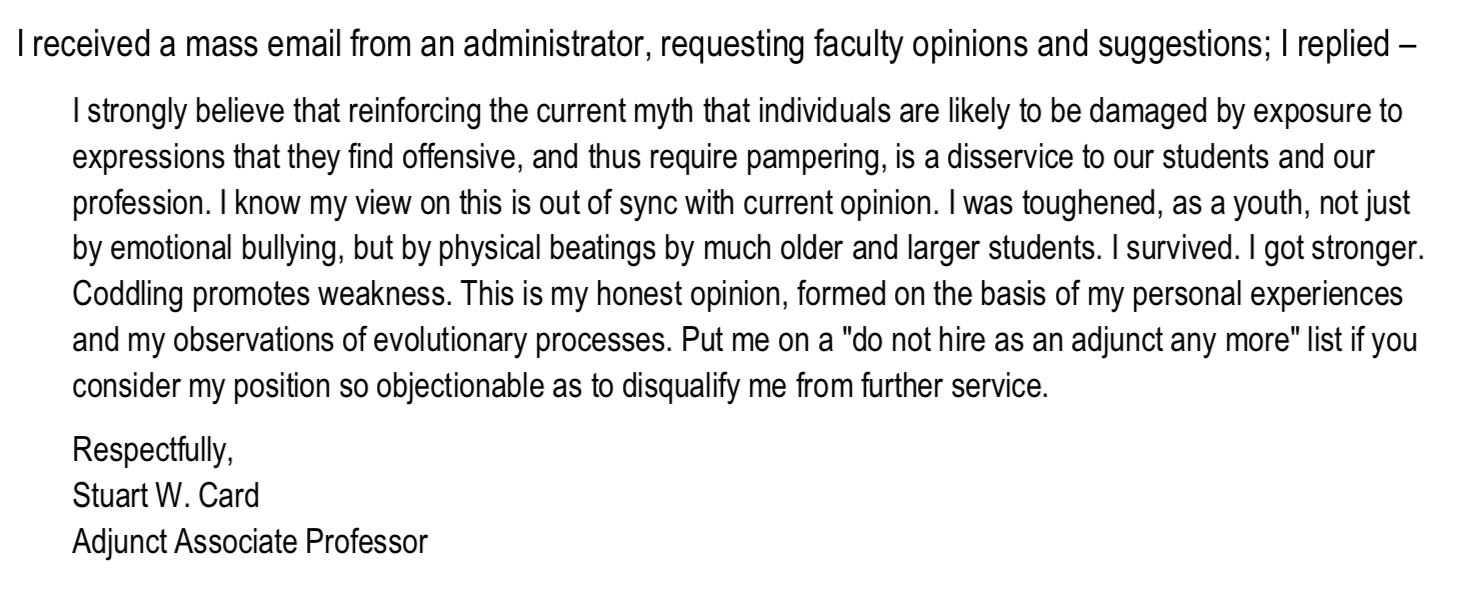 "Unsurprisingly," Card wrote, "the administrator replied that the misalignment between my values and those of the college indeed disqualified me from continuing to teach SU students. I find this bitterly amusing."
Given that academic free speech fracases are now a cable news staple, Card soon found himself on Fox News with Laura Ingraham, during a semi-regular segment called "Defending the First."
"This is really about ideas, not specific institutions or individuals, but the ideas of free speech and reason versus some dangerous, irrational myths that have swept the campuses around the country," he said. "I don't know whether I was really fired or I quit. You might say that the university and I reached a mutual agreement that the values and the beliefs of the university are no longer the values --"
Ingraham interrupted Card repeatedly, eventually saying, "Don't be obtuse. You were fired because you wrote that email saying, 'I'm concerned because we're coddling students. Coddling and trying to protect them from all these offensive ideas is not going to help anyone, it's not going to advance the cause of learning.' And that's the thing that they ultimately said, 'Yeah you're right, we don't want someone like you at our university.'"
Card shared with Inside Higher Ed what he said was the full text of the College of Engineering and Computer Science's response to him. It says, in part, "Yes, I do consider your position to disqualify you from further service teaching our students. Your views do not align with the values of the college," and, "Kindly stop referring to yourself as an adjunct associate professor."
The Foundation for Individual Rights in Education last week called on Syracuse to drop its investigations against the students involved in the skit on the grounds that they were exercising their right to free speech. FIRE's letter also criticized Syracuse's actions toward Card.
Robert Shibley, executive director of FIRE, said Monday that the organization stands by its analysis of the case, even if Card wasn't an active member of the faculty.
"If this is what caused Syracuse to pull the plug on the relationship," Shibley said, "we have a problem with that."
Card said that he's currently filling in for a professor at the State University of New York College of Environmental Science and Forestry, which shares a campus with Syracuse, but that his students have thus far been supportive of his position.
"Without respecting free speech, there is no clash of ideas and no real education," he said.
You may also be interested in...
Today's News from Inside Higher Ed
Inside Higher Ed's Quick Takes