You have /5 articles left.
Sign up for a free account or log in.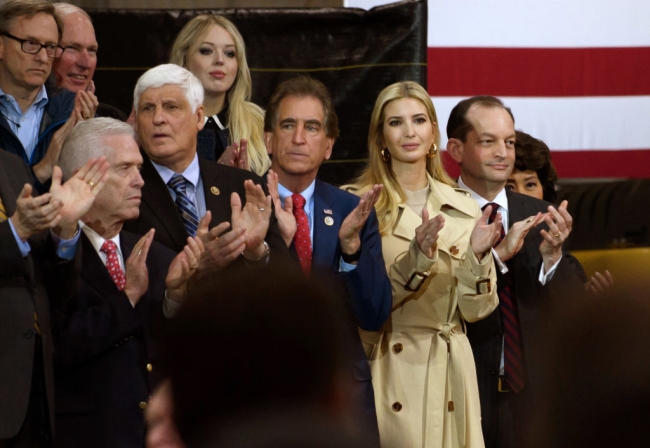 President Trump last year issued an executive order calling for an expansion of apprenticeship opportunities while also increasing federal funding for such programs by roughly $100 million.
The U.S. Department of Labor subsequently pulled together a 20-member task force of experts, including the secretaries of education, labor and commerce, to develop recommendations to make that expansion a reality.
Ivanka Trump, the president's daughter and a senior White House adviser, was on the task force. Representing traditional higher education were Walter Bumphus, president and CEO of the American Association of Community Colleges, and Mark Rosenberg, president of Florida International University and a member of the Association of Public and Land-grant Universities.
On Thursday the Labor Department issued the group's report to the White House. The document lays out a "roadmap for advancing apprenticeships, including through the development of a new and more flexible apprenticeship model, the industry-recognized apprenticeship," Education Secretary Betsy DeVos wrote in the document's preamble.
The report also criticizes traditional higher education for failing to adequately prepare its graduates to join the work force.
The proposed system, as described by the federal panel, would encourage employers to offer apprenticeships by simplifying and updating criteria for federal subsidies of these programs, as well as "streamlining state grant access, and exploring sector-led financial options."
To better determine where the programs could grow, the report said federal agencies should "conduct and make available a needs analysis to identify existing skills shortages and quantify the benefits of apprenticeships in meeting labor challenges, and also compile apprenticeship information in a single, online, centralized website."
The task force also encouraged a pilot program in an industry without well-established apprenticeships. And it said the industry-recognized programs "should focus on mastery and competency, not just seat-time or training hours, and that program implementation guidelines should spell out the quality standards."
Experts said many questions remain about the contours of this alternative approach, which apparently would exist in parallel with the current federal registration process for apprenticeships. The existing system, which many describe as overly balky, also includes quality-control requirements that some fear would be missing in the industry-recognized model.
For example, the report calls for the involvement of industry certifiers of apprenticeships. But "it's not clear who's going to be certifying the certifiers," said Brent Parton, deputy director of the Center on Education & Skills with the education policy program at New America.
The task force's strategy appears to be to "make it easier for employers to offer apprenticeship programs," Parton said. "That's a good thing -- without more employers, there cannot be more apprentices. But watering down the requirements of apprenticeship programs, namely ones aimed to protect apprentices by ensuring they get wage increases as they build new skills, as well as enhance participation of underrepresented populations, is a self-defeating approach."
In coming weeks or months, Parton said in a written statement, the Labor Department is expected to publish a guidance document to more clearly spell out how the alternative system would work.
The National Skills Coalition, in a series of tweets posted Thursday, praised the report for its "pretty good definition of apprenticeship" as well as for its push for data, focus on industry partnerships, support for pre-apprenticeship and intended alignment with higher education. But the coalition, like Parton, said they were concerned that the new system would not require wage increases when apprentices learn new skills, as federally registered apprenticeships currently do.
In addition, the group criticized the task force's call to cut work-force development programs (see below).
The report, while touting the potential of apprenticeships, also included criticism of higher education's role in training workers.
"Apprenticeship programs, when implemented effectively, provide workers with a career path featuring paid on-the-job training, skills development, and mentorship, while at the same time providing employers with a steady source of highly trained and productive workers. These programs have the potential to grow into a critical and successful component of America's workforce strategy, but are currently underutilized," the task force said. "Meanwhile, the American higher education system is churning out a pool of in-debt job seekers who are not equipped to meet the skills needs of many employers in the modern American economy."