You have /5 articles left.
Sign up for a free account or log in.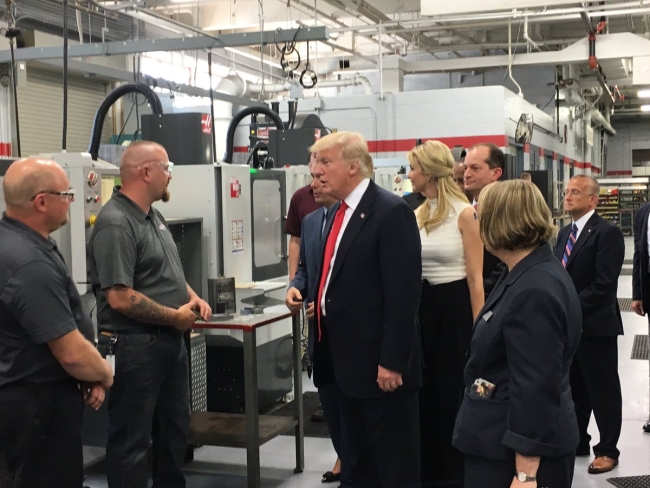 The kickoff of President Trump's apprenticeship push is slated for today with a policy speech observers said will include a call for new money, a less balky federal approach to registered apprenticeships and more openness to noncollege providers handling the educational side of those programs.
During a speech today at the U.S. Department of Labor, Trump is expected to announce a grant program of up to $200 million to expand apprenticeships, with an increased emphasis on growth industries like information technology and health care as well as manufacturing. (Trump postponed the speech after the shooting of a U.S. Representative but plans to make the announcement and sign an executive order on Thursday.)
Currently, 505,000 people hold apprenticeships through 2,100 programs that are registered with the federal government or state agencies. The most common professions represented include electricians, plumbers, carpenters and construction laborers, according to federal data.
The new money, while a relatively small sum, would be welcomed by job training advocates.
"It would be great to see additional resources put toward building apprenticeship programs," said Kermit Kaleba, federal policy director for the National Skills Coalition.
However, the announcement follows a White House proposed budget that calls for deep cuts to existing work force programs. The Trump budget includes a 21 percent cut to the Labor Department, a 40 percent reduction to the Workforce Innovation and Opportunity Act, and a $168 million cut to career and technical education grants for states. Even some congressional Republicans have criticized those proposals, which are unlikely to occur.
Trump and his cabinet in recent days have described apprenticeship programs as an alternative to the college degree.
"Apprenticeships are going to be a big, big factor in our country," Trump said during his first full cabinet meeting Monday. "There are millions of good jobs that lead to great careers, jobs that do not require a four-year degree or the massive debt that often comes with those four-year degrees and even two-year degrees."
Even so, federally registered apprenticeships require an educational component under an "earn and learn" model, which typically involves employers teaming up with community colleges, four-year institutions, technical schools or an unaccredited education provider. Labor unions, for example, sometimes manage the education side, with related instruction based on industry standards.
Apprentices are assigned a mentor and typically must complete a minimum amount of credit-hour-equivalent learning. When the apprenticeship concludes, they earn an industry-recognized certificate that can lead to college credits at some institutions.
Federally recognized apprenticeships often last two years or longer, said Mary Alice McCarthy, director of the Center on Education and Skills with the education policy program at New America.
"Apprenticeship is not a short-term training program, as it shouldn't be," she said.
Trump administration officials generated some buzz last week by suggesting at a Business Roundtable event that the White House is considering federal funding streams for noncollege providers to participate in the education side of apprenticeship programs.
Details about what will emerge today are unclear, but several observers who were familiar with the administration's planned executive orders said they will include a nudge toward alternative providers.
The proposal is likely to be somewhat open-ended and flexible, they said, leaving room for employer input. But one possibility is for industries to come up with standards for the learning and experience apprentices should gain on the job -- a form of required competencies.
Standards for resulting industry "certified" apprenticeships would serve a quality-control purpose, similar to the role accreditors play in higher education.
The U.S. Chamber of Commerce Foundation has been exploring approaches to quality control that are employer driven and could serve as alternatives or a complement to the current accrediting system. These ideas likely will play a role in the Trump administration's take on federally registered apprenticeships, several experts said. The White House plans to create a committee to help devise its strategy.
Likewise, the administration and Republican leaders in Congress are keen for alternative education providers to participate in apprenticeships and other types of job training, with some support from Democrats and liberal groups. One possibility, some speculate, is that coding boot camps could work with the IT industry to certify and supplement on-the-job learning by apprentices.
Yet the administration has said that traditional colleges will remain at the table, also calling for institutions to ramp up their collaboration with employers.
"Higher education, too, should assume responsibility for promoting apprenticeships. Community colleges and four-year colleges have an obligation to work with students to educate them in skills they need to succeed," Alexander Acosta, the U.S. secretary of labor, said Tuesday during a White House press briefing. "Incorporating apprenticeships into two- and four-year degree programs would offer students both traditional learning and skills-based learning."
Who Will Be Eligible for New Money?
The Obama administration allocated roughly $250 million toward expanding apprenticeships in recent years. Much of that funding came from revenue from the awarding of H-1B visas for skilled international workers -- money that is required to go toward job training for Americans.
This year's budget includes $90 million for apprenticeships, with Congress signing off on essentially flat grant funding levels from the Obama era. Trump's budget proposal for this year also calls for $90 million. If the White House asks for more money -- observers said today's announcement could include a call for $200 million or less, but probably in the nine-figure range -- that funding presumably would be on top of the current level.
McCarthy said she would applaud the new money, adding that the H-1B source is appropriate. A key question, she said, is which programs will be eligible. One possibility is that the federal money could go to apprenticeship programs that are not registered with the feds or states. That might open the door to lower-quality experiences for apprentices, she said.
Likewise, McCarthy said some noncollege providers could charge more than community colleges for the learning component. Price hasn't been a problem in the past, she said, but that could change.
"It should be cost-free to the apprentice," said McCarthy, who worked for both the Labor and Education Departments during the Obama administration.
Another possible concern is the portability of credentials apprentices earn from noncollege providers.
Yet perhaps the biggest looming question about the administration's apprenticeship push, several experts said, is whether an alternative quality-control pathway eventually could open the door to federal financial aid -- a far larger pot of money than impermanent grant funding from H-1B coffers.
Such a controversial change would require legislation. But Trump's executive orders could get that process rolling as congressional leaders work toward reauthorizing the Higher Education Act, the law that governs federal financial aid.
One possibility that could emerge from today's announcement is a boost for the fledgling apprenticeship service provider space, said Ryan Craig, co-founder of University Ventures, a higher education-focused investment firm.
These service providers, which are more common in the United Kingdom, act as intermediaries between employers, government and education providers. Employers typically front the costs, he said, with intermediaries "hiding the wiring" for the registration process and other tasks in creating a program.
Craig described the industry, which his firm plans to invest in, as being similar to the online program management companies that help colleges create online degrees.
"Most employers aren't interested in running these programs themselves," Craig said.
Streamlined Registration
A broad range of critics say the registration process for federally recognized apprenticeships is slow and needlessly complex. That has contributed to relatively limited participation by employers -- apprenticeships account for just 0.3 percent of the work force -- who also typically receive little or no federal funding.
The Trump administration has signaled that it would like to remove barriers to employers creating apprenticeship opportunities. Acosta this week distributed a brief memorandum to his fellow cabinet members that called for all federal agencies to help expand apprenticeships.
"I ask that each agency head support the administration's apprenticeship initiative by removing obstacles to apprenticeship growth that may be present in current regulations or practices," Acosta wrote.
However, some experts said they hoped the White House doesn't go too far in relaxing its requirements. That's because federal recognition for apprenticeships comes with protections for apprentices, such as obligations for employers to pay them more than minimum wage and for apprenticeships to lead to pay raises.
"If these protections get watered down, we would be very concerned," McCarthy said.
Much more work can be done by the federal government to make its work force development system more efficient and less duplicative, said Maria Flynn, president and CEO of Jobs for the Future and a former longtime Labor Department official. That includes streamlining of the federal registration process for apprenticeships, she said, adding that agencies could coordinate more.
However, Flynn and other experts said such improvements will be unlikely if the federal government guts funding for work force programs.
The apprenticeship focus "shouldn't be a replacement to the underlying work force system," said Flynn, adding that she would "rather have that broad reform conversation before discussing cuts."