You have /5 articles left.
Sign up for a free account or log in.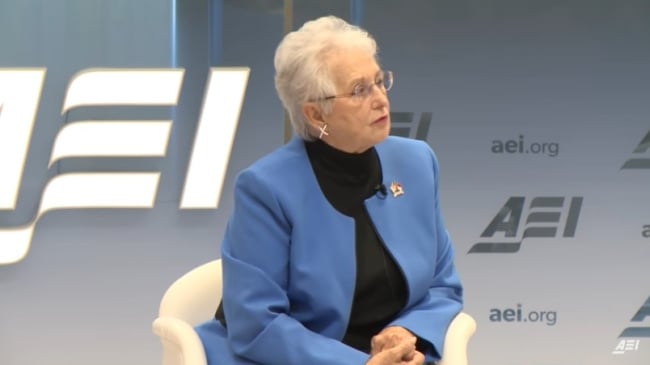 Bipartisan support for career and technical education is building, with Virginia Foxx and the Center for American Progress finding rare agreement Tuesday by calling for more of a policy focus on job training that doesn't require a four-year degree.
U.S. Representative Foxx, a North Carolina Republican who leads the House education committee, was speaking at the American Enterprise Institute on the eve of her committee's planned markup of a bill that would reauthorize the Carl D. Perkins Career and Technical Education Act, the primary federal law that oversees career education programs.
Many employers are desperate to hire workers who lack four-year degrees but are qualified to work in technical fields, Foxx said. "What are we going to do to fill the jobs that are currently open and those that are coming open?"
Yet a stigma persists about career education, she said. That has led to a two-tiered education system, said Foxx, where the four-year degree comes first.
"Many people who don't have degrees don't feel successful. And that's not a good thing in our culture," she said. "We must do everything we can to change the way people think about CTE, shifting the narrative from a plan B option to a plan A option."
Foxx said the revamped Perkins Act would add more transparency and accountability to career education programs, on which the federal government spent $1.1 billion last year. It also would eliminate "bureaucratic red tape" in replacing a law that has not been updated in more than a decade.
It's unclear how the bill will fare in the U.S. Senate, said Foxx. But with a strong champion, she said, it might follow the example of the Workforce Innovation and Opportunity Act (WIOA). That law, which governs the largest federal job-training program, with a $3.4 billion annual budget, was enacted in 2015 and replaced an outdated predecessor law after languishing for months in the U.S. Senate.
"Most importantly, the bill improves the alignment of CTE programs with in-demand jobs," she said, "by supporting innovative learning opportunities, building stronger community partnerships and encouraging stronger engagement with employers."
Foxx did not encourage nixing higher education's role in career training. In fact, she said most good jobs require at least two years of education beyond high school. However, she also expressed support for getting more students started on career paths while in high school, through dual enrollment programs with nearby community colleges.
'Marshall Plan' for Job Training
The liberal Center for American Progress rarely sees eye to eye with the conservative Foxx, who reiterated Tuesday that she'd rather the federal government have no role in education. But the think tank on Wednesday released a "Marshall Plan" for jobs and community investment that includes a strong emphasis on workers without a college degree, including those with some credits but no credential.
This group has struggled since 2000, the center said, with a 2 percent decline in real compensation compared to a 3 percent increase for those who hold at least a bachelor's degree. Likewise, non-degree-holding Americans are less likely to be employed.
"The share of prime-age (25- to 54-year-old) non-college graduates who do not have a job is 26.6 percent -- almost double what it is for college graduates," the center said. "Moreover, the jobless rate has risen a stunning five percentage points -- from 21.1 percent to 26.6 percent -- since 2000."
The group said Democrats must do more to help Americans without college degrees.
"Progressives have not done enough about job conditions and the dignity of work for people who don't go to college," Neera Tanden, the center's president, told The New York Times.
With its job plan, the center called for a "large-scale, permanent program of public employment and infrastructure investment." This effort, which would resemble the Works Progress Administration's approach during the Great Depression, would seek to increase employment and wages for non-degree holders while providing more federal support services for low-income workers.
"The low wages and low employment rates for those without college degrees only exist because of a failure of imagination," the group said. "There is no shortage of important work that needs to be done in our country."
The Trump administration has called for the creation of five million apprenticeships. In another case of strange bedfellows, that push was echoed by a similar proposal by the Progressive Policy Institute.
The center's new report also encourages an expansion of apprenticeship opportunities.
"Some individuals may be hired into paying public jobs in which their primary duty will be to complete intensive, full-time training for high-growth, in-demand occupations," it said. "These 'public apprenticeships' could include rotations with public and private entities to gain on-the-ground experience and lead to guaranteed private-sector employment upon successful completion of training."