You have /5 articles left.
Sign up for a free account or log in.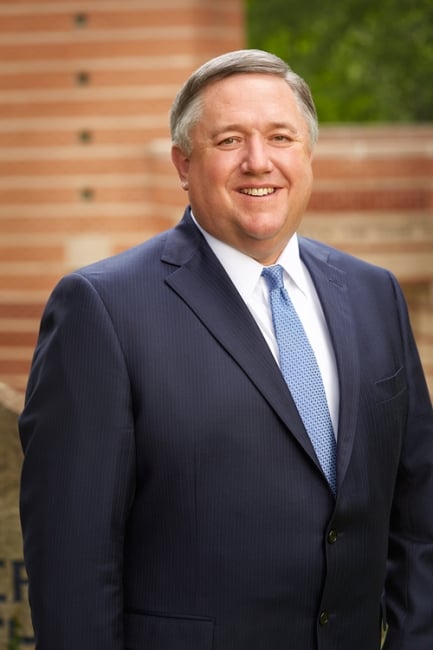 The accusations against Columbia International University President Mark Smith were shocking enough -- a former university general counsel alleging that Smith covered up rampant sexual harassment and bigotry by his son when they were both employed by another religious college.
With the allegations against Smith and his son, Doug Smith, still reverberating at the university, alumni have gone public with other stories about a longstanding climate of sexual harassment and assault. How the former Columbia International president Bill Jones would stroke the hair of students and tickle them without permission. How professors there would do everything from kiss students' foreheads to pass on rumors they had dated "too many men."
One faculty member sexually assaulted a student, a graduate alleges.
While the university maintains administrators were ignorant of these allegations, and indeed the graduates said they did not report them at the time, they reinforce an image of religious institutions that many have tried to shake: that sexual misconduct at best goes ignored, and worst, is knowingly dismissed.
Outcry began with the revelation that Mark Smith had been sued by the former general counsel of Ohio Christian University, where he was president for more than a decade.
Jeremy Davitz, the university's former lawyer, alleged in a federal lawsuit that he was charged with investigating Doug Smith's widespread misconduct, which included sticking his fingers in the mouth of a student with whom he worked. It was what Doug Smith called a "slut test," Davitz alleged in court documents -- had the woman closed her mouth, she would be considered a slut.
Doug Smith allegedly also made homophobic, racist and anti-Semitic comments and covertly photographed women's backsides and posted the images on social media. When Davitz informed Mark Smith of his son's behavior and told him Doug would need to be fired, Davitz alleged that the president screamed at him and threatened to sue both him and Ohio Christian.
Shortly after, Mark Smith stripped Davitz of his responsibilities, disparaged him to the Ohio Christian Board of Trustees and eventually fired him in retaliation, he alleges.
Around that time, Mark Smith resigned from the institution and was named president of Columbia International, despite his contract with the first institution allowing him to remain there until 2025.
Ohio Christian has declined to comment on Davitz's lawsuit. And Columbia International has said it vetted the president and his son before they were hired.
Local press has reported in depth on the lawsuit, including that Doug Smith now works at Columbia International, though in what capacity is unclear.
After those news accounts were published, eight Columbia International alumni were interviewed by The State, a South Carolina paper, saying they were either subject to or witnessed multiple instances of sexual harassment in their years at the university.
One alumna, who said she was kicked out of the institution for being a lesbian, told The State that a female faculty member sexually assaulted her. She had shared the trauma of her childhood sexual abuse with the professor, who said re-enacting the abuse would help her.
In another case, an alumna wrote a blog post after her husband's death on how much she missed him and how he would kiss her forehead. A male professor, having read her account, would walk up to her and kiss her forehead without her consent -- this happened multiple times, she said.
The former president, Jones, in multiple cases would stroke the hair of both male and female students, the alumni said in interviews. One alumna said Jones told her that she reminded him of his daughter. Though they were unsure if they behavior was sexual, all of them characterized it as "creepy" or "uncomfortable."
The alumni said they never reported the incidents because they either brushed them off or wanted to focus on graduating.
A spokesman for the college, Bob Holmes, declined to make Jones and others available for interviews. Holmes provided a lengthy statement from Andre Rogers, a professor of church ministry and special assistant to the president, who backed both Jones and Mark Smith. He said in the years he knew Jones, he had never seen any inappropriate behavior. He lauded Smith's leadership, saying it had resulted in higher enrollment and a higher profile for the university.
"We have been blessed over the last year to enjoy his pastoral-like leadership of the faculty and staff. He is a caring and wise leader with a big heart for the community. He leads with integrity and skill," Rogers said of Smith.
A law firm representing Columbia International released a statement saying administrators, including the Title IX coordinator, were unaware of the allegations The State reported on.
Title IX of the Education Amendments of 1972 is the federal law protecting against gender discrimination.
"CIU continues to encourage all students, current or former, to report any allegations of harassment or sexual misconduct of any kind to CIU's Title IX Coordinator or any member of the university's executive management so that CIU promptly and thoroughly can investigate the allegations to protect the rights and safety of its students," the statement reads.
Sexual assault survivor advocates for years have pressed for reforms at religious institutions, arguing that they often try to leave these issues unaddressed and protect their reputations. After the Obama administration in 2011 revamped the guidelines around Title IX, some religious colleges and universities struggled to meet the new obligations, such as employing a dedicated Title IX coordinator.
Religious institutions can also seek Title IX exemptions, but this was largely meant to cater to religions in which women can't take leadership roles, said Laura Dunn, a law adjunct at the University of Maryland at College Park and founder of SurvJustice, a survivor advocacy group.
What struck her about the accounts from alumni was how pervasive the behavior appeared to be, which could create a hostile environment, even if not all the students were reporting rape.
Dunn, who was raised in a religious household as a pastor's daughter, said the silence on sexual assault is unsurprising. She criticized Columbia International for its statement, sarcastically congratulating the institution for meeting the minimum federal standard.
"You cannot just assume if you send your child to a religious institution, everything is properly handled," she said.
Carly N. Mee, the interim executive director of SurvJustice, said a greater power dynamic often exists at religious colleges -- a loyalty to both the institution and its leaders.
She said their policies, such as when a student can be punished for being in the room of someone of the opposite sex after hours, creates problems. If a student was assaulted, then their only choices would be to either remain in the room with the attacker or face consequences for leaving.
The Trump administration's interim guidance on Title IX, which it released after rolling back Obama's edicts, also loosen the duties for religious colleges to protect survivors, specifically, allowing "alternative mediation" to be used in resolving sexual assaults, Mee said.
"It's all about their public image, obviously," Mee said. "It doesn't look good for them to have sexual violence occurring there, so there is a tendency to sweep it under the rug."
An online petition has since circulated, signed nearly 500 times as of Tuesday afternoon, calling for Godly Response to Abuse in the Christian Environment, or GRACE, to investigate Columbia International. The group teaches Christian institutions how to recognize and prevent abuse.
"We are no longer confident of the safety and respect of women and minority students at an institution that is willing to accept the word of powerful men over the words of the vulnerable," the petition reads. GRACE declined to comment for this story.