You have /5 articles left.
Sign up for a free account or log in.

The homepage of Trilogy Education Services' website prominently displays the phrase "Universities Trust Trilogy."
Trust is an important part of universities' bargain with Trilogy. The company runs coding boot camps for the continuing education divisions of dozens of well-known institutions such as Rutgers University, the University of California, Berkeley, Georgia Institute of Technology and many more.
But Trilogy doesn't run boot camps under its own name. It uses the branding and reputation of its university partners to attract students, often with only a small "powered by Trilogy Education Services" listed at the bottom of webpages that advertise the boot camps.
Continuing education divisions of its partner universities get a share of tuition revenue generated by the Trilogy-run boot camps. The universities say the partnerships also help fulfill their mission of providing non-degree-level credentials and job-relevant training to local adults and a smaller number of university graduates and/or students.
But critics and competitors of Trilogy argue that the company's close partnership with universities could be misleading to students, who may not understand that the program is being delivered through a third party. For example, online student reviews, which are largely positive, include some students who report feeling "blindsided" when they realized that their boot camp was run by Trilogy, not the host university.
Any student who completes a Trilogy boot camp gets a noncredit university-branded certificate, but the institution will have played a limited role in delivering their training.
A Close Collaboration
Dan Sommer, Trilogy's CEO, said the company aims to be transparent about its role in the university partnerships. And prospective students are told that universities have selected Trilogy as a partner during their enrollment process. He said partnerships between continuing education programs and third-party providers such as Trilogy are "very common."
Asked whether prospective students are concerned about Trilogy's role in the university boot camps, Sommer said students "take a lot of comfort" in knowing that the program has been approved by 34 universities in North America, and that there are standardized processes across the network.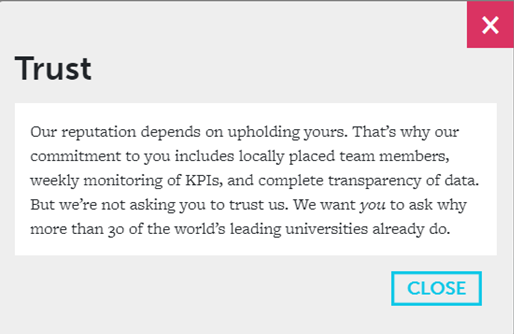 Trilogy was founded in 2015 and raised $30 million in venture capital last year. Unlike some boot camps, such as Dev Bootcamp or the Iron Yard, which closed after sinking money into real estate and struggling to stand out, Trilogy's model of leasing university brands and space appears to be working well. Sommer said he didn't set out to create a typical boot camp. "I said, 'Wouldn't it make sense for a top-tier university to offer skills-based education?'"
Rutgers was Trilogy's first partner, Sommer said, and was instrumental in shaping the program and its "deep" university partnerships. University faculty members vet and review Trilogy's curriculum, and the institution has the final say in Trilogy's instructor and teaching assistant hires. In addition, Trilogy and its partners are in frequent contact throughout the duration of each program to discuss weekly student feedback reports. Universities also participate in networking and mixer events for Trilogy students.
Trilogy's boot camps cost around $10,000 for a 12-week full-time or 24-week part-time program, delivered in person on university campuses. The part-time option is more popular, said Sommer, and allows students to continue full-time work as they study. Classes typically contain 25 students, with one instructor and two teaching assistants. A base curriculum, designed by Trilogy, can be customized to meet the needs of local employers. Currently offered programs include ones in web development, data visualization and analytics, UX/UI design, and cybersecurity. Trilogy also offers career service support to its students, including résumé and portfolio reviews, interview training, and networking events.
Happy Partners
Liliya Spinazzola, director of the center for professional education at the University of Texas at Austin, said her institution began looking seriously at coding boot camps about five years ago. Internal research showed there was high demand in the Austin area for coding skills, but the university didn't have the capacity to build and deliver its own training, said Spinazzola.
After being approached by several boot camps, UT decided to partner with Trilogy in 2016 and is "very pleased" with the results. Spinazzola praised Trilogy's industry connections, its integration of skills that meet the needs of local employers into the curriculum and its career-support services.
Jessica Brinker, interim director at the William and Ida Friday Center for Continuing Education at the University of North Carolina at Chapel Hill, and Sean Butcher, program director of technology and engineering at the University of California, Berkeley, echoed Spinazzola's praise of Trilogy as an "excellent partner."
All three said they are happy with the student outcomes of the Trilogy program, but they didn't share data about completion rates or the jobs students get after graduating. Spinazzola said Trilogy's data reporting is "improving all the time," adding that the company is "still a start-up."
Asked to share details of their financial arrangement with Trilogy, Ernie Costello, assistant dean of business and STEM at UC Berkeley Extension, confirmed that the university has a tuition revenue-sharing arrangement with Trilogy -- similar to the arrangement many institutions have with online program management partners. Both Berkeley and UT Austin confirmed that they initially entered two-year deals with Trilogy and are now looking to extend their partnerships, possibly even applying the part-time boot-camp model to other areas of skills training, such as business administration.
Costello said the share of the tuition revenue that UC Berkeley Extension receives from Trilogy has increased over time. The university currently receives a roughly 50 percent share of the program's net income (gross tuition revenue minus Trilogy's operating expenses). In the first year of the partnership, Berkeley made around $2 million from the program, said Costello. In exchange, the university provided classroom space and academic oversight of the curriculum and instructors, and managed the process of issuing academic certificates.
Unclear Outcomes
Liz Eggleston, co-founder of coding school comparison site Course Report, said she has been tracking university partnerships with boot camps. She said Trilogy is not the only player working with continuing education divisions (Learning House's Software Guild currently has partnerships with seven institutions), but it is the biggest.
Unlike Software Guild and many of its competitors, Trilogy doesn't publicly share data about the success of its graduates. This is a strategic decision, said Sommer. While the company tracks student outcomes closely and shares them with its university partners, it doesn't want to use the data for marketing purposes, as it could be "misinterpreted" or lead to "false expectations," said Sommer. The company wouldn't want to give students the impression that landing a job in tech is easy, he said. "Our goal is to educate students on quality and what, ultimately, they're going to achieve," said Sommer.
Admission to the Trilogy boot camps is highly selective, said Sommer. He added that graduation rates are over 90 percent and more than 1,500 employers have hired Trilogy graduates. While the company doesn't share information about how long it takes students to find employment, or the types of jobs they land, Sommer cited "countless stories of success" of students moving into new careers after taking a course from Trilogy.
Though Trilogy says it is delivering a quality product, and its partners appear to be happy with results, some of Trilogy's competitors and other observers in the boot-camp space said the company should be more transparent about its results. Student outcomes reports are an important tool for potential students to evaluate boot camps, said Eggleston. She recommends that potential students review these reports closely when choosing a boot camp, in addition to reading student reviews and visiting classrooms.
"The best boot camps are typically transparent about their student outcomes, whether they publish these themselves or through an organization like the Council on Integrity in Results Reporting," said Eggleston. CIRR aims to verify the outcomes reported by boot camps, and was created by Skills Fund, a student lender focused on boot camps.
Sheree Speakman, CEO of CIRR, said a lack of accountability is a widespread issue in higher education, and particularly among boot camps. Speakman said she would love to see Trilogy start to report data such as completion rates, employment outcomes, job titles and salaries for graduates. She noted that the number of schools reporting data through CIRR is growing, but it could be much higher.
Liliana Monge, co-founder and CEO of boot camp Sabio, and Darrell Silver, co-founder and CEO of boot camp Thinkful, both said Trilogy will need to become more transparent about its outcomes to survive. In the short term, Silver said Trilogy can get away with not disclosing this information because students trust the university partners' brands. But, he said, "Inevitably, for a program to succeed, it has to be producing outcomes reports."
"Trilogy is getting a lot of schools excited about it, and they've done a good job convincing schools that it's a good way to find new revenue and to serve students in their community. But whether they'll last will come down to quality," said Silver. Monge has previously been critical of Trilogy, which she said tried to recruit recent Sabio graduates as teaching assistants. Monge said Trilogy's instructors typically had little industry experience -- a point Sommer disputed, saying the boot camp's instructors typically have seven to eight years of experience in the field.
Ryan Craig, managing director of the investment company University Ventures, said Trilogy's strategy of working with universities "through the side door of continuing ed" is a smart one for the company -- few continuing education divisions (which he described as "profit centers for universities" that typically operate "fairly independently" of their parent institution) would say no to "free revenue."
But Craig, whose firm has invested in competitors of Trilogy, said he suspects "in the next few years we'll see some regret among those universities who are lending their brand out to Trilogy." Students are enrolling with the expectation of good employment outcomes, but there's "no indication" that this is the case, said Craig.
"Universities need to watch themselves," he said. "Do you really want to be marketing a $10,000 unproven product to your recent graduates who are already thousands of dollars in debt?"
More from Tech & Innovation