You have /5 articles left.
Sign up for a free account or log in.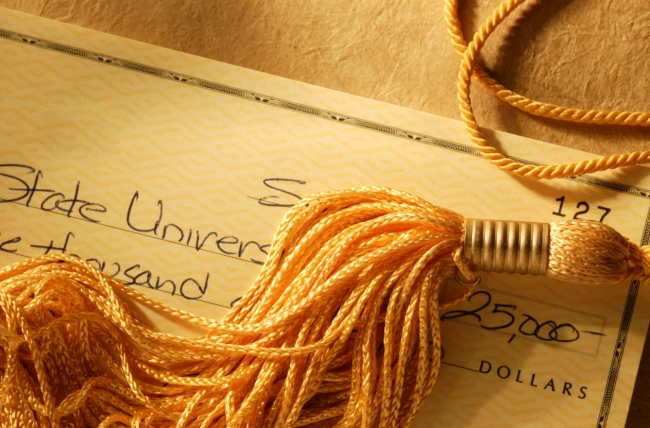 A pair of surveys last year from the Pew Research Center and Gallup showed deep skepticism about higher education among Republican respondents.
While subsequent, less publicized surveys painted a more complex picture, many college leaders and academics remain worried about whether Republican scrutiny could lead to (more) budget cuts or policy crackdowns.
New America is the latest on the scene with the release today of its second annual survey on Americans' attitudes about higher education. The Washington, D.C.-based think tank tweaked several of the questions this time around. But both installments found that respondents largely believe it's easier to be successful with a college degree than without one. And Republicans were generally positive about higher education and even their tax dollars going to support it, according to the new survey.
For example, 80 percent of the 1,600 adults surveyed agreed strongly or somewhat with the statement that "there are more opportunities for people who pursue education after high school" -- so did 77 percent of Republicans.
The survey results aren't all good news for colleges, however, as it found that just one in four respondents think higher education is just fine the way it is. And New America also uncovered a substantial divide between Republican and Democratic respondents on who should pay for college.
There was little partisan split among the roughly 68 percent of respondents who feel that higher education needs to change.
"Republicans and Democrats are in total agreement here," Rachel Fishman, deputy director for higher education research at New America, said in an interview.
One notable divergence, however, is over who should pay for college.
The survey asked whether respondents felt the statement "government should fund higher education because it is good for society" or "students should fund their own education because it is a personal benefit" were closer to their point of view.
Fully 76 percent of Democratic respondents backed the government support statement, compared to about 34 percent of Republicans. Just 13 percent of Democrats agreed that students should fund their educations (because it's a personal benefit) compared to about 52 percent of Republicans.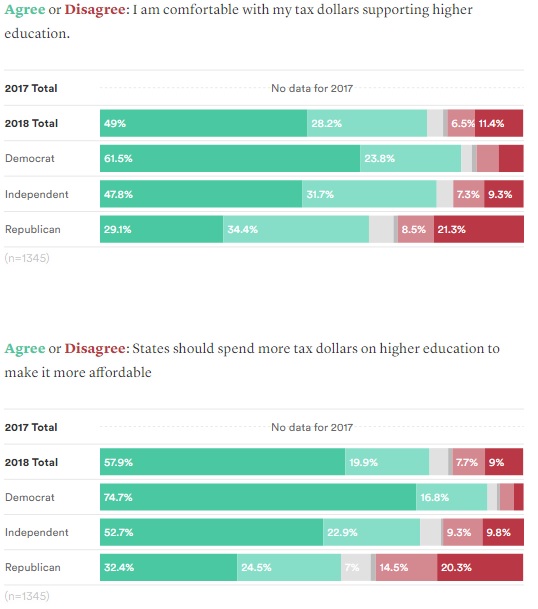 Likewise, the survey found fairly large partisan splits on questions about whether respondents were comfortable with their tax dollars supporting higher education or whether states and the federal government should spend more to make college more affordable. Even so, almost two-thirds (63.5 percent) of Republicans were comfortable with their tax dollars going to higher education.
New America also asked if respondents had positive views of nearby colleges. This one had broad support from backers of both political parties -- almost 78 percent of Republicans and 84 percent of Democrats.
Going Local
Fishman compared the apparent contradiction of people liking their local colleges but being more skeptical about higher education broadly with the axiom of people "hating Congress but loving their member of Congress." That phenomenon also gels with common findings in Inside Higher Ed's surveys of college administrators, who tend to see good things on their campuses and problems with the industry at large.
Among all respondents, a majority said community colleges and four-year public institutions are worth the cost (81 percent and 65 percent, respectively). Those numbers dip substantially for private nonprofit colleges (44 percent) and for-profits (40 percent).
Yet on the whole, New America's survey findings -- which include demographic breakouts based on income, race, region and other factors, as well as for the swing state of North Carolina -- should be far less alarming for college leaders than the results from Pew and Gallup.
"While past studies have suggested Republicans feel negatively about higher education, the new Varying Degrees survey tells a slightly different and much more complex story," Fishman said in a written statement. "The priorities of either party cannot be reduced to a 'yes' or 'no' in terms of government investment in education beyond high school. That insight opens up a great deal of opportunity for continued discussion and collaboration."
Likewise, results from a new survey Pew released last week also found partisan agreement on the benefits of higher education.
The survey found "no partisan or ideological gaps in evaluations of American colleges and universities." Roughly half of Democrats and Democratic-leaning respondents (54 percent) agreed with 51 percent of their Republican counterparts that U.S. colleges and universities are above average or the best in the world, Pew found.
Still, don't expect some Republican politicians to stop challenging traditional higher education.
For example, President Trump has questioned the name and purpose of community colleges while championing vocational education (which most two-year colleges offer) during four public events in recent months.
Respondents to New America's survey, however, are clear on the missions of community colleges.
"People absolutely know what community colleges are," Fishman said. "They feel very positive about community colleges."
Meanwhile, Adam Putnam, a Republican candidate for governor in Florida, last week rolled out an ad about his plan to expand vocational training, the Tampa Bay Times reported, arguing that college is not the only path to success.
"Today liberal elites look down on people who work with their hands," Putnam said, "pressuring too many kids into student loan debt, leaving them with degrees they can't use and bills they can't pay."