You have /5 articles left.
Sign up for a free account or log in.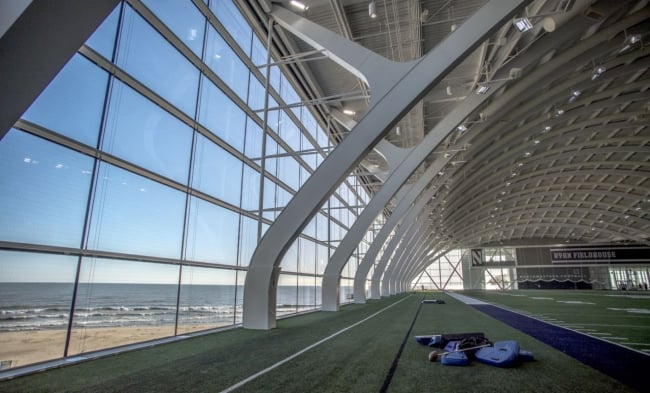 Northwestern University will inaugurate a new football practice and athletics facility, an eyebrow-raising $270 million project for a team that hasn't been considered one of the university's top programs -- but one that appears to fit with the contemporary college athletics arms race.
The lavish building, detailed in a Yahoo Sports profile, follows the trend of institutions sinking significant cash into football with the hopes that their investments will bear lucrative new fruit.
It doesn't always work that way, as athletics experts have opined.
Only the top-tier programs in National Collegiate Athletic Association's Power 5 conferences in Division I tend to yield the kind of money that make athletics directors and other administrators swoon, they have said.
Look no further than Eastern Michigan University, which recently decided to shut down four sports -- wrestling, men's swimming and diving, softball and women's tennis. But not football, despite that the Eastern Michigan Eagles have maintained a dismal record for years -- its most recent being 5-7 in 2017. The leadership there bluntly rejected the idea of cutting football.
Northwestern fared not too much better and consistently ranked low in the Big 10 Conference until Head Coach Pat Fitzgerald took over in summer 2006. He recently came off a 10-win season. As the Yahoo article describes, the university's leaders were worried Fitzgerald would be wooed away to replace the former head coach of University of Michigan in 2011 -- which was the catalyst to the new facility.
Ultimately, Fitzgerald never interviewed with Michigan. Instead, Fitzgerald laid out to top Northwestern administrators, and a wealthy donor and trustee for which the building is named, Pat Ryan, what was "necessary from a facility perspective to change Northwestern football's paradigm," as the Yahoo piece says.
They accepted. Fitzgerald has subsequently signed multiple 10-year deals with Northwestern.
And the result -- the Ryan Fieldhouse and Walter Athletics Center, a 425,000 square foot-behemoth on the shore of Lake Michigan with splendorous 45-foot floor-to-ceiling windows that will house multiple athletics and some intramural teams and some administrative offices. It's fashioned with slick toys and trappings -- curtains controlled by remote control and video cameras by joystick, a barrier to separate a practice room into two separate sides for offense and defense, a barber chair and a hot and cold tub that seats 40. Funding came from the university's fund-raising effort "We Will. The Campaign for Northwestern."
Alan K. Cubbage, a university spokesman, said to characterize the building as benefiting just football is inaccurate. He said it will be used for other teams such as women's soccer and women's lacrosse, and for university events, such as convocation for new students.
"Yes, we anticipate that Ryan Fieldhouse and the Walter Athletic Center will provide a real boost for the football program, as they will provide terrific facilities in an unmatched location, right on the shore of Lake Michigan," Cubbage wrote in an email. "But the building also will benefit thousands of other Northwestern students, faculty and staff."
The president of the Northwestern Faculty Senate, Robert Hariman, said he didn't really have an opinion of whether this was a good use of university funds -- except to say, in an email: "I'm more interested in where the next $270 million is going to go."
These luxuries aren't unique to Northwestern athletics.
Clemson University's football complex contains a small bowling alley, a slide, pool tables and arcade games and literal miniature golf course.
University of Oregon's also has a barber. And a hot tub. And televisions -- 64 of them, 55-inch screens that can all link together to show one image.
Deadspin lamented about this trend in a particularly critical piece on the Northwestern facility, which the author described as reaching "a new apex" of stupidity in spending on college athletics.
"We all recognize that college sports, namely football, exist in this bizarro world separate from the free-market reality the rest of America is forced to dredge through, wherein players are not compensated with green pieces of paper for their labor but with four years of access to pools, slides, big hot tubs, in-house barbers, massage parlors, and a breezy track as a communications major, should they want it," the author, Nick Martin, wrote. "It makes sense, in that bizarro world, that Northwestern would spend an ungodly amount of money on a new place just to practice because, well, that's what everyone else is doing, and in college sports, the folks that run the show wholeheartedly believe that if you aren't setting the trends, you're falling behind."