You have /5 articles left.
Sign up for a free account or log in.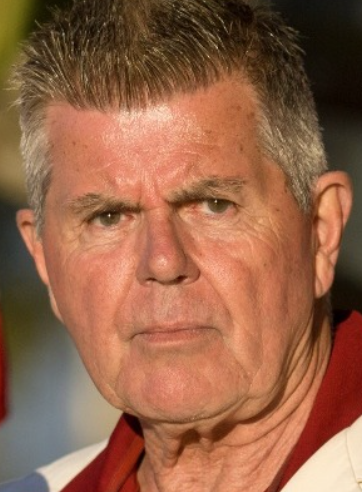 A longtime adjunct professor of philosophy at Santa Barbara City College says his career is collateral damage in the political moment.
The professor, Mark McIntire, is hardly the first professor to claim that. But he recently defended another professor accused of sexual misconduct. So looking at McIntire's case means looking at Me Too through the lens of campus speech.
At least, that's what McIntire and his supporters say. McIntire's critics counter that his case has little to do with free speech and everything to do with teaching quality.
Either way, McIntire's story is an interesting one about how a set of misconduct allegations and an all-campus email battle dominated Santa Barbara City College last semester.
Warning Email
McIntire invited Michael Shermer, a well-known skeptic and columnist for Scientific American, to speak on campus in March about debunking beliefs about the afterlife and utopian societies.
The 400-hundred seat auditorium was unusually empty for such a talk, perhaps due to what Shermer didn't know while he was speaking. Earlier that morning, Raeanne Napoleon, chair of chemistry, shared a four-year-old BuzzFeed article with the campus, detailing sexual misconduct allegations against Shermer.
"Shermer is someone who has been accused of sexual harassment and sexual assault (rape) by multiple women," Napoleon wrote, linking to BuzzFeed. "Although the police did not bring formal charges against him, there have been many witnesses that have publicly corroborated the stories of the victims."
Napoleon wrote that while Shermer "still has the right to free speech," she wanted "to warn the women attending the talk that they should be careful not to be alone with him or hang around late on campus after the talk is over. I am also using this platform to highlight this information to faculty and staff so that you can choose whether or not you will support this event."
In an interview, Napoleon said that McIntire was well-known on campus for oversharing his political views via the campus email system, so she'd directed her email program to send messages from him to the trash. As a result, she'd missed earlier communiqués about Shermer, she said. But she felt compelled to comment when she heard about the talk at the last minute, especially in light of Me Too.
A handful of professors responded to the email, with the majority thanking Napoleon for the information.
The student newspaper also posted a story about the allegations prior to Shermer's talk.
Shermer vehemently denies the allegations against him, which involve attempted groping and other lewd behavior at scientific conferences. One woman publicly accused him of rape, saying he'd purposely gotten her drunk at a conference in order to assault her. He says the encounter was consensual and that they were both sober. His full response, which treats the allegations against him like concepts to be debunked, is available here. Shermer speaks regularly on college campuses.
McIntire soon responded in a private email to Napoleon and another faculty member, saying he was disappointed that "scientists" had urged women not to be alone with Shermer, despite having no clear proof of misconduct. (Of course, legal experts say that clear proof of sexual misconduct is often especially difficult to obtain.)
"Even beyond that, a higher level of hysteria is pushed suggesting that '…whether or not you will support this event' is somehow a litmus test on supporting unproven accusers," McIntire added. "I suppose I could hire private security to follow the accused every moment on campus, but I have no probable cause to do so. Accusations are insufficient evidence of guilt in my ethical calculus."
Napoleon wrote back saying that she'd thought about it more and wondered "if I should have emailed you first before going all campus. I respect the work you put into the faculty colloquium and I would hope that you didn't know about this ahead of time. It would have been nice to receive a heads up." Yet, she said, "I stand by what I did regardless."
Email Threats
Shermer then emailed Napoleon and the college president, Anthony Beebe, threatening them both with legal action and demanding the removal of the school newspaper article about him, along with a "retraction" and an apology from Napoleon.
"This is no bluff," he wrote, referencing his legal representation. "This law firm specializes in defamation and libel cases and are one of the best in the country. What you did was immoral and illegal. I will not stand for it. I am a public intellectual from which my entire livelihood depends so I cannot allow these sorts of illegal acts taken against me."
McIntire shared a similar response from Shermer over the all-campus email, criticizing the student journalist by name for not contacting him directly. Shermer said to Napoleon, in particular, "My son is too young to understand the evil that you have wrought, but my wife fully understands and she too will be on the look out [sic] for you. Further, you are not to contact my employers, business associates, colleagues, or anyone else, especially here in Santa Barbara where I intend to raise my family, with the intent to harm me, and if you do I will prosecute you to the extent of what the law allows."
(Via email, Shermer said that he responded as he did because Napoleon mentioned the police in her initial email, and police were never involved in his case. "Given that this is a falsehood, a lie, and given that her intention was to harm me by getting people to boycott my talk and hurt book sales and, ultimately further damage my reputation upon which I base my livelihood, that is what makes this libelous and thus defamatory," he wrote. Napoleon said the police never brought charges, so her email is correct. Shermer has said that Chapman University, where he is a presidential fellow, investigated the claims against him but could not substantiate them.)
Shermer's lawyer then sent Napoleon a cease and desist letter, so she hired a lawyer and sent her own. He sent another, prompting one of Napoleon's colleagues to set up a Go Fund Me account to cover her legal fees.
McIntire continued to defend Shermer, including by commenting on the student newspaper piece online.
"Shermer was treated shabbily by Dr. Napoleon's irresponsible all-campus email attempt to cancel his colloquium, or at very least to suppress audience attendance. She succeeded only in fingering herself as a calumniator of the very worst stamp," he said.
In an email to another faculty member, McIntire referred to Napoleon's olive branch-style email to him as a "morning after regret." In the context of a conversation about sexual assault, Napoleon said, that comment, among others, seemed inappropriate if not suspect.
She and three female other faculty members involved in the debate eventually filed sexual harassment complaints against McIntire, which are still pending.
'I Will Never Be Rehired'
In the meantime, McIntire says, he was told by his new department chair that after more than 20 years of teaching, he would not be rehired. His department chair allegedly cited McIntire's failure to grasp fundamental philosophical concepts, his statements on social media and his propensity to assign papers on politically charged topics -- especially about gun control.
McIntire said that as far as fundamental philosophical concepts go, he did post a video for an online class of someone poorly describing induction and deduction -- by design. As for his statements on social media, he said it's unclear what they have to do with the college. And he always lets students pick their own topics, he said.
"My removal is because I publicly oppose the 'social justice warriors' who have seized control of Santa Barbara City College of late," McIntire explained on the Go Fund Me page he set up to cover his own legal costs; Napoleon has no intention to sue him, she says, but McIntire believes his case will end up in court. His union contract affords longtime adjuncts in good standing priority in reapppointments, so he's appealing the decision before he takes any formal legal action (still, the contract says that the seniority rehiring preference disappears with negative reviews).
The "real reason I will never be rehired," McIntire says on the page, "is that I was the sole faculty voice expressing the cause of marginalized religious, conservatives, libertarians, homeschoolers and/or Trump voters on staff, faculty and [in the] student population … These are violations of my First and Fourteenth Amendments [sic] protections."
He said as much at recent college Board of Trustees meeting, arguing that diversity today means "a diversity of superficialities, people who are members of categories, categories such as ethnicities, categories such as genital configurations, categories such as immigration status, categories such as incarceration."
McIntire, an outspoken political conservative who says he's a longtime friend of the late actor and former National Rifle Association president Charlton Heston, has been a controversial campus figure for some time. But until President Trump's election, he says, he was more of the college's token conservative than any perceived threat to campus order.
"I was a pet they kept under the stairs," he said of life pre-Trump. Now, he says, "I've arrived at the conclusion that the [college] faculty thinks of itself as an independent nation state whose codicils transcend the rules of the United States."
Even last fall, he said, his master's degree paperwork mysteriously went missing from a campus office, and he had to both replace it and help the college verify that Catholic University of America was accredited at the time his philosophy degree was conferred. 
Napoleon, who says she's been hung out to dry by the college in terms of legal support, and who says there's a big gap between the college's action on harassment and its rhetoric, disagrees with the idea that McIntire is a political target, however.
"This has been a boondoggle," she said. "He is not not being rehired because he defended Michael Shermer. He's had several poor faculty evaluations."
McIntire has had three negative faculty reviews this year. But he said there's no squaring the timing of those reviews with what's happened on campus and the 20-plus years of satisfactory teaching reviews before now.
"We would not be talking if Raeanne Napoleon hadn't fired off that viral email," he said. "That's dispositive."
The college did not respond to a request for comment.