You have /5 articles left.
Sign up for a free account or log in.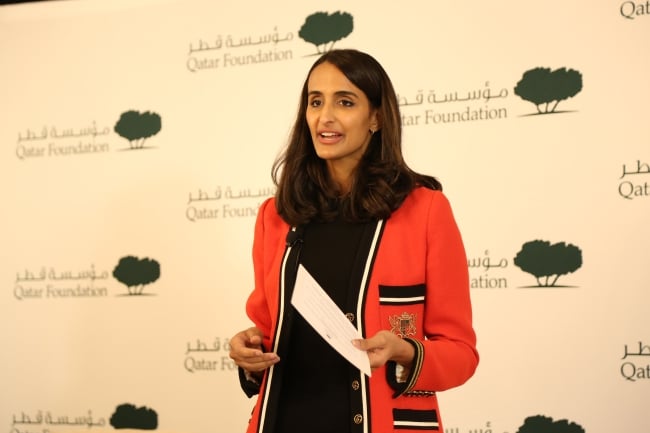 WASHINGTON -- As American political leaders walk away from embracing globalism, many U.S. universities are proceeding with long-held -- and strikingly diverse -- visions to expand their offerings worldwide, officials said Friday.
"The problems we face now are global -- whether it's global health, whether it's economic and social development, whether it's climate change," said Thomas Banchoff, vice president for global engagement at Georgetown University. "National solutions do not work. And unfortunately our education systems are still organized upon national models."
Georgetown in 2005 became one of the first U.S. universities to establish branches in an experimental campus in Doha, Qatar, called Education City. The 229-year-old Jesuit university opened a new campus made up solely of its School of Foreign Service, offering students from the region what Banchoff said is an "identical" education to the one it offers in the District of Columbia, with similar requirements and, in many cases, faculty members transplanted from the United States.
Thirteen years later, he said, "I won't call it an experiment anymore."
Banchoff was joined at a forum, sponsored by the Qatar Foundation, on new models in international collaboration by officials from Texas Tech University and Columbia University's School of General Studies and by Sheikha Hind bint Hamad Al Thani, CEO of the Qatar Foundation, which founded Education City. The campus, which is celebrating its 20th anniversary, features offerings from six U.S. universities, among others, including Weill Cornell Medical College, Virginia Commonwealth University's School of the Arts, Northwestern University's journalism and communications programs, engineering from Texas A&M University and Carnegie Mellon University's business, computer science and information systems programs.
Sheikha Hind said the unusual combination of programs is intentional. "Too often, change is manifested in revision, building upon what has come before," she said. "If that were the approach two decades ago in Qatar, Education City would not have been built nor even conceived. We must always dream bigger." She noted, for instance, that students may now major in journalism at Northwestern's Qatar campus and minor in politics at Georgetown's.
"We continuously want to innovate and try something different," she said. "It is trying something -- it's not just implanting something that exists, but actually creating something that makes sense for that country."
Though the past few years have seen the rise of nationalist movements here and abroad, Banchoff said Georgetown students still recognize the importance of a "global mind-set," an openness to other cultures and the humility needed to solve big, intractable problems.
"We're moving into a new world where the United States is still the predominant power, but it must learn increasingly to work with, to collaborate with, other countries around the world around these global challenges," he said.
Columbia University's Victoria Rosner said its new, four-year, dual-B.A. partnership with Trinity College Dublin solves what has long been a problem with study-abroad programs: students spend too little time abroad and learn little about a region's language or culture.
"At its worst it's a form of tourism," she said.
The program's first class is due to matriculate this fall, offering students two years in Ireland and two at Columbia's Morningside Heights campus in New York City. At the end of four years, Rosner said, students will earn two bachelor's degrees -- one from each institution. It is similar to an existing dual undergraduate program that Columbia established in 2010 with France's Sciences Po.
With the new partnership, she said, Columbia looks to create "a student climate that is thoughtfully cosmopolitan and really committed to a multicultural way of life."
Texas Tech this fall is due to open its first campus outside the United States, in San José, Costa Rica. Like many universities, it already maintains a study-abroad center -- this one in Spain.
The effort is a partnership with the Promerica Group, a conglomerate of financial companies in Central and South America.
"We wanted to grow our international footprint, because that's what research universities do," said Sukant Misra, Texas Tech's vice provost for international affairs.
The effort will initially offer students from the region a mix of five undergraduate degrees: electrical engineering, computer science, industrial engineering, mathematics and restaurant, hotel and institutional management.
The areas of study, Misra said, are "not necessarily based on our strengths -- it is based on their needs."
"We wanted to partner with Costa Rica … to advance the educational ambition of the country," he said.
Though the recent blockade of Qatar by a handful of countries in the region has complicated matters for many Education City students, Sheikha Hind said it hasn't compromised the larger effort.
"If anything it has strengthened our mission," she said. "Education City was built for the region -- not just for the region, but globally. It was built to break those barriers and provide quality education to a region that did not have that before."