You have /5 articles left.
Sign up for a free account or log in.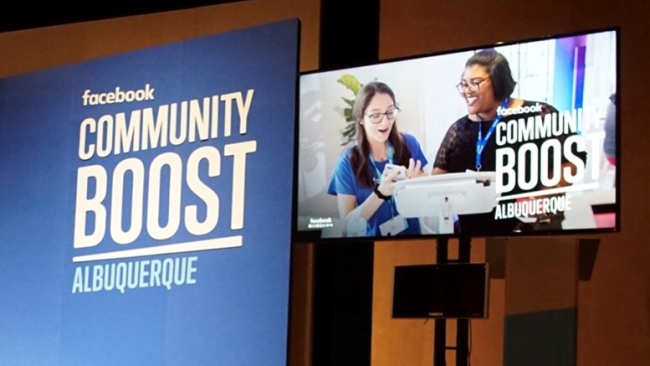 Central New Mexico Community College
Across the country, a growing number of small business owners are finding that either their own digital literacy skills are lacking or their employees don't have those skills.
And that's a problem for those who rely on digital advertising, marketing and social media to drive their business.
Facebook -- and the community colleges it has been building partnerships with -- believes it has found the solution. The company is visiting more than 30 cities across the country as part of its Facebook Community Boost program to help small businesses and job seekers with their digital skills. The social media company announced the first community college partnership in April. Two more colleges were announced this week, and more are expected by the end of this week. The partnerships involve Facebook providing its curriculum to colleges and educational providers, and in some cases scholarships for students to attend those programs.
And that includes partnering with two-year institutions such as Des Moines Area Community College, which was announced this week, Greenville Technical College, which was announced last week, and Central New Mexico Community College, which was announced last month.
Central New Mexico's "partnership with Facebook is helping us develop a cutting-edge digital marketing program that will equip our students with the digital skills that are so important to not only businesses in the Albuquerque area, but businesses across the globe," said Katharine Winograd, president of the college, in a statement to Inside Higher Ed. "We know that these skills are in high demand and graduates of this program will connect quickly with good jobs. At the same time, we'll be serving our local economy by skilling up our digital marketing and digital media work force."
Facebook conducted a survey of Albuquerque's business owners and employees and found that 86 percent of small-business managers recognized that digital advertising was an important skill for growing their businesses, however, only 21 percent of managers rated themselves as excellent in that area. The survey also revealed that 94 percent of job seekers said digital skills are important when looking for employment, but only 10 percent rated their digital skills as excellent.
And filling that digital skills gap is where the education companies and colleges come in.
Facebook is working with the community colleges to develop the curriculum, such as the new digital marketing certificate program at Central New Mexico, but the company also works as a bit of a middleman to help institutions see what the employment needs of small-business owners are, said Amy Brooks, Facebook's director of business education. Des Moines Area Community College's partnership with Facebook is also for the digital marketing certificate program.
Donna Diller, the dean of the school of business and information technology at Central New Mexico, said the college is aligning its core curriculum with the one Facebook is providing to offer the new certificate. The college, along with others, is also partnering with Entangled Solutions, a company that focuses on innovation in higher education, to create its digital storytelling class. Entangled Solutions helped connect CNM to Facebook.
"We're looking at anywhere from six to 10 classes, but also talking about developing and delivering in a boot camp and offering credit and non-credit opportunities," Diller said. "It will most likely, eventually, be embedded in degree pathways in our digital media associate of applied science degree."
Facebook is also partnering with Central New Mexico on its 10-week coding boot camp by providing 32 scholarships for students to attend. That program will help students move into entry-level jobs with an average starting salary of about $45,000 a year, said Brad Moore, director of communications for the college. The company is also building a new data center south of Albuquerque.
"Students and existing employees are looking for additional training beyond the traditional classroom," Diller said. "We're exploring entrepreneurial modalities to meet students where they are. Some of our Deep Dive Coding students say they like it and they want to get a degree or they go right into the work force … In traditional higher education, we have to be able to change and innovate to reach new markets and new students."
It's also important to point out that Facebook's specialized and online learning program, called Blueprint, has been available since 2015, and it's free. The company isn't trying to make money off colleges by sending the curriculum, said Jermaine Whirl, vice president of learning and work force at Greenville Technical College.
Advertising is also key to Facebook's business. The company, which also owns Instagram, made nearly $40 billion in advertising revenue last year, according to NBC News.
In South Carolina, Greenville Technical is also using Facebook's digital skills curriculum to help students improve the online skills small-business employers say they lack.
Facebook's survey of job seekers in Greenville found that 94 percent rated digital skills as important in looking for a job, but only 16 percent said their skills were excellent. Meanwhile, two out of three Greenville job seekers said social media skills were important for a job, but less than one in three rated their social media skills as excellent.
Greenville's Facebook partnership is due to its relationship with the Carolina Code School. The college and the code school had been working on a partnership prior to Facebook coming into Greenville. Whirl said Greenville was interested in scaling up the code school's 12-week program.
The college now awards up to 12 Prior Learning Assessment credits to students who complete the code school and come to Greenville to continue improving their digital skills. Facebook is also offering 25 scholarships for Greenville residents to attend the code school.
"Facebook wants partnerships and collaborations, and they like to see companies and organizations work collaboratively to meet work-force demands," Whirl said. "Nationally you see a lot of code schools pop up and they have a nice niche market. So, for us in higher education, do we fight against them or work with them hand in hand?"
Whirl said the college is just now starting to examine the Facebook curriculum and that officials will spend the summer integrating it into the college's programs.
"We currently don't have a social media concentration, but it's definitely giving us a competitive advantage to have something substantial, branded and nationally recognized," he said. "Almost every company out there has a Facebook page, and nearly all small businesses have a Facebook page."
Brooks said these partnerships aren't about building an employee pipeline from college to Facebook alone, but it's about building a digital skill set for students and graduates to use anywhere.
"We don't want to say this is a Facebook school or program," Whirl said. "We have Twitter, Instagram and others. Facebook has done a great job packing content for small-business people. They put a lot of thought into it based on internal research to be able to provide the information to our entrepreneurs. And that's extremely beneficial, because many want to go on and start their own barbershops or plumbing repair shops."
More announcements of Facebook partnering with education companies and community colleges are expected soon.