You have /5 articles left.
Sign up for a free account or log in.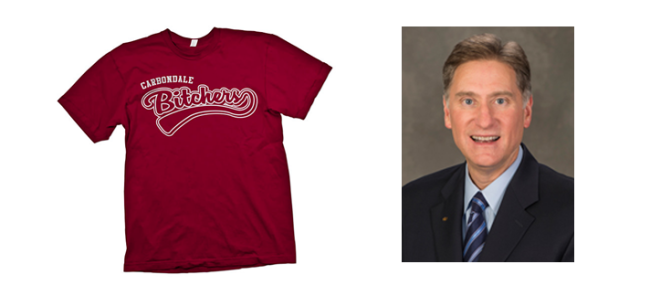 The board of the Southern Illinois University System has scheduled a special meeting of its Executive Committee for Friday.
The agenda states that the committee will meet in closed session, followed by an open session. The agenda for the open meeting includes only two items: "administrative leave of president" and "appointment of acting president."
Randy Dunn, the president, is listed in the document as among those who would receive the agenda. He told the Chicago Tribune that he had no plans for a leave, saying that the meeting "was not called in consultation with me or with my knowledge ahead of time." He added that he would be "talking to my representation and seeing what I can find out."
Dunn has faced several controversies while leading the system, but support for him has deteriorated since an email he wrote to senior administrators was revealed to be urging them to help him "shut up the bitchers from Carbondale."
The tensions with Carbondale, the larger of the two main campuses in the SIU system, come from a plan by Dunn and others to shift more than $5 million from its annual state appropriation to the smaller but growing Edwardsville campus.
Dunn's email was revealed last month by Kathleen Chwalisz, a professor of psychology at Carbondale who is co-chair of the Faculty Senate Budget Committee. She obtained the email through an open-records request and published it in an essay in The Southern Illinoisan, a local newspaper.
The essay argues that the budget proposal would be damaging to the campus and is based on "a lie" that Dunn has pushed about the historic split between funds for the two campuses. Supporters of Carbondale note that all of public higher education has been facing tight budgets for years now, but have asked why their campus should be hurt to help Edwardsville.
Even among those open to some budget adjustments, many said that the language in Dunn's email showed a lack of respect for faculty concerns at Carbondale.
"Randy Dunn's email reveals his contempt for the Carbondale campus and community, as he denigrates us for questioning the rationale, process and timing of the proposed reallocation move," wrote Chwalisz.
Some legislators called for Dunn's resignation. On the floor of the State House of Representatives, one lawmaker, noting the mascot of SIU Carbondale, said of Dunn, "On behalf of all Salukis, you go to hell, sir."
Some faculty members have been settling T-shirts on Etsy (above) for those who wish to boast of being "Carbondale bitchers."
Dunn published a response in the newspaper taking issue with Chwalisz's budget analysis, but he apologized for insulting the faculty.
"I want to take an opportunity to address what was a mistake on my part in referring to individuals in the Carbondale area who have questioned, as it is their right to do, this process regarding campus budget reallocations with a less than complementary [sic] term," he wrote. "I was wrong to characterize them in that way. Many are friends and colleagues and to them, I apologize for how I characterized those who reflexively refused to discuss the issue or engage in a dialogue about it."
Many Carbondale faculty members had doubts about Dunn prior to the most recent controversy.
In January, many faculty members and others criticized Dunn for his approval of an arrangement under which the new chancellor at Carbondale, Carlo Montemagno, was told that he could hire his daughter and son-in-law for university jobs. Many colleges help find positions for spouses of faculty members and administrators. Such "dual-career hires" are important for recruiting, experts say. But hiring children is not common. While Carbondale hired the son-in-law for an existing opening, the daughter was hired into a position created for her. Some of the anger over the hiring of a chancellor's relatives related to ongoing deep budget cuts at the university.
In an interview in January, Dunn said that he "wrestled" with the decision to enable this "atypical" request for the chancellor, and that he was aware of the optics of such hires amid funding woes. "I'm not trying to wash my hands of it, because I was part and parcel of this discussion," Dunn said. "I gave it consideration, and ultimately decided I was comfortable enough with it."
The first controversy of Dunn's tenure concerned his hiring as president -- Southern Illinois hired him in 2014 as he was seven months into the presidency of Youngstown State University.
While there is no consensus on what a minimum time is that a president should stay in a position before considering jobs elsewhere, seven months is almost universally seen as inadequate.
Defenders of Dunn's move noted that he is a native of Illinois, taught at SIU early in his career and had served as the state schools superintendent. Critics said that the costs of presidential searches, and the time spent by a new president learning the issues and meeting constituents, made his departure after such a short tenure unprofessional.
"After seven months, you would think you owe the institution the commitment you made when you accepted the position," a search consultant told Inside Higher Ed at the time.