You have /5 articles left.
Sign up for a free account or log in.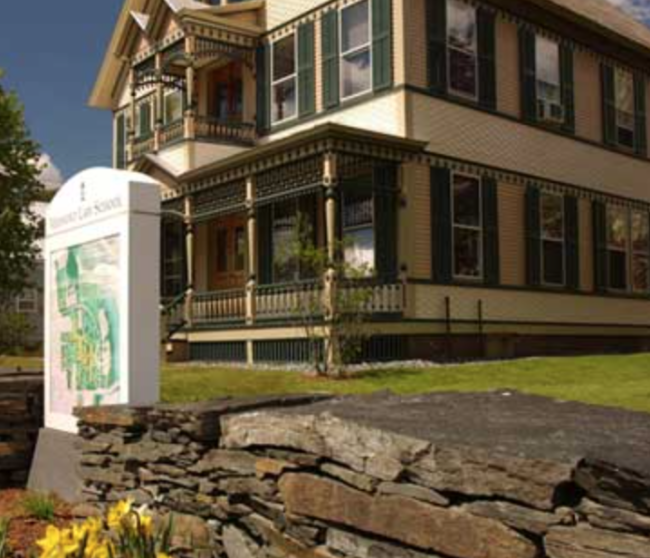 Barring bad behavior or documented underperformance, tenure means a permanent position. But Vermont Law School, an independent, freestanding institution known for environmental law, plans to shift some tenured professors to untenured posts as it deals with ongoing financial troubles.
"It is no secret that [Vermont], like many institutions of higher education (and particularly law schools), has been facing considerable financial pressures for most of this decade," President Thomas McHenry wrote in a recent all-campus email about those challenges and related changes.
With the "unanimous support and guidance of our Board of Trustees," he said, "we are currently undergoing a process of programmatic restructuring: one that focuses our faculty and staff resources on our core educational goals and most essential and useful programs."
While the environmental program will remain a "core, integral" part of the institution, McHenry said, the restructuring process "has also raised some difficult decisions and conversations," particularly with regard to faculty and staff members.
The law school says it doesn't yet know exactly how many of its 20 tenured professors will lose tenure. But the VT Digger reported that two unnamed senior faculty members say more than a dozen professors' tenure protections will be lost. Those who stay on will work on contracts, similar to how many full-time, non-tenure-track professors are currently employed.
Vermont Law School is negotiating employment terms with faculty members this week, before the fiscal year ends on Friday. Final numbers will be available next week, according to information from the institution.
Colleen Connor, chair of the school's Board of Trustees and counsel at GE Power, said in a separate statement, "Recognizing that the future of law schools in the U.S. is changing, we have put our energies into working with the administration to design a model for the future of Vermont Law School that adapts to the changing market while continuing to deliver on our mission."
The school believes "the best path forward is through restructuring our instructional model," she said. "As difficult as this process is, we feel confident in the end, Vermont Law School will be a stronger, more vibrant institution that is sustainable in the long term and that continues to meet our mission of an exceptional legal education, producing leaders and being a pre-eminent environmental law school."
While the school has struggled with debt and fewer students enrolling within the past decade, enrollment is on the rise again, to about 180 expected first-year students this fall. The law school has a waiting list for the first time in years.
Professors who already have reached agreements with the institution were asked to sign nondisclosure papers preventing them from speaking out, the VT Digger reported.
McHenry was not immediately available for comment, so it's unclear exactly how the institution expects to save money by stripping away professors' tenure. In general, critics of tenure say that getting rid of it offers colleges and universities more instructional and financial flexibility, since it is much easier to terminate professors without tenure than those who have it.
Still, the American Association of University Professors says that all professors who have worked full-time for an institution for seven years deserve the same due-process protections that their tenured counterparts enjoy.
Referring to Connor's statement, Greg Scholtz, director of academic freedom and tenure at AAUP, said Monday that by "this process," Connor appears to mean "eviscerating tenure at the institution." In that case, he said, continuing to quote her, it's the association's view that "tenure and its protection of academic freedom are essential for a higher education institution to be 'stronger,' 'more vibrant' and capable of 'pre-eminence' and producing 'exceptional education.'"
Scholtz also said he wondered how the new structure would square with American Bar Association accreditation standards on academic freedom and tenure.
Current ABA standards say a law school "shall afford to full-time clinical faculty members a form of security of position reasonably similar to tenure, and non-compensatory perquisites reasonably similar to those provided other full-time faculty members." The standards also say that law schools shall have an "established and announced policy with respect to academic freedom and tenure."