You have /5 articles left.
Sign up for a free account or log in.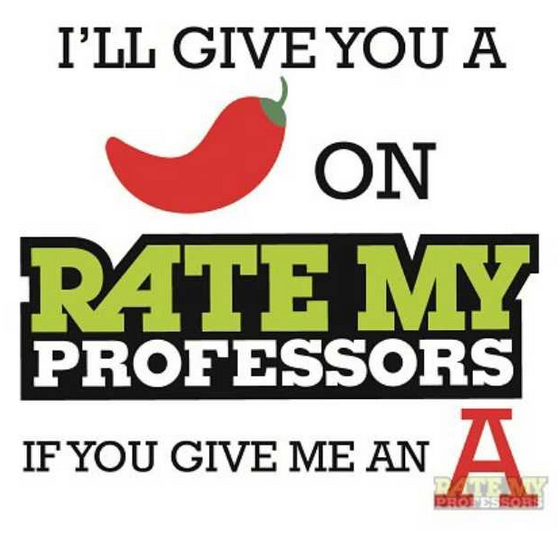 RIP, chili pepper.
RateMyProfessors.com confirmed last week that it is doing away with its most controversial teaching "quality" metric -- "hotness," as indicted by chili pepper icons -- following a social media campaign against it.
Professors have long argued that Rate My Professors is less than scientific, pointing to the hotness rating as exhibit A. Numerous studies support that assertion. A 2017 analysis of millions of online ratings of professors found, for example, that scores varied with instructor gender, discipline and perceived "easiness," and that professors rated as attractive had higher overall teaching scores.
Nevertheless, the chili pepper persisted -- until last week, when BethAnn McLaughlin, an assistant professor of neurology at Vanderbilt University, tweeted at Rate My Professors, saying, "Life is hard enough for female professors. Your 'chili pepper' rating of our 'hotness' is obnoxious and utterly irrelevant to our teaching. Please remove it because #TimesUP and you need to do better."
Thousands of other professors and students joined in, with some pushing for a boycott of the site until it ditched its Scoville scale for academics' looks.
The campaign comes on the heels of a movement for female academics to include "Dr." in their social media biographies and, of course, the larger Me Too moment. While many male academics have condemned the Rate My Professors hotness rating as demeaning and irrelevant to their work (they too are eligible for the rating), it's been particularly loathed by women. That's because study after study suggests that student evaluations of teaching in general are biased against women. Female professors and their supervisors also report that open-ended comments in end-of-term student evaluations too often disparage or otherwise focus on women's appearances. With this kind of evidence mounting, the University of Southern California recently stopped using student evaluations of teaching in promotion decisions, in favor of a peer-review model. The University of Oregon's faculty also voted to end quantitative evaluations of teaching and replace them with a more holistic system.
Not everyone objects to the chili pepper. McLaughlin has taken heat on social media and via email from its apparent fans, some of it insulting. And some professors on the website's annual "hottest" professors list (based on the peppers) have laughed off the title. But many academics involved in conversations about campus climate and the validity of student rating systems have criticized Rate My Professors as perpetuating and normalizing the worst aspects of both. And some academics say that Rate My Professors has real effects on classroom enrollment.
So just two days into McLaughlin's campaign, and with little fanfare, Rate My Professors on Twitter said that it would remove all chili pepper ratings from its site, effective immediately.
Rate My Professors did equivocate a bit, saying that the chili pepper rating "is meant to reflect a dynamic/exciting teaching style," despite clear evidence to the contrary on its social media accounts and elsewhere. Still, McLaughlin and others celebrated the move as another win for campus climate and, for female professors, in particular. In an essay on Edge for Scholars, a commentary website, McLaughlin wrote, "Today we had small but important victory in getting the folks at Rate My Professors to take down the chili peppers students use to evaluate professors' 'hotness.'"
Within 72 hours of "being called out by 14,000 academics and students," she wrote, "they pulled a thorn from the side of women in education." Referring to the website's parent companies, she added, "I am grateful that MTV and Viacom recognized that telling students that evaluating professors based on their looks has aged poorly. In the age of #MeToo, #TimesUp and #MeTooSTEM, we know better, so we must do better." (Representatives for MTV did not immediately respond to a request for comment about the elimination of the chili pepper.)
In her essay, McLaughlin offered more insight into what prompted her to criticize the "hotness" metric. She said she's been "lost and angry" reading the National Academies of Sciences, Engineering and Medicine's new report on what she called "shameful numbers on the sexual harassment and isolation of women in academia. These were more than numbers to me. They were stories of [loss] and sadness. Stories of brokenness we have just started sharing outside of whispers." McLaughlin is also part of a related effort to collect and a related effort to collect stories about sexual misconduct in the sciences.
In that moment, McLaughlin said, she realized that "the failure to respect women in academics was ingrained far too early in our young men." And Rate My Professors "is one of the earliest opportunities for students to exert very public power over our careers and reputations. Giving us chili peppers is degrading." Campus sexual assault remains a widespread problem, she added, as female academics "continue to strive to empower our students with a sense that a university education provides a chance to be judged on their creativity without fear for their safety."
Put "simply," McLaughlin added, "my single mother did not put my brother and me through college and graduate school for 25 years so that I could be measured by a vegetable."
McLaughlin also applauded Rate My Professors for making "the right call," and choosing "civility and kindness over snarky banter and retribution."
She also asked readers to consider signing a petition to Marcia McNutt, president of the National Academy of Sciences, to "stop lecturing us about sexual harassment and ostracize scientists who have been found guilty of sexually assaulting and harassing students and colleagues from our communities and the National Academy of Sciences. They have hurt too many and deserve no honors." The academies have said they are looking into changing their current policies on this issue, but that any such change entails a two-year process.
McLaughlin also learned during her Twitter campaign that the Journal of Neuroscience has told authors to stop saying "Dear Sirs" when submitting articles. The journal's editor in chief is Marina Picciotto, Charles B. G. Murphy Professor of Psychiatry and Professor in the Child Study Center of Neuroscience and of Pharmacology at Yale University.