You have /5 articles left.
Sign up for a free account or log in.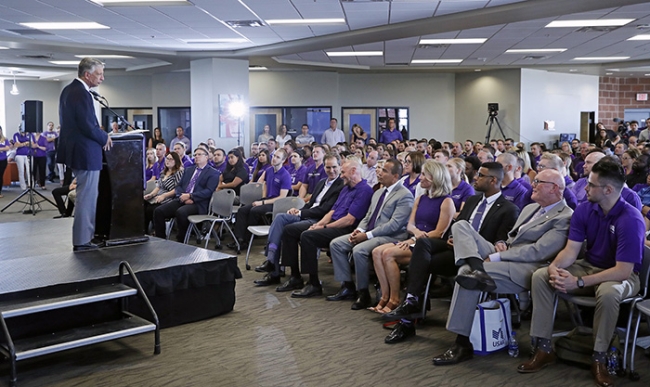 Grand Canyon University, one of the few remaining success stories among big for-profit universities, has become a nonprofit.
The Christian university, which enrolls 21,000 students at its Phoenix campus and another 70,000 students online, on Monday said it succeeded in making the change after its accreditor in 2016 rejected a similar bid.
The publicly traded company on Monday closed on the deal to sell its campus and academic operations for $853 million -- with an expected future adjustment to $875 million -- to a new nonprofit that is taking the name Grand Canyon University. Under a 15-year contract, the remaining corporate entity, Grand Canyon Education, will provide a wide range of outsourced support services to the university in exchange for 60 percent of its tuition and revenue, according to a corporate filing.
Bridgepoint Education is seeking a similar nonprofit transition for its Ashford University. And Grand Canyon's successful move follows the acquisition last year of Kaplan University by Purdue University, which features a long-term outsourced service provider role for Kaplan.
"The structure behind the scenes will change, but our goals and mission remain the same -- to provide high-quality Christian education that is affordable to all socioeconomic classes of Americans," Brian Mueller, Grand Canyon Education's CEO, said in a written statement.
For years the university has sought to drop its for-profit status, saying the move would put it on a "level playing field with other traditional universities."
As a nonprofit, Grand Canyon said it will be able to bulk up its research capacity, receive philanthropic donations, participate in NCAA governance at the Division I level and continue a decade-long tuition freeze.
The university's leaders in the past also have said they are trying to escape the "stigma" of being a for-profit, as the sector continues to collapse in the wake of years of bad publicity and tightened scrutiny by the federal government during the Obama administration.
Yet Grand Canyon said its successful conversion is not about attempting to skirt regulations, which in some cases are aimed mainly at for-profit institutions. For example, the university said none of its programs failed the federal gainful-employment regulation, its loan default rates are low (6.2 percent), and the university receives 72 percent of its revenue from federal sources, which is well below the federal cap of 90 percent.
Arizona's state regulatory agency and the Higher Learning Commission, Grand Canyon's accreditor, previously signed off on the deal. As a result, Grand Canyon Education received approval for the long-term agreement to provide technology, counseling, marketing, financial aid processing and other support services to the university.
"The company no longer owns and operates a regulated institution of higher education, but instead provides a bundle of services in support of [Grand Canyon University's] operations," the company said in a corporate filing.
In many ways the arrangement resembles the relationship between online program management (OPM) companies and their college clients. And the 60 percent share of tuition revenue is in the ballpark of what OPMs charge. The 30-year deal between Purdue University Global and Kaplan involves a much smaller fee of 12.5 percent but features other ways for Kaplan to make money farther down the road.
HLC rejected Grand Canyon's earlier bid to go nonprofit, saying too much of the operation, including both academic and service functions, would be housed in the for-profit division. But the accreditor subsequently revised its criteria on service agreements, which Grand Canyon said made the difference this time around. HLC also backed the deal between Kaplan University and Purdue University.
Even so, several consumer groups and congressional Democrats have criticized the trend of for-profits becoming nonprofits, with some saying the for-profit arm of such partnerships can hold too much power.
For example, in 2015 Bob Shireman published a report for the Century Foundation calling the result of such conversions "covert for-profits," which evade regulations and can continue to enrich their owners. Shireman is a former Education Department official who helped lead the Obama administration's crackdown on for-profits.
Grand Canyon Education and the university will have separate governing boards, the company said. And the university has adopted a conflict of interest policy that prohibits its trustees from having a financial interest or role with the company.
Mueller will continue as the company's CEO and chairman of the board. He also will stay on as the university's president. HLC allows such dual roles under its new guidelines, the company said. But at least one critic already called Mueller's two positions a conflict of interest.
The department under President Trump has yet to respond to the university's January request for a review of the transaction, Grand Canyon said in an online document about the nonprofit conversion. But the Trump administration generally has been supportive of similar transactions. Grand Canyon was a nonprofit institution prior to 2004.
In its corporate filing, Grand Canyon said the "benefits of consummating the transaction at this time were numerous and any regulatory limitations imposed by ED could be managed (particularly since GCU's regional accreditor and state regulator had already approved the transaction)."
The university's faculty members, academic leadership and related staff members, a total of 1,400 full-time and 6,000 part-time employees, have been transferred from the company to the new nonprofit, Grand Canyon said. The company now employs roughly 2,600 full-time staff members.
"The aligned goals of both organizations, as well as the integrity and ethics of both organizations, will only increase our efficiencies by utilizing resources strategically that further the teaching and assessment of student learning, as well as the overall student experience," Mueller said.