You have /5 articles left.
Sign up for a free account or log in.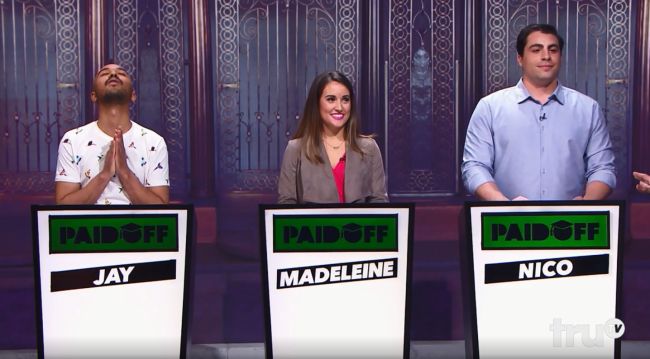 Actor Michael Torpey, known for his role as corrections officer Thomas Humphrey in Orange Is the New Black, kicked off his brand-new game show with a personal story: "My wife and I struggled with student debt and could only pay it off because, true story, I booked an underpants commercial," he said.
But for the remaining 45 million Americans with student debt? "Sadly," he said, "there just aren't that many underpants commercials."
That's where Paid Off comes in. The TruTV game show invites three college graduates, all saddled with debt, to compete for the chance to have it wiped out. Torpey, the show's host and creator, leads the contestants through rounds of questions about things they should have learned in and outside the classroom. Each right answer earns cash toward their loans, and even when the last-place player is eliminated, he or she gets to keep what's earned.
Tuesday's premiere episode featured categories like "Ology-ology," which required the players to guess a field of study based on its description, and a segment in which contestants had to guess the names of planets after insult comic Alan Jones dissed each one. Unlike on Jeopardy! or Who Wants to Be a Millionaire?, the questions were easy, which emphasized that the show's primary goal is not to stump players but to draw attention to the issue of student debt.
Its straightforward political message: Congress needs to do something about educational debt.
After Nico, an education major from William Peace College with $17,350 of debt, was eliminated, Torpey ushered him to the symbolic "direct to Congress" telephone. On the way to a commercial break, Nico dialed and said, "Hello, Congress? Your boy Nico here."
Jay, a graduate of St. John's River State College with $20,462 of debt, was eliminated after failing to distinguish which character names were from the movie Goodfellas or the children's television series Thomas and Friends. Before Jay left the stage, Torpey presented him with a card for Massachusetts senator Elizabeth Warren, thanking her for her work on the student debt issue.
Madeleine, an anthropology major from Davidson College with $41,222 of debt, made it to the final round, telling Torpey, "Right now I live a tiny little loft apartment with my boyfriend and my dog, and I would love to marry my boyfriend and move into a home with a yard for that dog."
The host responded, "That's the real-life stuff debt can be holding people back from."
In order to have her debt paid off, Madeleine had to correctly answer eight trivia questions in 60 seconds, ranging from "What mile-high city legalized the purchase of marijuana?" to "An atom is composed of particles called protons, electrons and what?" She just missed the cut with seven correct answers and walked away with $24,462 -- more than half of her debt.
Throughout the show, Torpey worked in many calls to action -- at the end, he signed off by saying, "It doesn't have to be this way. Call your representatives right now and tell them we need a better solution than this game show."
But Robert Kelchen, an assistant professor of higher education at Seton Hall University, doesn't think constituent calls will make anyone budge on student debt.
"I don't think it's going to change any hearts and minds in Congress," he said. "If your representative is a Democrat, they'd probably already like to do something about student debt, and if they're a Republican … they'll talk about how much money the government already spends on higher education."
While student debt can be burdensome, said Sandy Baum, a nonresident fellow at the Urban Institute, it's not the primary reason people like Madeleine aren't buying homes.
"The evidence that we have about the relationship between student debt and home purchases is really weak," she said.
Income is the biggest factor in later-in-life purchases, Baum said. "It's really clear that if your income is not high enough, you're not going to buy a house." For most people, wages are "significantly higher" when they go to college.
"We need for wages to go up, we need for the labor market to be strong, we need enough opportunities for people to make money," she said.
As far as debt goes, Madeleine, Jay and Nico are all about average -- the typical graduating senior who takes out loans carries about $30,000 to $35,000 of student debt, according to Kelchen -- but it's not people like these three contestants who are hit hardest.
"Dropouts are the ones who default," he said. "Graduates by and large don't default on their loans."
Baum was also wary about dramatizing the issue too much, since, for many, loans are necessary to pursue a degree.
"If we in any way communicate that student debt is always a bad thing, then that's a problem, because many people who could benefit tremendously by going to college will only be able to go if they borrow some money," she said.
She'd also like to see a greater diversity of contestants in future episodes. "If they're single mothers who went to for-profit institutions and got ripped off, that would be great."
Tuesday's 30-minute premiere caused a lot of buzz among 20- and 30-somethings hoping to be cast on the show.
"Trying to figure how to get on #PaidOff on @truTV with @TorpeyMichael," one user tweeted. "I've got some murdersome student debt I'd love to get rid of. Anyone have any tips?"
"Current pediatric nurse. Student loans suck! How can I get the opportunity to be on your show?" another asked.
Others, like Massachusetts state senator Eric Lesser, weighed in on the political message: "Sign of the times. We NEED debt free college, universal community college, and actual solutions to the student debt crisis. Not game shows," Lesser wrote.
Torpey broke the news on Twitter that season one was already a wrap.
"Unfortunately we are all done shooting the first season," he wrote. "If you enjoy the show, tell @truTV to order more episodes. Then we'll be able to help more folks with their student loans."