You have /5 articles left.
Sign up for a free account or log in.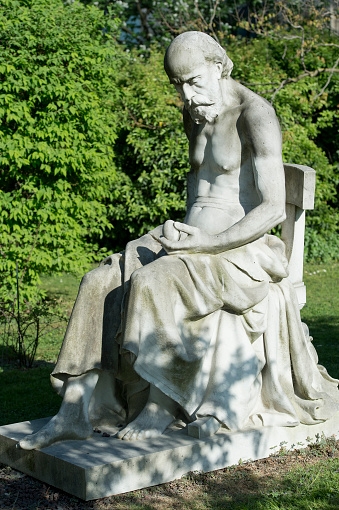 Claremont Graduate University closed its philosophy department and laid off the program's two main tenured professors this summer, just a year after approving a promising master's degree-only model for the department.
Professors learned of the university's plan to eliminate philosophy in its entirety in late April. The university's Board of Trustees voted for closure in mid-May. And both faculty members were terminated on June 30 with what amounted to one day's notice, said Charles Young, a longtime professor of philosophy at Claremont and one of those now out of a job.
"We were each given the day before an offer to continue as contract employees," he said. "The offers were unacceptable in form and content, and presented as take-it-or-be-fired. We ignored them and got fired the next day."
Young also said Monday that he believed his health insurance had been canceled on June 30, and that no one from the university had informed him of that change.
"My time and energies for the next day or two will be taken up in dealing with that potential disaster," he said, noting that he is 72 and suffered a stroke last fall. Young has said that he considered retirement before the new department model launched, but that he agreed to stay on for what he thought would be another four years, to see it through. 
Masahiro Yamada, department chair, is currently in Japan but confirmed that he was terminated June 30. He shared a similar account to Young's in a post for Leiter Reports: A Philosophy Blog.
"We actually decided to close the Ph.D. program and to move to an M.A. only program with the support of the Claremont Colleges philosophy faculty back in the spring of 2017," he wrote. "A [memorandum of understanding] specifying a 3-year plan to build up the M.A. program was signed [in May 2017]. Of course, we still have Ph.D. students from previous years that we have to take care of."
Claremont initially referred questions to a news release about trustees' decision to close the department. That release cites a statement from Jacob Adams, interim university president, saying the decision was "not made hastily or in reaction to a temporary enrollment downturn but in recognition of a unique combination of market, enrollment and limited faculty resources that militated against the program's sustainability, even academic viability."
Patrick Mason, dean of the School of Arts and Humanities, also wrote to philosophy students, alumni and faculty of the university and the affiliated Claremont Colleges, according to the news release. He assured the 10 students now enrolled in the Ph.D. program that they had the full support of the university to complete their degree programs.
Claremont said a "path to completion" would soon be in place, including the possibility of working with the university's "existing philosophy faculty." But as of today, that appears to be no one. The department's third professor, Patricia Easton, is currently serving as provost full-time. She did not immediately respond to a request for comment.
Yamada noted in his Leiter post that the news release quotes Mason as saying that "the process that led to the board's ultimate decision was extensive and broadly consultative. The decision was not made impulsively or without long consideration and thorough deliberation."
However, Yamada said, "I was unaware of any such consultations and deliberations, but if what he is saying is true, the deliberations must have started long before April and, I am sorry to say, we must have been recruiting in bad faith, however inadvertently." 
While the idea of losing a job "sucks," Yamada said, the "primary victims here are our continuing students. The students have come to us because they trusted our promise to give them the kind of training they wish to receive."
It's unclear exactly why Claremont targeted philosophy for closure over other humanities departments, since its rationale about poor hiring prospects for graduates would seem to apply to many disciplines.
'Program Reprioritization'
Mason, the arts and humanities dean, told Inside Higher Ed Monday that Claremont began a process of program reprioritization in 2013. That work led to a committee of faculty members and trustees identifying six programs for development or closure in early 2017. Among those six, philosophy was lowest in enrollment over the longest period of time, he said. Since 2015-16, just four new students enrolled in philosophy graduate programs.
"We made a number of efforts to remedy the situation," including remaking the program as master's only, Mason said. But "despite aggressive recruiting efforts, unexpectedly low enrollment did not provide enough of a critical mass of new students to form the cohort sufficient to rebuild the program."
So in May, he said, the trustees "looked at the lack of market demand, less than expected enrollment and other factors before finally making the decision to close the department."
Young had a different take in his formal grievance statement, which he shared with Inside Higher Ed. In it, he said that Claremont's philosophy department has long included three full-time faculty members and "managed to do very well" with little administrative support.
But in recent years, he said, increases in tuition, decreases in financial aid, fewer course offerings due to Easton moving to her full-time provost's job, "and an ever-worsening job market made the program less and less attractive to new students. In 2016-17, they stopped coming."
Philosophy responded by eliminating the Ph.D. program and redesigned its master's program to be a "feeder program for top-ranked philosophy programs," he said. Claremont has a history of getting top students into such departments and Yamada was able to clear a major obstacle: securing backup from faculty at the associated Claremont colleges.
'Fix or Close'
The new program was ready to go even before the university's administration imposed a "fix or close" order on philosophy and several other programs in early 2017, Young said. The "fix or close" mandate only harmed the new program, he added, including by stipulating that it include an extra, arguably unnecessary course that made it thousands of dollars more expensive than peer programs.
Claremont also imposed a three-year timeline for proving success or failure, while Young argued that only a five-year timeline could yield meaningful data.
"Although the terms of 'fix or close' gave us less than good chances at success, we signed on in good faith," Young wrote in his grievance letter. "We assumed that [Claremont's] administrators signed on in good faith as well. In this, we were sorely disappointed. The administration abrogated the MoU even before the end of the first year of the new program's three-year trial. 'Fix or close' became 'cripple and kill.'"
Young in his letter also attributed blame to Easton, saying that she had closed the department's admissions in April, ahead of the board's vote (the university says it was a joint decision between Easton, Mason and Yamada). Two students already had been admitted, and one intended to enroll. A third student of religion expected to be admitted to a dual-degree program, he said and another senior at Pomona College allegedly was interested in a master's but had to be turned away. April also is when Ph.D. programs must inform students that they've been turned down, he said, so more applications to the feeder master's program were likely. Claremont's target enrollment for the new program was four.
Easton's action "ensured that we would have no new students in 2018-19," he wrote. "Less than a month later, the board voted to close the program, citing the fact that we had no new students."
As for the program's current Ph.D. students, Young underscored what he described as a the lack of a true "teach-out" plan for them.
Philosophy as a Target
The university's news release cites a number of other institutions to have closed graduate programs in recent in years, and such closures -- for reasons similar to those at Claremont -- are on the rise.
There's a related debate, with advocates of humanities saying that a university can't truly be one without the foundational liberal art of philosophy. A letter of concern to Claremont from some 20 professors of philosophy at the associated colleges, for example, says that "we do not understand how a university that touts itself as aiming to provide both depth and breadth in the arts and humanities can carry out its mission absent a philosophy department." The American Philosophical Association also has asked the university to reconsider.
But the note from Adams, Claremont's interim president, says that the trustees considered that Claremont "is not a comprehensive university," but rather a "graduate university offering degrees in selected fields with unique programs of study and opportunities to study across disciplinary boundaries."
Young's issue with Claremont is more how than what, though. (The faculty letter of concern also says the philosophy call seems to have been made "hastily and without consultation.")
"There are proper ways of closing down a program," Young wrote in his grievance. "In the case of philosophy at [Claremont], the proper way was to have waited for the 3-year up-or-down review mandated by memorandum of understanding and scheduled for fall 2019 at the earliest."
Yamada said via email that he'd heard the closure was due to "localized financial exigency." Asked about the university's pledge of support for the students, he said, "that's a good question and I would love to know myself."
Mason, the dean, said that moving forward, Claremont "is fully committed to the continuing philosophy students as part of a comprehensive teach-out plan." With less than a dozen students, each already has a heard from or met with a faculty member or administrator to develop an individual plan for mentorship and graduation, he said.
The closure of the department "was not an enviable outcome, but came about as a result of difficult market forces and at the conclusion of a long process of program review and assessment," Mason added. "I do want to affirm that [Claremont] maintains a strong commitment to the humanities, as evidenced in continued faculty hiring and increased enrollment in other fields."