You have /5 articles left.
Sign up for a free account or log in.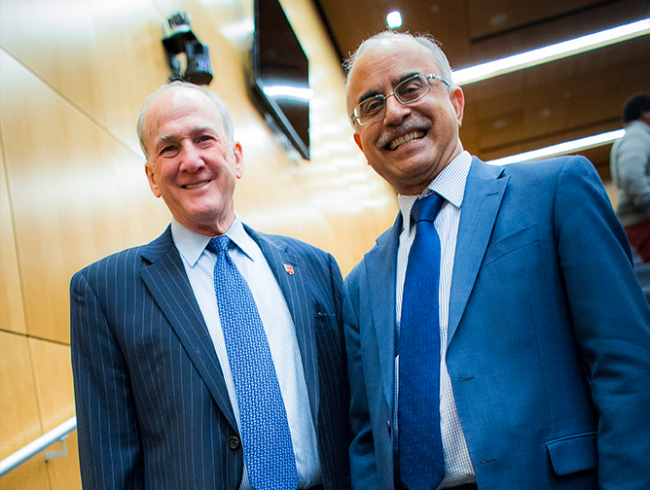 The Old Queens Building on Rutgers University's flagship campus at New Brunswick is thought of as the university's symbolic heart. In the past, it held the office of the Rutgers University president, a leader overseeing not only New Brunswick but several other campuses and operations.
In December and January, the university finished a months-long relocation of all central administrative leaders into nearby Winants Hall. That left Old Queens as the home of the Office of the Chancellor at New Brunswick, held by Deba Dutta since July 2017.
"Making it our 'home' will require work during the next few months," Dutta wrote in a public letter to campus that began with wishes for a happy New Year. "Because Old Queens is the symbolic heart of the university, we would like faculty, student and alumni highlights -- artifacts, books, awards and other hallmarks -- to be displayed prominently in the building and in my office. I welcome your ideas and suggestions."
To some faculty observers, the office shuffling was symbolic of a larger change unfolding in the leadership structure at Rutgers, a structure in which the chancellor assumed more responsibility for the 50,000-student New Brunswick campus. The chancellor position has only existed since 2014 at New Brunswick, and many thought its establishment would lead to the president focusing less on the flagship and dedicating more energy toward leading the university as a whole.
Then, this week, Dutta shocked campus by leaving the New Brunswick chancellorship. He resigned Tuesday after being chancellor for just over one year.
"During this time it has become clear that my vision for the chancellorship is not in alignment with that of the University," Dutta wrote in a letter posted online. "It is only fair that I step aside and let the University select a new leader for the New Brunswick campus."
Dutta continued by saying Rutgers faculty members, staff members, students and administrators, including President Robert Barchi, had his full support.
"Serving in this role at one of America's oldest and most prominent land-grant public universities has been a distinct privilege," he wrote.
Rutgers has provided few additional details since Dutta's resignation became public. Faculty members are left surprised and unsettled. Several said they liked and supported the chancellor, describing him as a leader who was a strong personality, but someone who would offer honest, respectful and well-reasoned opinions.
While some professors had heard about disagreements between Dutta and Barchi, no one seems to have predicted the chancellor would leave so suddenly. Some wonder if he was forced from office.
What can be said for sure is that Dutta's resignation is unusual for many reasons. Although executive tenures in higher ed are growing shorter, one year is still extremely short for a position that is so time intensive and expensive to fill. The resignation also comes as Rutgers faces a number of other changes, including union negotiations, a freshly inked wide-ranging deal with New Jersey's largest health system and another in a long line of tuition increases for students.
Everyone saw a year into Dutta's chancellorship as a good time to take stock of whether the situation was working, said Peter McDonough, Rutgers's senior vice president for external affairs. Included in that process is asking what the role of chancellor is at Rutgers, as opposed to other institutions.
"This is a structure that only came into being four or five years ago," McDonough said. "So it's kind of an ill-defined role. Traditionally, there has not been a chancellor at Rutgers-New Brunswick."
New Brunswick has had two chancellors since the position was created. Richard L. Edwards preceded Dutta. Edwards became chancellor in 2014 after previously being dean, interim president and interim chancellor. He also held the role of executive vice president of academic affairs from 2012 to 2015. Edwards decided to step down as chancellor in 2017 and was appointed university professor.
Barchi and Dutta have both said the resignation came because of "a view of the chancellorship that was different than the one the university has," McDonough said. They agreed to part ways in a "pretty amicable way." There was no single breaking point.
Pressed on whether Dutta was asked to resign, McDonough said the decision was a mutual agreement.
Dutta will take a one-year sabbatical during which he will be paid his base chancellor's salary of $480,000 per year. He will then return as a distinguished professor in the School of Engineering, where his salary will be approximately $260,000.
Rutgers named Christopher J. Molloy as its interim chancellor. Molloy has been senior vice president for research and economic development at the university since 2013 after first joining the institution in 2007 as dean of its school of pharmacy in New Brunswick. McDonough did not have any details about a possible search for a permanent chancellor.
Faculty members found themselves surprised by the way Dutta's resignation was announced. The chancellor sent out a resignation email that arrived about 40 minutes before professors received an email from Barchi about the chancellor change, said David M. Hughes, a professor of anthropology at the New Brunswick campus who is Rutgers's American Association of University Professors-American Federation of Teachers chapter vice president.
"In 18 years, I've never seen that before," Hughes said. "Then the fact that he admitted to a difference of opinion -- that's something I've never seen before in a resignation of an administrator."
Hughes also read a statement from the Rutgers Council of AAUP-AFT Chapters, which said the leadership change indicates uncertainty at the top about the nature of Rutgers and who it serves. The statement called for the administration to grant authority to students, faculty and staff members in the selection of Dutta's replacement.
Union members are unhappy the university has relied on more part-time and non-tenure-track professors as it increased enrollment over the years. It is "running itself like a corporation," and the administration has not articulated a clear vision, Hughes said.
Contracts recently expired for 24 bargaining units representing 20,000 workers at Rutgers, Hughes said.
"Chancellor Dutta was effectively the second most powerful person at the university, and for him to have a public rift with the first most powerful person at the university makes those of us who have very little power at all wonder what the values of the institution are and how we should be negotiating with them," Hughes said.
Dutta has spoken about making Rutgers affordable and how his last employer, Purdue University, charged lower tuition, Hughes said. But in recent days, the Board of Governors approved changes seen by some faculty members as being out of step with that vision.
Rutgers is increasing undergraduate tuition and fees by 2.3 percent for the 2018-19 academic year. Adding in room and board, the typical in-state full-time Arts and Sciences undergraduate is expected to pay $27,681, before financial aid, an increase of 2.18 percent from last year. When announcing the tuition increase, university officials said tuition and fees are rising at a slower rate than their 10-year average increase, which is 3.2 percent.
Just a day before Dutta left, the Rutgers Board of Governors approved an agreement with New Jersey's largest health care system, RWJBarnabas Health. Hughes described it as a deal unpopular at the university that will separate the medical school's clinical operation, fearing it is a privatization play.
Officials have explained each of those moves in starkly different terms. The institutions cast the RWJBarnabas deal as a public-private partnership that will boost research, improve health education and increase access to care. In part, it will create a new medical group made up of health-care workers from RWJBarnabas and Rutgers Health who will stay within their respective institutions.
Regardless of how popular the moves are, Dutta didn't implicate them in his resignation. Still, Hughes theorized they may have contributed to it.
"If you're a guy who wants to create the best learning environment for the largest number and most diverse number of undergraduates in the state, you've got to be saying to yourself at that kind of double punch in mid-July, 'This is not working out for my vision,'" Hughes said.
Other faculty members said they had heard of tensions between president and chancellor.
Dutta and Barchi were "at loggerheads" about several matters, according to Martin Gliserman, a member of the New Brunswick Faculty Council Executive Committee who is an associate professor of English at New Brunswick.
One issue was the new university structure that was to be taking hold, with the president holding a role higher up in the university while the chancellors were to take care of their individual campuses. Whether the Rutgers president or New Brunswick chancellor had primary oversight over Rutgers's Big Ten athletics program may also have sparked disagreement.
Many faculty members liked Dutta. The Faculty Council Executive Committee met regularly with the chancellor, according to Gliserman. Dutta seemed to listen and was responsive, and the chancellor galvanized faculty members to work toward a vision of community.
Gliserman described Dutta as strong, forthright and lucid. He would not always agree with faculty members, but he would provide thoughtful reasoning and context.
"If we had disagreements, we had disagreements," Gliserman said. "It was always very clear what the issues were. We really enjoyed working with him a great deal. We're very sorry about what's happened."