You have /5 articles left.
Sign up for a free account or log in.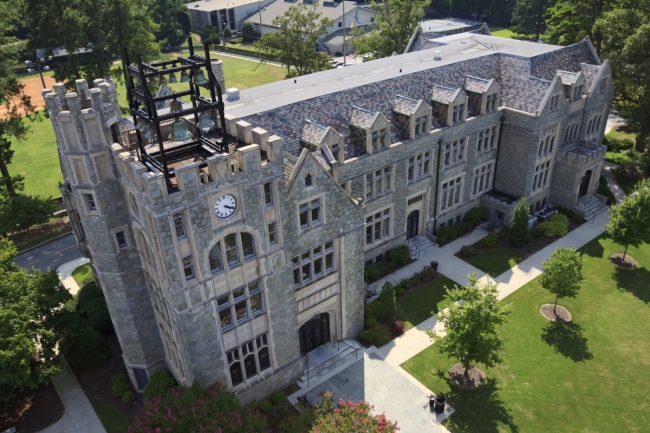 Oglethorpe University staked out new ground Wednesday in the struggle to stand out from the crowd of small private colleges, unveiling a pricing strategy that will match public college tuition rates in every state for members of next year's freshman class who meet certain benchmarks.
The 1,280-student university in Atlanta calls the strategy the Flagship 50 program. It's a non-need-based scholarship pegging the tuition some students will pay to sticker prices at flagship public universities in each of the 50 states and Washington, D.C.
Freshmen who qualify will pay the in-state tuition rates of flagship universities in their home state. To do so, a student will need to have posted a cumulative grade point average of at least 3.5, plus a minimum test score of 1250 combined SAT or 26 composite ACT.
In some ways, the new program resembles the University of Maine's Flagship Match program, which brought in new students from out of state by dangling the prospect that they could pay the same tuition and fees to attend the University of Maine in Orono that they would pay if they were attending a flagship campus in their home state. But Oglethorpe looks very different from Orono because it is a private institution in the South, not a public one in the Northeast. It's also far smaller, with first-year classes measured in the hundreds, not the thousands.
That could mean Oglethorpe has a smaller margin for error -- or that it needs less of an enrollment bump to move the needle.
From the perspective of a student who is shopping sticker prices and has the necessary academic chops, Flagship 50 would appear to save thousands of dollars on Oglethorpe's published price. Oglethorpe posts a tuition rate of $37,920 in 2018-19, plus $530 in fees, before room and board. Tuition and fees at the most expensive flagship on the new program's list, the University of New Hampshire, total $18,499. For the least expensive, the University of Wyoming, they are $5,550.
That's not the total picture a student will face, because universities both public and private don't collect full sticker price from students. They discount tuition through scholarships and grants. Oglethorpe's discount rate has hovered at around 60 percent in recent years. The university reports net tuition per student of about $13,700.
So the Flagship 50 program is a combination of a pricing and marketing effort aimed at one very specific slice of students: academically strong students who are often enrolling in state flagship universities instead of Oglethorpe, perhaps because the private university's sticker price scares them away. 
"We're seeing a lower yield with our highest-qualified students," said Larry Schall, Oglethorpe's president. "Particularly in the South, with all the various scholarship programs that the southern states have, they are being drawn to the state flagships if they can get in."
Another reason the program is particularly interesting is that it is nationally branded, while Oglethorpe largely draws regionally. The university's freshman class comes from 17 states, yet it has structured the program to match tuition at flagships nationwide (the overall student body comes from 33 states and 38 countries, according to Oglethorpe). Schall expects the program to help recruit students primarily from states from which Oglethorpe has traditionally drawn the most while also helping it push its reach to other nearby states in the South and Midwest. The university won't likely draw 30 students from North Dakota next year, and it isn't flying counselors around the country on an intense nationwide hunt. It should, however, start drawing students from more than 17 states.
Along with the new program, Oglethorpe is using a variety of arguments in favor of small, private liberal arts colleges to recruit students. After financial aid is factored in, many students can attend Oglethorpe for nearly the same cost of a state university, even without Flagship 50, its marketing materials say. They continue to say that Oglethorpe offers more small classes taught by professors than public universities' honors programs and that its student body is diverse. University leaders also express confidence in students graduating in four years.
Flagship 50 isn't only about recruiting students across state lines. Oglethorpe's main competitors for students from Georgia are Georgia's public institutions, Schall said. That's worth noting because Oglethorpe draws 73 percent of its students from within the state, according to the National Center for Education Statistics.
It's also worth noting because the sticker price for the University of Georgia that Oglethorpe would charge under Flagship 50 is $11,830 -- below Oglethorpe's overall net tuition per student. Some of the state flagships targeted have higher sticker prices than Oglethorpe's net tuition per student, which could help offset those with lower prices.
But many flagships in neighboring states -- those most likely to send large numbers of students to Oglethorpe -- have sticker prices below Oglethorpe's net. Take, for instance, the University of Florida, with its sticker price of $6,380. Flagship 50 could introduce unintended consequences.
Schall maintains even those consequences wouldn't have to be uniformly negative.
"If we had 100 new students from Florida come in, that would impact the net tuition price per student in a not-positive way," he said. Still, he continued, overall tuition revenue would increase in such a scenario because Oglethorpe would be growing in enrollment and total tuition revenue collected. It would also increase the amount of money Oglethorpe collects from room and board charges, potentially adding to the bottom line.
In other words, Oglethorpe could often be collecting less in tuition revenue from the students it enrolls under Flagship 50 than it does from those who don't qualify for the program. But the program isn't intended to grow net tuition per student.
"We have some empty beds, we have room in classrooms, so we have capacity," Schall said. "We look at net tuition per student, but our strategic goal is to grow overall net tuition."
If Flagship 50 were in place this year, 40 students would have qualified. When the program is in place next year, Oglethorpe projects 70 students will qualify. Predictions show total fall enrollment growing from 1,280 this year to 1,310.
The university projects net tuition revenue per student will hold roughly even when the new program is in place. Total net tuition revenue is expected to rise from $16.6 million this year to $17.25 million.
Oglethorpe's pricing strategy is likely to grab attention from affluent families who are comfortable paying the full sticker price at a public flagship university but might still be sensitive to higher published tuition costs at a private institution, said Bill Hall, founder and president of Applied Policy Research, an enrollment and pricing advising firm.
The approach is more about generating a marketing bump than it is about building revenue, Hall said. But if a university has excess capacity, additional students can help beyond generating incremental dollars. They can provide recruiters with a beachhead from which to break into new territory.
"If it gets you before populations you're not normally going to be in front of, you can see where the inquiries build and dedicate more resources." Hall said.
In that line of thinking, Flagship 50 functions like one of the tuition resets that many colleges rolled out last year -- a way to grab attention and enroll more of the most attractive students.
Schall draws a distinction between Oglethorpe and many of the institutions that put tuition resets in place. For the most part, tuition resets were rolled out to "stop the bleeding" at struggling institutions, he said. Oglethorpe has not been struggling financially, he said, pointing to a history of surpluses. Yet it still needs to grow.
Oglethorpe's program could also be considered more targeted than a tuition reset. Where a reset cuts sticker prices for all students, Flagship 50 reduces them for a much smaller group. And while Oglethorpe committed to the scholarship for next year's freshman recipients for four years, it could change the program for entering classes after that.
Also, next year's scholarship recipients will have their awards frozen, but Oglethorpe's tuition will not be fixed. That means students will pay more if the university's tuition rises, which it typically does by 3.5 or 4 percent annually.
Colleges can be successful if they can point to a unique feature that's easily recognized, said another consultant, Larry Ladd. Oglethorpe rolled out a catchy name for the attention-grabbing strategy and appears to be complementing it with marketing efforts contrasting its small size against the "city-like state" of public flagships, said Ladd, who is national director for Grant Thornton's higher education practice.
He still sounded a note of caution.
"So far, there is little evidence that creative pricing strategies are working to expand enrollment and especially net revenue," Ladd said in an email. "They are new enough that it is too early to tell. If others duplicate it, the competitive advantage will slowly decline in value and it will need to develop other similar strategies to differentiate itself in the marketplace."
Criticism sometimes lobbed at tuition resets also echoes here: if a small college is competing only based on price, it is in a dangerous position.
Oglethorpe leaders can retort that they have other advantages to attract students, like the aforementioned class sizes and location. Some other private institutions in Georgia are struggling, Schall said.
"Our students come because they want the opportunity that Atlanta brings," he said. "We would not be doing nearly as well as we're doing if we were not in Atlanta."