You have /5 articles left.
Sign up for a free account or log in.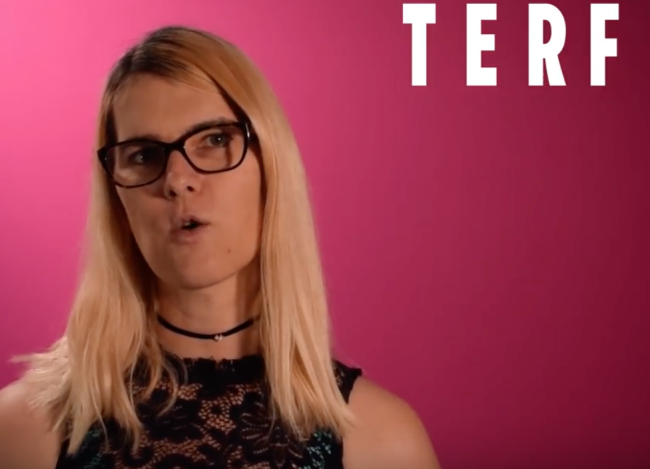 For some, using the word "TERF" means calling out transphobia where they see it. For others, the word is a slur that has no place in academic discourse. And those points of view are currently clashing in philosophy, a journal of which recently permitted use of the term.
Still, to others, "TERF" sounds like a foreign word. So, first, a primer: TERF is an acronym meaning "trans-exclusionary radical feminist." While the term has become controversial over time, especially with its often hateful deployment on social media, it originally described a subgroup of feminists who believe that the interests of cisgender women (those who are born with vaginas) don't necessarily intersect with those of transgender women (primarily those born with penises).
To some feminists, that notion is obvious: the experience of having lived as male for any period of time matters. But some trans scholars and allies say that notion is in and of itself transphobic, since it means that trans women are somehow different from women, or that they're not women at all.
This debate has been simmering for some time in public life in Britain, which is considering updating its Gender Recognition Act to allow for gender self-identification. (New Zealand also is moving toward self-declaration). But it has not reached such a pitch in academe, especially in the U.S. -- at least not until now. As Kathleen Stock, a professor of philosophy at the University of Sussex, in Britain, wrote on Medium in May, "Beyond the academy, there's a huge and impassioned discussion going on, around the apparent conflict between women-who-are-not-transwomen's rights and interests, and transwomen's rights and interests. And yet nearly all academic philosophers  -- including, surprisingly, feminist philosophers  --  are ignoring it."
This month, though, a group of scholars registered a public complaint with Philosophy and Phenomenological Research's editorial team. In a guest post for the Daily Nous philosophy blog, the scholars said that in a recent issue of the journal, the term "TERF" was lobbed in "ad hominem attacks" rather than in mere discussions.
In question is a symposium on the noted 2015 book How Propaganda Works, by Jason Stanley, Jacob Urowsky Professor of Philosophy at Yale University. In an article called "The Epistemology of Propaganda," Rachel McKinnon, an assistant professor of philosophy at the College of Charleston, uses Stanley's work to analyze what she calls "a modern form of propaganda where so-called trans-exclusionary radical feminists (TERFs) are engaged in a political project to deny that trans women are women -- and thereby to exclude trans women from women-only spaces, services and protections."
Noting that the phrase "trans-exclusionary radical feminist" was coined by two cisgender radical feminists in 2008, McKinnon argues that "this point is important, since many contemporary feminists accuse trans women of coining the phrase/term -- and, ludicrously, claim that 'TERF' is a misogynistic slur."
The scholars who complained -- seven feminist philosophers from Britain and Australia -- wrote in Daily Nous that TERF "is at worst a slur and at best derogatory. We are extremely concerned about the normalization of this term in academic philosophy, and its effect in reinforcing a hostile climate for debate on an issue of key importance to women."
TERF "is widely used across online platforms as a way to denigrate and dismiss the women (and some men) who disagree with the dominant narrative on trans issues," the scholars wrote. Targeted groups include "lesbians who merely maintain that same-sex attraction is not equivalent to transphobia," and "women who believe that women's oppression is sex-based, and are concerned about erasing the political importance of female bodies," they said, citing websites such as TerfIsaSlur.com as evidence.
A quick search for #TERF on Twitter also turns up references to the "clitterati," "ignorant, hateful cunt[s]," comparisons to Nazis, and invitations to "go fuck themselves on cactuses." Trans women of course face brutal discrimination online and in life, but such examples support the idea that "TERF" is not a neutral term.
The scholars -- who also took issue with McKinnon's assertion that concerns about trans access to certain sex-segregated spaces are "unfounded" and "based only a flawed ideology" -- said that their complaint was squarely with Philosophy and Phenomenological Research. That is, the word "TERF," in their view, should have been screened out in the editorial process. But McKinnon, much more than Stanley, who also used the term in his symposium reply, has nevertheless been implicated in the debate.
McKinnon forwarded her online talk about why "TERF" is not a slur but declined an interview request. She's responded on Twitter to what she called a targeted attack against her, however. She's also said that the writers of the complaint asked the journal's editor to retract the article.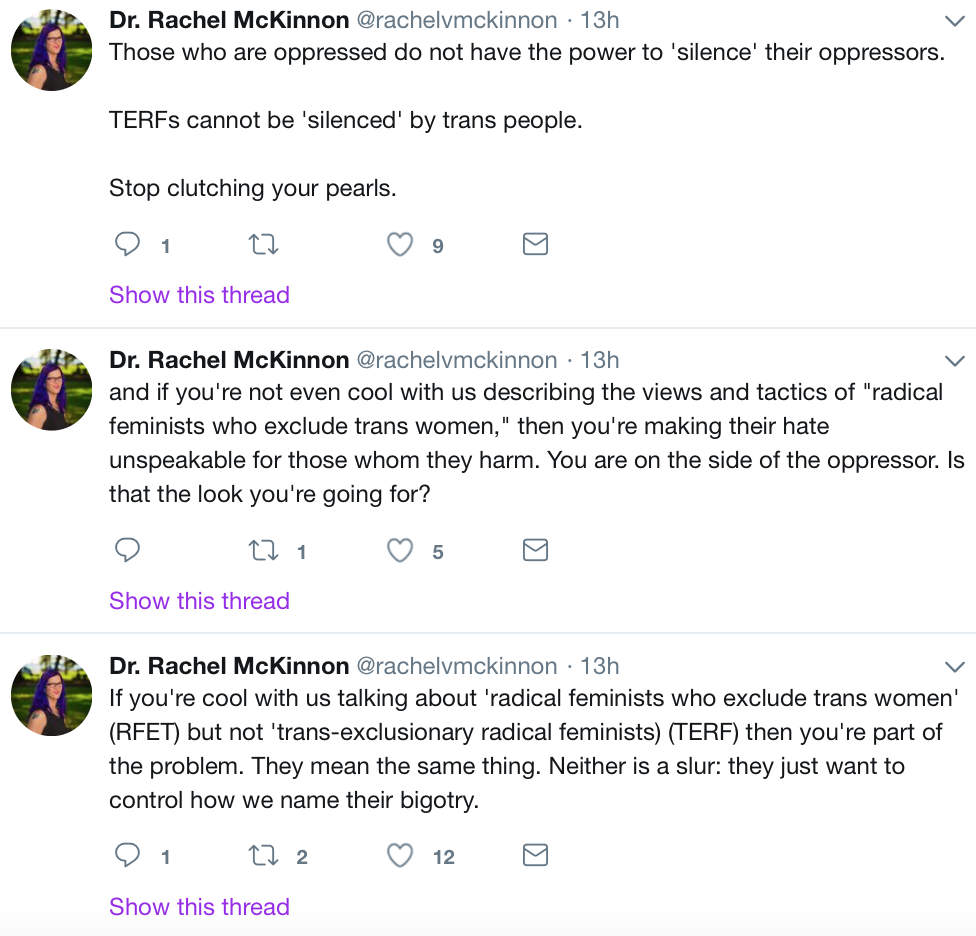 The scholars denied ever requesting a retraction, and said it was troublesome that it was being asserted that they had. The journal's editor in chief, Ernest Sosa, professor emeritus of philosophy at Brown University, said via email that there was no formal request for retraction, just a request for an apology and a correcting. There was some "back and forth" in terms of an informal request for a retraction, Sosa said, adding that he did not have a good record of it.
Sosa also wrote a public response to the scholars' complaint, published in Daily Nous.
The "slur" issue "did not escape the attention of the editor responsible for the publication of this article, who consulted with several senior distinguished scholars in the relevant field, whose consensus view was that though the term in question might evolve to become a slur, the denigrating uses that you have exhibited are on a par with denigrating uses of 'Jew' and many other terms, and quite compatible with its having a descriptive meaning," Sosa wrote. "Since in any case the question of whether it is a slur is a controversial one that is a matter of academic disagreement between you and the author of this article, it is not the role of the editors to decide this issue."
Asked if she was satisfied with that response, Mary Leng, senior lecturer in philosophy at the University of York, in Britain, and one of the philosophers who complained to the journal, said no, "especially given that they were made aware in advance of the contested nature of the term." Leng underscored that neither she nor her colleagues were calling for a retraction, but instead to make academics, both authors and journal editors, more aware of the matter going forward.
Sophie Allen, a lecturer in philosophy at Keele University, in Britain, also signed the public complaint to the journal and said that no one had asked for a retraction. Her colleagues who were in touch with the journal prior to the Daily Nous piece asked that an alternative term be used, such as "'gender critical feminist,' which is not a slur nor derogatory," she said.
As for Sosa's response, Allen said it was "inadequate." TERF is "frequently accompanied by threats of violence, rape and death," she said, and it has already evolved to into a slur and so lost its place in a scholarly publication. Allen objected on numerous grounds to Sosa's analogy to the term "Jew." And most "most radical feminists who are apparently described" by the term TERF are inclusive of trans men, and so are not "trans-exclusionary" anyway, she said.
Numerous supporters of McKinnon also reached out to Inside Higher Ed, asking that it not publish an article about the topic. Several academics declined interview requests, with one citing not having tenure as the reason.
"Please stop your harassment of Dr. Rachel McKinnon," reads one of many similar emails received by this reporter after requesting comment from McKinnon. "'TERF' is not a slur. [McKinnon] needs your support, not your contributing to further hate and violence threats from TERFs."
Stanley did not respond to a request for comment.