You have /5 articles left.
Sign up for a free account or log in.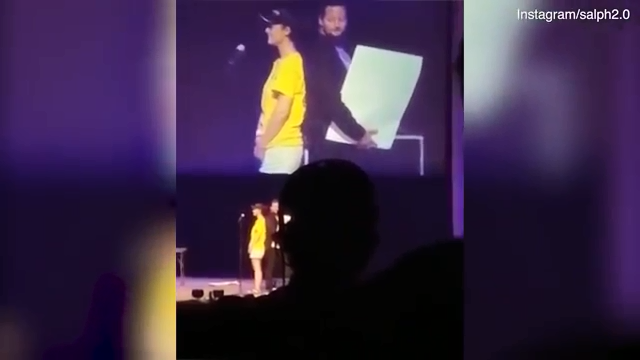 Could a stand-up comedian get a laugh with a joke that insults both Sarah Huckabee Sanders and Larry Nassar?
… probably not on a college campus.
But famed comedian Judy Gold, who has starred in stand-up specials on HBO and Comedy Central and came up with the bit, doesn't want to tell it in front of students. As she proclaims on a recent VICE special about the challenges comedians encounter performing risqué or boundary-pushing acts on campuses: "Why is it that everyone has to adjust to everyone else? Don't hire me if you don't want to hear what I have to say."
And the students and campus officials who book comedians probably wouldn't pick Gold anyway.
In one routine, recorded by VICE, she makes fun of the word-salad acronym meant to represent gay people -- LGBTQIA+ etc. -- a light, not terribly original jab, but one to which undergraduates today probably wouldn't respond kindly.
That's because sexual orientation falls into a particular taboo category, the bucket of topics that many students have deemed too offensive for comics to mention in their campus sets.
The results of these restrictions are well documented: sanitized routines, devoid of slights against minority groups, but filled with playful anecdotes about that finance professor you hate, or the quality of the cafeteria food (perhaps a play on "what's the deal with airline food?").
Violate these unspoken rules (or sometimes they are spoken, or written -- comedians have found themselves subject to contracts that outline what they are and aren't allowed to discuss in their acts) and risk the wrath of students.
Such a case emerged recently at Purdue University, where comedian and ventriloquist Andy Gross performed during new student orientation. Hundreds of attendees walked out during Gross's show after he brought a student up on stage and pretended to have an erection, throwing his voice to make it seem as though his genitals were saying "Let me out." During an apparent magic trick, Gross told the student to stand back to back with him, then asked her to grab his thigh, joking that, despite his flub, he at least was "getting a feel."
Fallout was swift. The university said Gross's actions were not consistent with institutional values -- despite the fact that he had performed the bit before elsewhere. Purdue officials requested a refund. A Twitter hashtag caught on: #AndyGrossIsGross. He eventually apologized and said he would not work the college circuit again.
"Andy has never before been accused of sexual misconduct or harassment," a statement from his representatives reads. "Andy was oblivious and naïve about the current environment on college campuses, and he sincerely regrets causing any offense or discomfort to any student participating."
Gross joins perhaps two of the country's most prominent comedians in eschewing college sets. Chris Rock won't play campuses anymore because students are too easily insulted, he says, and Jerry Seinfeld has expressed a similar sentiment, saying comics have urged him to avoid colleges, where students are often "so PC," he said in an interview with ESPN.
Still, powerhouses like Rock and Seinfeld have no need to try to appeal to the college market. But up-and-coming comedians rely on campus gigs because they can prove to be consistent and lucrative income streams -- comedians can earn thousands of dollars for a single set. And because their audience turns over in several years, they can recycle jokes without fear. One successful showing can snowball into a comedian's annual income, according to Jason Meier, director of student engagement and leadership at Emerson College and one of the student affairs professionals who works with and trains students to book acts.
Most colleges have a campus board composed of students who work with officials to screen and schedule not only comedians, but musical artists, magicians, slam poets and hypnotists.
And no showcase is greater for these artists than the one sponsored by the National Association for Campus Activities, or NACA. At its annual convention, they gather to sell themselves to college students and their professional counterparts. The membership of NACA is wide and assorted: religious institutions, giant research universities and rural, intimate liberal arts colleges.
Comedians submit 90-second video routines for panels of these students and university representatives to vet before being allowed to perform a 10-minute set live at the convention. Feedback is instantaneous and brutal -- critiques via Twitter on whether a set was funny, and immediate prospects of bookings afterward.
The comics succeed with a smart agent, who will take them aside after a sound check and perform on-the-spot surgery on their routines: extract this, strike this, strike that, throw in a joke here.
"It behooves them to water down, to tailor their set, to 18-, 19-, 20-year olds," said Meier, who has performed stand-up locally in Massachusetts. "They know how students will respond to it. Comedians who engage in the college scene know their market and know jokes that are going to fly on a college campus. They want to get booked again, they want the money. They also are keenly aware that we all talk."
Those jokesters whose humor is baser, littered with junky one-liners more apt for a bar scene with a two-drink minimum, won't thrive in the college market, said Toby Cummings, NACA's executive director. College students enjoy "intelligent humor," Cummings said -- but remarkably, the type of gag that entrances students has changed little since he was a NACA volunteer in the early 1990s, booking the likes of Carrot Top and Sinbad for two-year San Juan College in New Mexico. They enjoy jokes that are applicable to them, that resonate with their daily lives, he said.
Although now, in the last decade or so, a new trend is that some colleges -- Cummings said he's observed this at religious institutions -- will demand that comedians not touch certain topics (such as religion at religious colleges, of course) and will make it a point in their contracts.
"They want funny, smart jokes that don't degrade the intelligence in the room," Cummings said.
And why would a student want to sit there and be insulted for an hour? Meier said. Students recognize that comedy can provoke, can challenge, but they also know that comics can tackle hot-button political subjects through an "inclusive lens."
There's an idiom in comedy: punch up, not down, Meier said. Potshots at the marginalized, those with no support, are "problematic."
"Our students are so savvy," he said. "They won't book people who punch [down]. They don't want to listen to jokes making fun of themselves."