You have /5 articles left.
Sign up for a free account or log in.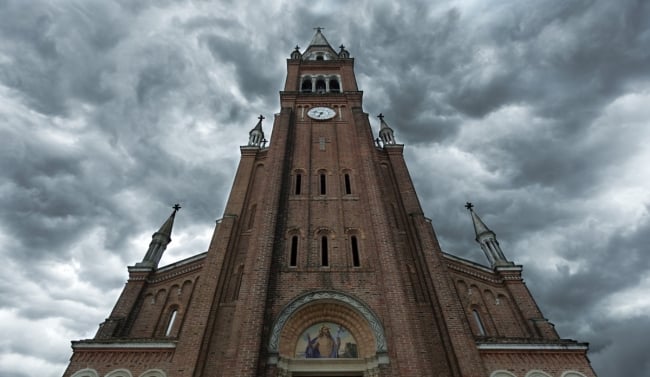 The Pennsylvania grand jury investigation into sex abuse in the Roman Catholic church is damning: more than 300 Catholic priests in Pennsylvania were found to have abused children over a period of 70 years. The report identified 1,000 victims and noted that there were probably thousands more. The report also documented that many of these cases of abuse were known about for years by church authorities, who in many cases took little or no action.
In the wake of the report's release last month, Catholic colleges in Pennsylvania and across the country have responded. Many have rescinded honors -- degrees, medals and building names -- that recognized leaders of the church who sexually abused children or helped orchestrate a cover-up of the abuse.
Siena College in New York State was the first to act. The board unanimously decided on Aug. 8 to rescind an honorary degree from Cardinal Theodore McCarrick, who was found to have sexually abused minors and adults. Pope Francis accepted Cardinal McCarrick's resignation on July 28 after the abuse allegations surfaced, two weeks before the grand jury's report was released.
The University of Scranton rescinded honorary degrees from Scranton bishops Reverend Jerome Hannan and Reverend J. Carroll McCormick, now deceased, and Reverend James Timlin, who were all found to have assisted in hiding the abuse. The university will also rename campus buildings currently named for the bishops. McCormick Hall will be renamed MacKillop Hall in honor of Saint Mary of the Cross MacKillop, an Australian nun who helped uncover sex abuse in the church. The name of Timlin House will be removed and the larger complex it's located in will be renamed Romero Plaza in honor of the late Oscar Romero, archbishop of San Salvador. Hannan Hall will be renamed Giblin-Kelly Hall after notable alumni Brendan Giblin and William Kelly Jr.
King's College in Wilkes-Barre, Catholic University and Marywood University have also taken action. King's College removed Bishop McCormick's name from its campus ministry building and is in the process of rescinding the honorary degrees awarded to him and Bishop Timlin. Catholic University revoked an honorary degree given to Cardinal McCarrick in 2006. The Marywood University board voted to rescind an honorary doctorate and a presidential medal awarded to Bishop Timlin.
On Tuesday, Marquette University in Milwaukee announced that it would remove the name of the Reverend Robert Wild from the residence hall that was recently named for him. Wild wrote the university requesting the removal himself. "During my six years in office, accusations of sexual abuse of minors were lodged against three of our members. Looking back, I would have handled certain aspects of those cases rather differently than I did then," Father Wild wrote. "The restrictive measures I thought quite sufficient to restrain the behavior of one of those priests, for example, proved in practice to be insufficient to do so. I very much regret that and apologize especially to those victimized for my mistakes in that regard."
The Marquette Board of Trustees voted unanimously to honor Wild's request.
"We are in agreement with Father Wild that this is the right decision for both Marquette and survivors of clergy abuse," Michael Lovell, Marquette's president, wrote in a statement. "The residence hall, which includes Ray and Kay Eckstein Tower and Wells St. Hall, will be known as The Commons."
DeSales University and Misericordia University are still deciding how best to proceed. When the DeSales University board meets Sept. 13, it will discuss renaming the McShea Student Union and the Bishop Welsh Residence Hall, named for former Allentown bishops Joseph McShea and Thomas Welsh, who failed to remove Reverend Michael Lawrence even after he admitted to molesting a 12-year-old boy in 1982. Thomas Botzman, president of Misericordia, said in a statement that he is "recommending actions" to the board to address an honorary degree awarded to Bishop McCormick. Bishop McCormick's name is also on a Misericordia science building.
Michael Galligan-Stierle, president and CEO of the Association of Catholic Colleges and Universities, recommends that colleges take several steps to address the report's findings.
"When a report of this magnitude is released, every Catholic institution, including Catholic education, first needs to do a personal inventory of how well their school has established safeguards for all people," he said. "The second response is, in the university's past, has there been any egregious actions like the ones noted in this report? And the third one is, is there anything in the report that is connected to the university and the university needs to take direct action on?"
Acting quickly, he said, matters less than getting it right. He urged colleges to keep the well-being of the victims at the heart of their actions.
"There were people that we violated, and how do we help the people that were hurt the most, the victims? That needs to be the center point of any response," he said.
Most of the allegations against Cardinal McCarrick involved sexual abuse of children, but Seton Hall University hired an outside investigator to look into allegations against him involving seminarians from the Immaculate Conception Seminary School of Theology and the College Seminary at Saint Andrew's Hall, which are part of Seton Hall. Cardinal McCarrick was accused of inviting young priests from the seminary to his beach house, where they were expected to share his bed. The cardinal, then archbishop of Newark, served on the Seton Hall Board of Trustees. He frequently visited the campus.
Even colleges without direct connections to the report are still involved in some way, Galligan-Stierle said. He encouraged colleges to share their resources with each other and the community to promote healing, and with the church to work to rectify the situation. The Reverend John Jenkins addressed the report during opening mass at the University of Notre Dame, where he is the president.
"The stories in that report and in other reports are appalling in themselves, but are made much more so because the offenders were priests, called to be examples and pastors to those they exploited," Reverend Jenkins said in his address. "Such stories are painful to all, but they are particularly searing to me and the other priests with me today, whose commitment can seem so tarnished, so soaked in filth, by those who so badly abused it."
John Petillo, president of Sacred Heart University, wrote a blog post about the need for greater accountability and transparency in the Catholic Church.
"Numerous news articles assert that the 'Uncle Ted' syndrome was well known to other bishops. Was it that easy to remain silent? Was it because the perpetrator was a peer? Since the Dallas Charter, many of these same bishops have glibly suspended priests without due process or with such process greatly delayed," Petillo wrote. "Was it so easy to hide behind a canonical curtain that only a pope can discipline a bishop? The lack of transparency is scandalous. How convenient that the American bishops never petitioned Rome for a method to enable them to develop a system of accountability for sexual and power abuse by one of their own until this past week."
Regardless of their response, Galligan-Stierle is glad Catholic colleges are addressing the issue.
"There isn't a correct response," Galligan-Stierle said. "The correct response is to be involved. How you're involved is going to differ."