You have /5 articles left.
Sign up for a free account or log in.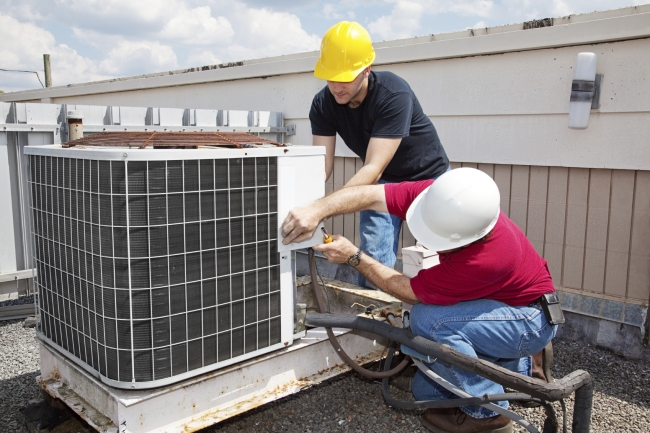 New America has released an analysis of federal data on nondegree credentials to get a better sense of gender gaps in the labor-market returns for certificates, industry certifications and occupational licenses. The results add new evidence that men reap most of the benefits from these increasingly popular forms of credentials.
The U.S. Department of Education in 2016 began collecting nationally representative data on work-experience programs and nondegree credentials, including apprenticeships and internships.
The survey's final results, released last February, show that 27 percent of adults held at least one certificate, certification or license. And these nondegree credentials generally tend to pay off in the job market.
However, the analysis from New America found that "these top-level findings mask significant differences in the value of nondegree credentials when broken out by gender and occupational area," particularly for people who do not hold a bachelor's degree.
Men with nondegree credentials are more likely to be employed and earn substantially more than women who hold the same type of credential, the think tank found. Men also are much more likely to earn the credentials that pay best and to have their employer foot the bill for the training and education.
"Women appear to pay more for -- and get less from -- nondegree credentials, particularly if they do not have a bachelor's degree," the report said.
For example, almost half (46 percent) of women who held a nondegree credential but no four-year degree made less than $30,000, according to the analysis, compared to a quarter of men. And 17 percent of men with a nondegree credential but no bachelor's earned more than $75,000, compared to 5 percent of women.
Gender segregation and wide variation in pay across career and vocational fields (where nondegree credentials are most relevant) are key drivers of the problem.
Previous research has found severe gender gaps in some fields. Women hold only 29 percent of IT jobs with annual pay of at least $35,000, according to the Institute for Women's Policy Research, and 7 percent of those in advanced manufacturing, as well as just 3 percent in construction.
The analysis from New America helps fill in that picture.
Men hold most of the jobs in occupations involving computers, construction, repair, science, architecture and engineering. Women, however, are more likely to work in education, at libraries, in administrative support or in health care.
The report drilled down on data in the 10 fields just mentioned, which employ 41 percent of adults. Jobs where men tend to congregate pay much better, according to the data.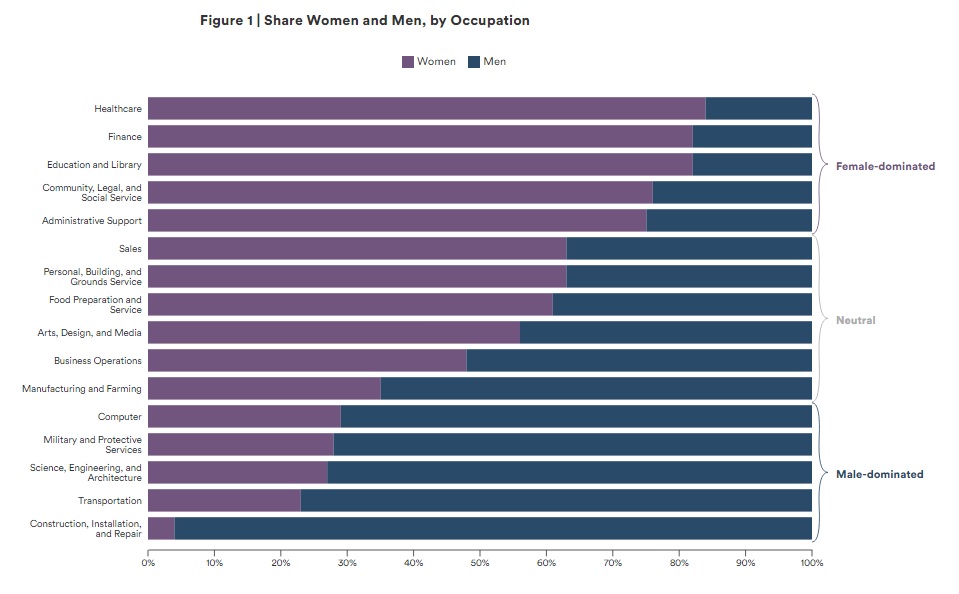 "The earnings associated with all types of nondegree credentials were substantially higher for individuals in male-dominated than female-dominated occupations," according to the report. "The data also suggest that male-dominated professions require fewer qualifications for entry or advancement."
For example, 24 percent of workers in computer occupations who hold a certificate but not a bachelor's made more than $75,000 per year, New America said, compared to 5 percent of workers in healthcare occupations and 2 percent in administrative support occupations. Likewise, 78 percent of workers in education and library occupations with a certificate but no bachelor's earned less than $30,000, compared to 4 percent of certificate holders without a bachelor's in science, architecture and engineering.
Similar results emerged for certifications and licenses.
For example, twice as many people with one of those nondegree credentials but no bachelor's who work in computer occupations earned more than $75,000 a year compared to workers in healthcare (36 percent and 18 percent, respectively).
Men also are less likely to take on debt to pay for their nondegree credentials.
"More than two-thirds (69 percent) of women at the sub-baccalaureate level prepared for their most important nondegree credential by enrolling in a college, technical school or trade school program -- all potentially costly methods of preparation," New America said. "In contrast, more than half of men at the sub-baccalaureate level had access to classes or training from a company, association, union or private instructor to prepare for their most important nondegree credential."
The report cites federal data showing that, among people who earned a certificate program in 2016 and did not already have a bachelor's degree, 73 percent of women took on student loans to pay for their credentials, compared to 56 percent of men.
State-mandated licenses or certifications could be reinforcing labor-market inequality, according to the analysis, which also calls for more and better data collection on nondegree credentials and student outcomes.
The findings are relevant to current federal policy discussions, New America said. They suggest that women are more likely to shell out money for risky credentials as the Trump administration has dropped program-level regulations aimed at career preparation programs -- the so-called gainful employment rule.
New America also said the federal government should proceed with caution as it mulls whether to deregulate sub-degree and alternative postsecondary education programs while also potentially directing more Pell Grant money to them in the form of short-term grants.
"As policy makers consider whether to extend eligibility for federal student financial aid (grants and loans) to short-term certificate programs, they should consider whether they can adequately protect students from providers of certificates that have little or no labor market value," the report said.