You have /5 articles left.
Sign up for a free account or log in.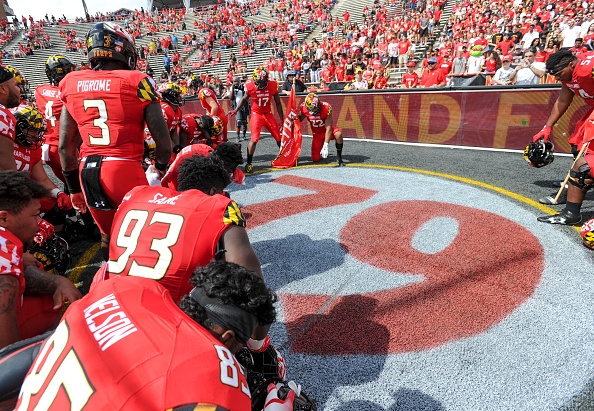 Icon Sportswire / Getty Images
Athletics staff members at the University of Maryland at College Park did not follow the institution's procedures and did not diagnose a heatstroke that resulted in the death of a 19-year-old football player in June, according to a new report.
The university hired the sports medicine consulting firm Walters Inc. to investigate the circumstances around Jordan McNair's death. The firm's findings, a 74-page report, were released Friday evening after the University System of Maryland's Board of Regents meeting. The system's board took control of the investigation, sidelining College Park officials, in August.
The new report, which outlines definitively the timeline around McNair's death, states that athletics staffers did not identify McNair's heat-related illness at a May practice. While they did attempt to cool him with cold towels after he collapsed, they did not give him a cold-immersion bath, the ideal form of treatment. Staffers feared that McNair would drown given his size -- he dwarfed the trainers and they feared they would not be able to move him, the report states.
However, their failure to diagnose and treat McNair resulted in his death. Rod Walters, the consultant whose firm conducted the review, said rapid identification and treatment of heat illness is the key to survival and a person should be given a cold-water bath within 30 minutes of the onset of symptoms.
A little more than 30 minutes passed from the time McNair experienced symptoms to when he came to the trainers' room to be examined. About 30 minutes more passed before officials called 911.
It was 1 hour and 39 minutes between when McNair's symptoms started until the departure of the ambulance, Walters said. There was also "apparent confusion" with emergency responders about where they were supposed to go once they arrived on campus. No one apparently told responders where to meet staffers, and no one was designated to help them.
McNair's temperature reached nearly 106 degrees before being brought down to a safer range at the hospital. The report states that McNair had apparently not eaten anything the day before the workout during which he collapsed; he ate only a bowl of cereal that day. The report states while McNair was monitoring his weight, it was not of concern to officials. And though athletes are usually given a gallon of water to drink before a workout, McNair had not opened his -- it was later found in his locker.
McNair collapsed after running sprints -- during 110-yard sprints, he began cramping and suffering from exhaustion. He couldn't control his breathing and suffered a seizure, according to a 911 call from the incident. The 19-year-old, 6-foot, 4-inch, 325-pound redshirt freshman died 15 days later, on June 13, in the hospital.
Walters interviewed four anonymous players. One said that Wes Robinson, an athletics trainer, yelled at McNair to "get the fuck up" and another said Robinson instructed players to "drag his ass off the field."
McNair was removed from the field in a motorized cart and taken to a training room. He suffered a "mental status change," yelling at the trainers before his seizure.
The university announced it will improve how it treats heat-related illnesses, adding more medical staffers -- both doctors and trainers -- to practices and games, as well as cooling stations with portable spray misters, drinks and towels. More recovery time and breaks will be added, and athletics staffers will use a new two-way radio system to communicate in real time during practices.
The Board of Regents met in closed session Friday to be briefed on the findings. The board's chair, James T. Brady, said Friday that he wasn't "in a position" to say if the institution had been negligent.
Lawyers for McNair's family received the results of the investigation late Thursday. The family has hinted at a lawsuit -- it filed a letter with the state indicating McNair's parents' intent to sue -- and demanded to review the findings before a public release of the report. The parents indicated they would be seeking damages "in excess" of $10 million for each parent and for McNair's estate for pain and suffering prior to death, a total of $30 million.
University administrators already had acknowledged that athletics staffers did not properly care for McNair. President Wallace Loh has said that the institution takes "legal and moral" responsibility for the mistakes staffers made. Loh and athletics director Damon Evans sent out another statement to the campus Friday with the new procedures.
"The safety and well-being of our students remains paramount," Loh said in the Friday statement.
Because Loh has already admitted fault, and Walters's report clearly outlines the staffers' missteps, McNair's parents would likely succeed if they sued, wrote Michael McCann, associate dean for academic affairs and director of the Sports and Entertainment Law Institute at the University of New Hampshire, in a recent Sports Illustrated column. Likely, the institution would try to settle with the family before the case reached trial.
Robinson, DJ Durkin, the head football coach, and Steve Nordwall, director of athletics training, were placed on leave after reports in August of numerous inappropriate practices on the football team, including verbal abuse and forcing players to eat until they vomited.
Football strength and conditioning coach Rick Court was also suspended, but instead he resigned, "to allow the team to heal and move forward," he said in a statement in August. He negotiated a $315,000 settlement with the university.
ESPN detailed a "toxic" environment in the football program, in which Court and Durkin in particular were abusive toward players. Players had small weights hurled at them, one was belittled when he passed out and another was forced to eat candy bars as a form of humiliation.
The regents' inquiry into the overall program is ongoing. Former Maryland governor Robert Ehrlich, former congressman and retired professional basketball player Tom McMillen and retired District Court judges Ben Legg and Alex Williams are among the eight commissioned for the investigation.
No personnel actions were taken Friday -- and likely will not be taken until the second investigation concludes.