Unanswered Questions on a President
Amid reports about jokes and comments viewed as insulting or worse, Boston Architectural College faculty and staff members get few answers after closely guarded investigation of president results in minor changes.
Professors and other employees at a small private architectural and design college in Boston say they are bewildered -- and in a few cases angered -- by the mystery surrounding a recent investigation of their president.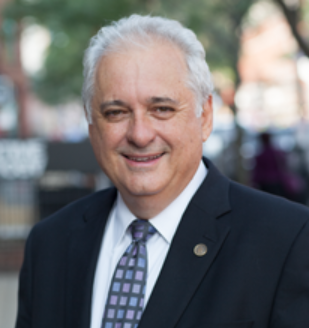 Glen S. LeRoy (at right), president of Boston Architectural College, remains on the job despite being investigated over the summer at the direction of the college's Board of Trustees. Several sources familiar with the investigation said it concerned allegations of gender discrimination, workplace retaliation and racist, sexist or homophobic language. In a subsequent message to college employees, the board's chairman, Richard Martini, said the college would "redouble our efforts" to train personnel in "communication, respect, diversity, discrimination, and sexual harassment."
On Wednesday, the Massachusetts Commission Against Discrimination said an employee in BAC's advancement office had filed a complaint against the college. A commission spokesman confirmed that Andrew Putnam, an executive assistant in the college's Office of Institutional Advancement, filed the complaint Sept. 19. Putnam on Wednesday said he did not want to comment, and neither Martini nor LeRoy immediately responded to requests for comment.
If the commission finds that discrimination took place, it can assess damages and mandate training; if applicable, it can also mandate job reinstatement or back pay, among other remedies.
The college's investigation -- and the board's reaction to it -- may also have led two board members to resign last month, one source said. Neither Martini nor the board members responded to repeated requests for comment, but the college this week has removed from its website the names and photos of Felice Silverman of Silverman Trykowski Associates, a Boston architecture and interior design studio, and Steven F. McDonald, president of Erland Construction Inc., a Burlington, Mass., firm.
In an interview last month, Martini told Inside Higher Ed that parents of BAC students should not be concerned about the allegations addressed by the investigation. "There is nothing regarding the education, the safety or the well-being of anyone at the college," he said, noting that the set of accusations leveled against LeRoy "doesn't have the merit to be a story."
An anonymous letter sent last summer to college trustees triggered the outside investigation, several sources said.
Martini said its results are confidential, but the findings did not merit dismissing LeRoy, who spent several days off campus during the investigation. He has not faced dismissal, according to Martini, who said the investigation has "been completed and the president is working."
He said the board met twice in executive session to discuss the findings. The board "considers the investigation related to these complaints closed," he said. Martini this week would not say whether the investigation had definitively cleared LeRoy.
In the interview last month, Martini said the board "feels very comfortable that we did our due diligence. And honestly we believe it's mainly a personnel matter. That doesn't mean we're not going to make changes in the normal course of business."
College officials did not respond to several requests for comment on the investigation, but in a Sept. 17 all-staff email, a copy of which was obtained by Inside Higher Ed, Martini said that as a result of the investigation, BAC will expand training and education covering, among other topics, "communication, respect, diversity, discrimination, and sexual harassment. Most of those areas are covered by policies that the BAC has in place, but we need to redouble our efforts to ensure they are followed by every member of the BAC community," he wrote.
Martini wrote that the board is working with LeRoy and his staff "to ensure the BAC continues to have a solid financial footing, has adequate and appropriate enrollment growth, and that we all fulfill our roles and responsibilities in educating the next generation of design and community leaders."
He also asked staffers not to talk to the media. "This is nobody's business other than the individuals directly involved. Reputations and careers can be irreparably harmed based solely on rumors or perceptions, rather than facts."
Martini told staffers that LeRoy "fully cooperated" with the investigation, conducted by a Boston law firm.
But several sources who hold or who have held significant roles at the college said they were mystified by the lack of transparency surrounding the investigation, which began in July and ended a few weeks later, sources said, when Martini briefly addressed the college with a short statement. One source, a college employee, said nearly a dozen people, including several top college officials, came forward to speak to investigators in the closely guarded probe.
All of the sources asked to remain anonymous for fear of being fired or retaliated against for speaking out. One source, another college employee, said LeRoy's comments, witnessed in a few cases by faculty and staff, were "some of the most disturbing jokes that you've ever heard regarding females, regarding LGBT people, regarding people of different national origins. It's just so disturbing."
Asked to comment on this report, both the board chair and the college declined to do so.
Another source, a midlevel college employee, told Inside Higher Ed that LeRoy had been under investigation for "harassment, discrimination and creating a hostile work environment."
"Staff have been treated horribly by the president. Faculty have been treated horribly by the president," the source said.
A "significant portion" of employees had left the college because of LeRoy's alleged behavior, the source said -- perhaps 20 to 30 in each of the three years LeRoy had been on the job. A few left to find higher-paying and more prestigious positions, but "a really large chunk of them" left because of mistreatment, the source said.
Martini did not respond to a request to confirm the departures, but the college's latest IRS filings show that between the 2015 and 2017 fiscal years, BAC reported that it had reduced its number of employees from 715 to 593, or by 17 percent.
Opened in 1889 in Boston's Back Bay area, the nonprofit college enrolls about 600, nearly equally divided between graduate and undergraduate students. It has the capacity for about twice as many but has seen declining enrollment in recent years. The open-enrollment college has always prioritized diversity, sources said -- its students hail from more than 40 countries.
"People love the school," one source said. "They love what we do and what we stand for." But this person said BAC had become a hostile work environment.
The institution, which relies heavily on part-time adjuncts, is so small that it has no Faculty Senate, which might play a meaningful role in shared governance.
Employees are also afraid of coming forward with formal complaints, several people at the college said. "I think everyone is too scared to put their pen to paper," one source said. "We don't know what to do because we don't want to lose our jobs."
The source was present at an incident in which LeRoy appeared to publicly offend then provost Diana Ramirez-Jasso at an event last spring: he asked her why she was late in arriving and Ramirez-Jasso responded that she was meeting with students from Mexico, to which, according to the source, LeRoy responded, "What did the students have to do to get there, climb over a wall?"
The source said the joke upset staff as well as students. "We literally cringe, because he says very uncomfortable things."
Ramirez-Jasso left the provost's job in June and moved back into teaching and academic research. She did not respond to several requests for comment.
In another instance, the source was present when LeRoy told staff about a small enrollment drop and said he wanted them to know that the college was not at risk of closing, unlike nearby Mount Ida College, which announced in April that it would close, its campus becoming part of the University of Massachusetts at Amherst.
LeRoy took the opportunity to take a jab at the doomed college, the source said: "He basically was like, 'I wonder if the Mount Ida staff are getting the same information I'm giving you? Oh, they don't have a job.' If he talks about other colleges like this, what does he say about us when we're not in the room?"
The source added that BAC employees "breathe a sigh of relief" when LeRoy leaves campus. "The moment he's back on campus, everything tenses up."
Two sources said LeRoy had recently handed out bonuses to most staff, but that the dozen or so employees who spoke to investigators or who complained to human resources about LeRoy and other officials got smaller bonuses.
Another source, a midlevel employee, said that in the past 18 to 20 months, as many as 35 people had left the college. As a result, most departments are understaffed and morale is low. This person knew of as many as 10 colleagues who are actively seeking jobs elsewhere.
The investigation, the source said, has been "the icing on the cake."
Last week, in a notice sent to the college, a copy of which was obtained by Inside Higher Ed, LeRoy announced that he was conducting "small group Listening Sessions" among faculty, staff and students. "The goal is to increase communication, develop a shared understanding of opportunities and potential constraints, and seek ideas about the future of the college."
LeRoy also said he would immediately begin scheduling Monday and Thursday afternoon office hours to enable employees to "drop in and give an opinion, raise an issue, or express a concern."
LeRoy arrived at BAC from the College of Architecture and Design at Lawrence Technological University in Southfield, Mich., where he was dean for 10 years, according to his biography. He was previously a principal at the architectural and design firm Gould Evans Associates.
The college's latest IRS filings noted that LeRoy earned $253,148 in base salary, an average sum for the leader of a small college.
You may also be interested in...
Today's News from Inside Higher Ed
Inside Higher Ed's Quick Takes