You have /5 articles left.
Sign up for a free account or log in.

Mount Ida College announced Friday that it will shut down and its campus will become part of the University of Massachusetts at Amherst. Students in good standing will be eligible for automatic admission to the University of Massachusetts at Dartmouth, where they have been assured they can finish their degrees.
Mount Ida, with about 1,500 students, has been struggling financially and looking for new options. In February it announced discussions with Lasell College about a possible merger. But those discussions ended last month. While the college's statement at the time suggested it would continue on its own, only weeks later Mount Ida announced it would close.
A statement from the college's board on Friday said, "The financial situation facing small private colleges nationwide is a difficult one. Despite extraordinary growth and progress over the last several years, Mount Ida, like its peers, is vulnerable to the realities of having limited resources. As a result, we have considered multiple options to secure the strongest possible long-term future for our students."
The news came at a time when a number of colleges are considering mergers and some have closed. Small private colleges without substantial endowments have been particularly challenged by the current economy.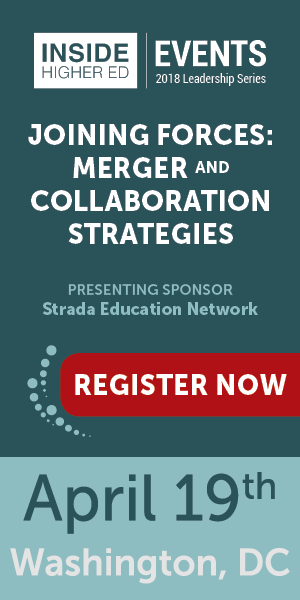 The speed with which Mount Ida went from seeking a partner for a merger to seeking one to take over its campus and the education of its students illustrates the fragility of many colleges. Many experts doubted the potential of the Mount Ida-Lasell merger because neither institution had significant resources, and both were competing for students in the Boston area, where college options abound.
These colleges are not among the elite, wealthy institutions best known in the area. Lasell and Mount Ida admit 76 and 68 percent, respectively, of applicants, according to the U.S. Education Department's College Navigator site. Mount Ida's endowment is valued at $15.6 million, and Lasell's at $45 million, meaning that both institutions depend on tuition revenue for their budgets.
On social media, many current students said they felt betrayed by the college's announcement -- and that the option of enrolling at the University of Massachusetts at Dartmouth was not viable for them. Depending on where in the Boston area Mount Ida students live, the drive to Dartmouth is 70-85 miles.
One student wrote on Facebook, "Are you kidding me? … This is absolutely ridiculous. I chose Mount Ida because it was relatively close to my home and near Boston. Dartmouth is two hours away and doesn't even have my major!"
While the Mount Ida announcement noted that UMass Dartmouth has a lower sticker price than Mount Ida, many students and alumni wrote that they took on debt based on pledges from Mount Ida on the quality of education and its reputation -- and many questioned whether the positive parts of that reputation would last after the college shuts down.
According to the Education Department's College Scorecard, the average debt for Mount Ida undergraduates who borrowed and completed their program is $27,000, a little below the national average. But many Mount Ida graduates aren't earning high salaries. The median salary for those who received financial aid, 10 years after entering college, is $38,100.
A recent alumna wrote on Facebook, "Sweet, now I have the privilege of saying that I have a four-year undergraduate degree from a college that no longer exists, thanks Mount Ida College! Now when can I expect a check in the mail to help me pay back my student loans?"
Newbury College, far closer to Mount Ida than UMass Dartmouth, announced Friday it would grant full transfer credit to Mount Ida students and would help them finish their degrees.
How Many Closures?
The closure of any college raises the question of how many such institutions will be forced to shut down. Clayton Christensen, the Harvard Business School professor known for his analysis of market "disruptions," has famously predicted that as many as half of American colleges could close in a decade. A new book by Nathan Grawe of Carleton College, using language less provocative than Christensen's, relies on demographic data to predict that most nonelite colleges will face severe enrollment challenges in the next decade.
Many advocates for small private colleges say Christensen exaggerates the threat -- and they note that many colleges without much in the way of resources have not only survived for generations, but have helped many students.
Still, Mount Ida is not alone in shutting down.
In 2018 alone, Concordia in Alabama and Atlantic Union College in Massachusetts have announced that they are shutting down.
In late 2017, St. Gregory's University in Oklahoma, the Memphis College of Art and Grace University in Omaha, Neb., all announced plans to close. And earlier in 2017, Saint Joseph's College in Rensselaer, Ind., suspended academic operations to try to come up with a way to survive.