You have /5 articles left.
Sign up for a free account or log in.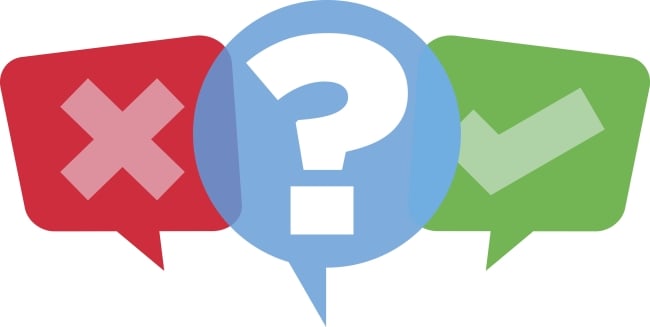 Just under half (48 percent) of American adults have "a great deal" or "quite a lot" of confidence in higher education, according to an analysis being released today by Gallup.
That figure is down from 57 percent in 2015 and represents a larger than typical decline in confidence in an American institution in a relatively short time period, according to Gallup. (Note: Gallup conducts some surveys for Inside Higher Ed, but this publication played no role in the results being released today.)
The largest confidence drops were found among Republicans.
Percentage of Adults Confident in Higher Education
| | | |
| --- | --- | --- |
|   | 2015 | 2018 |
| All | 57% | 48% |
| Republicans | 56% | 39% |
| Independents | 48% | 44% |
| Democrats | 68% | 62% |
Gallup asks Americans about their confidence in a wide range of American institutions. And based on this year's responses, higher education enjoys more confidence than do many other institutions (including the presidency, Congress, newspapers and public schools). Only the military, small business and police enjoy more confidence than does higher education.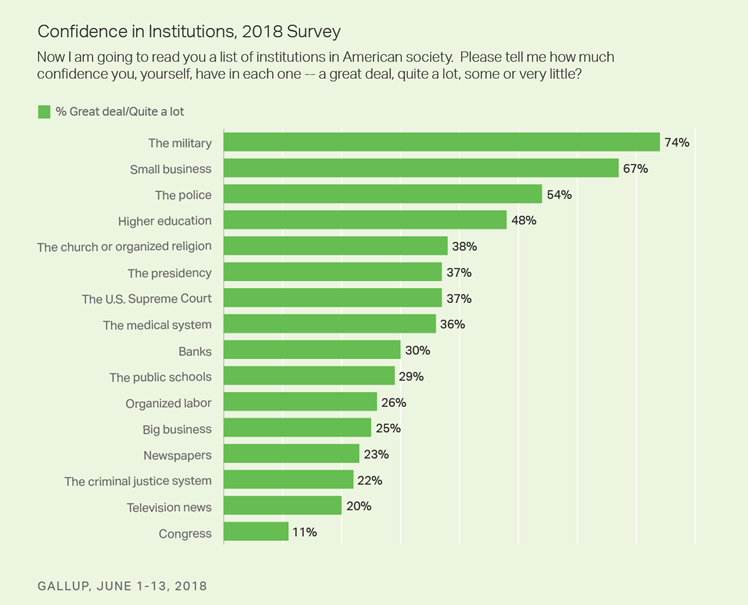 Gallup noted that no other institution has seen as large a decline in confidence from 2015 to 2018. The next largest drop was for organized religion, which saw a four-percentage-point decrease, compared to the nine-point drop for higher education. On average, the institutions tracked by Gallup saw a one-point gain in confidence in the years for which the comparison was made.
Jeff Jones, a Gallup analyst, said higher education leaders "probably should be worried," given that confidence levels can be reflected in decisions politicians or donors make about financial support for higher education. At the same time, he noted the underlying strength of higher education in that "going to college is going to advance people's careers."
Jones also noted that many people -- whatever their overall view of higher education -- "have a soft spot for their alma maters." And he said that many conservatives who are dubious of higher education base their views "on things that may be happening at some colleges, but not necessarily at all college campuses."
Among those expressing concern about the attitudes noted in the Gallup poll (but who commented before it was released) is Lawrence S. Bacow, the new president of Harvard University.
In his inaugural address Friday, Bacow said that declining public support for higher education is one of the major challenges facing academe.
"For the first time in my lifetime, people are actually questioning the value of sending a child to college," Bacow said. "For the first time in my lifetime, people are asking whether or not colleges and universities are worthy of public support. For the first time in my lifetime, people are expressing doubts about whether colleges and universities are even good for the nation. These questions force us to ask: What does higher education really contribute to the national life?"
He said that "more people than we would like to admit believe that universities are not nearly as open to ideas from across the political spectrum as we should be; that we are becoming unaffordable and inaccessible, out of touch with the rest of America; and that we care more about making our institutions great than about making the world better." While Bacow said that there may be "a kernel of truth" in such criticisms, he added that "if I believed that these criticisms fundamentally represented who we are, I would not be standing before you today. All of our institutions are striving to make wise choices amidst swirling economic, social and political currents that often make wisdom difficult to perceive."
Numerous Surveys With Somewhat Similar Results
The new Gallup analysis is the latest to point to weaknesses in the public image of higher education.
A poll released last month by WGBH found more appreciation of colleges than other surveys have. In some areas, however, including affirmative action, sexual assault and mental health, the public was not impressed.
A number of surveys have found gaps based on political leanings and attitudes about higher education.
In 2017, national surveys by Gallup and the Pew Research Center found significant public doubts -- more than in previous years -- about higher education and its role in American society. While the questions in the two polls were not identical, both polls pointed to doubts about how higher education is run. And the skepticism was greatest among Republicans (although there were also doubts among Democrats and Independents).