You have /5 articles left.
Sign up for a free account or log in.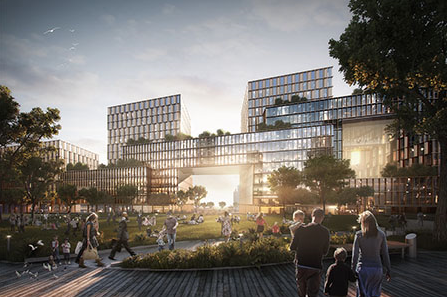 The State of Illinois famously operated without a budget for two years, so it might be the last place you'd expect to help bankroll an ambitious new multicity, multiuniversity research and training center, the Illinois Innovation Network. But if the stars align over the next few months, a gleaming facility could rise on Chicago's South Side that will help kick it off.
State officials anticipate that the project's capital costs, along with others located elsewhere in the state, will be backed mostly by Illinois taxpayers -- to the tune of half a billion dollars.
The Chicago portion of the project, dubbed the Discovery Partners Institute, carries a tentative price tag of $230 million. Officials with the University of Illinois, its main partner, say it will be part of an imagined larger public-private research network spanning at least three cities statewide that will someday focus on long-term "grand-challenge problems" in computing, big data, health, wellness, food, agriculture and the environment.
But advocates' most pressing concern is more short-term: Will this thing be dead in the water come Nov. 7?
One of the Chicago project's two biggest political patrons, Governor Bruce Rauner, a Republican, faces a tough re-election bid on Nov. 6. His Democratic opponent has shown little support for the project. And the project's other patron, Chicago mayor Rahm Emanuel, announced last month that he won't seek a third term in 2019.
Bill Sanders, a longtime professor of electrical engineering at the university's flagship campus in Urbana-Champaign and DPI's interim director, called the endeavor "a new way of thinking about a research institution that supports a university."
He said the institute will bring together people from industry, community groups and other nongovernmental organizations, as well as researchers from around the world.
"By engaging industry very early, by engaging community groups and nongovernmental organizations to understand what the real problems are today, we can make sure that when the good fundamental research is done, we can drive it towards impact," he said.
Among their models: the Cornell Tech campus that opened in September 2017, built on donated land on New York City's Roosevelt Island. The project, estimated to cost more than $2 billion, required nearly seven years of planning, and seed money and land from New York City. Cornell also raised nine-figure gifts to support the project.
Hubs for the new Illinois network are planned at each of the University of Illinois system's campuses in Urbana-Champaign, Chicago and Springfield, as well as locations at or near the University of Chicago and Northwestern University, among others.
Sanders said DPI will look like your typical high-tech incubator, but with much of the underlying research done in-house. It'll also be home to both undergraduate- and graduate-level instruction. "The vision is that in the areas of the grand-challenge problems, we can be very opportunistic," he said. Courses will be offered through a cross-listing mechanism, the same way most colleges handle study-abroad programs with other institutions, allowing students to take a few courses on another campus. As many as 2,000 students and 100 faculty could someday call the institute home, officials say.
"We will be the clearinghouse, if you will," Sanders said. "Different universities can receive the courses that are taught at the institute."
Though Rauner has said private investors are willing to come forward to support the project long-term if he is re-elected, it's not clear what will happen if he's defeated in less than two weeks. Most recent polls put his Democratic opponent, billionaire J. B. Pritzker, ahead by several points. Pritzker has said DPI shouldn't rely on $500 million in state grant funding. "There is no private support as best as I can tell," he told Crain's Chicago Business last month.
University of Illinois president Timothy Killeen has said potential donors have promised "many hundreds of millions of dollars" for the project and the larger Illinois Innovation Network. In August, he said DPI has verbal commitments of more than $100 million in private funding, but he didn't provide details.
Earlier this month, Killeen said he was "very comfortable" with Pritzker's support for the project.
But John Pletz, who covers technology for Crain's, said Emanuel and Rauner's possible exits from Illinois politics could spell trouble for DPI. "You have a project that could end up without a patron, and that's very different from what the world looked like when this was announced," he said. "Everybody's still in wait-and-see mode."
Though many observers like the idea of DPI, Pletz said, the devil is in the details -- and few funding details are available at the moment. "I've never heard anybody say, 'This is just crazy,'" he said. "It may be a good idea -- there are people who think it's a good idea. But will it really happen? Nobody knows."
Killeen has said Chicago developer Related Midwest will donate the land for DPI as part of a larger, 62-acre, mixed-use development south of downtown, tentatively dubbed The 78. The reference is to the developer's aspiration that it become Chicago's 78th officially recognized neighborhood.
Related Midwest has said the project will combine university, research, residential and retail offerings along with more than 11 acres of open space. The project's advocates have even floated the idea that it could help Chicago lure Amazon's coveted second headquarters. Killeen last month couldn't say how much private funding had been committed to the project, but he said there was "significant philanthropic interest."
Pritzker, who founded the Chicago tech incubator 1871, told The News-Gazette of Champaign, Ill., that he "understands the importance of technology and innovation to the future of this state" and would prioritize higher education institutions as "hubs of innovation and economic growth" if elected. But a spokesman wouldn't say directly if he'd support state funding for DPI.
The $500 million appropriated for the project, to be paid out over several years, comes from a state bond fund that has only about $160 million available right now. A sizable chunk of that -- as much as $50 million -- is slated for the construction of a "world-class" data sciences research and classroom facility at the Urbana-Champaign campus. Killeen has said another bond sale, planned for this month, will cover DPI's first round of funding. He said he isn't worried about future funding.
But Illinois lawmakers have said they're concerned about promises of private funding for the project. At a legislative hearing last month, State Senator Scott Bennett, a Democrat who represents Champaign, complained, "They have done a lot of press conferences, mostly with the governor, saying we've got all these things lined up. I have yet to see any names."
While Illinois has seen its share of budget troubles, things may be looking up a bit, analysts say: Moody's Investors Service last July revised its outlook on the state's credit rating, moving it from "negative" to "stable." The Baa3 general obligation rating is still "just a notch above junk" status, Reuters noted, but it represented the first stable rating since December 2012. Two other ratings agencies have put the state at "stable" as well. The Bond Buyer, a trade publication, noted that Baa3 is the "lowest investment grade level."
Illinois has the lowest overall ratings of any state, meaning it pays the biggest penalty to sell debt in the municipal bond market. Analysts have warned that the way it handles future financial pressures -- especially pension obligations -- could affect those ratings.
But Moody's senior analyst Diane Viacava said the university system has an excellent rating, despite the state's budget troubles. Actually, she said, all of the DPI partners are "strong universities" with sound finances.
"They have infrastructure in place and a machine already running for research," she said. "So that's already going. You have three major research universities that have worked together in different ways in the past -- and with a substantial footprint in the research world already."