You have /5 articles left.
Sign up for a free account or log in.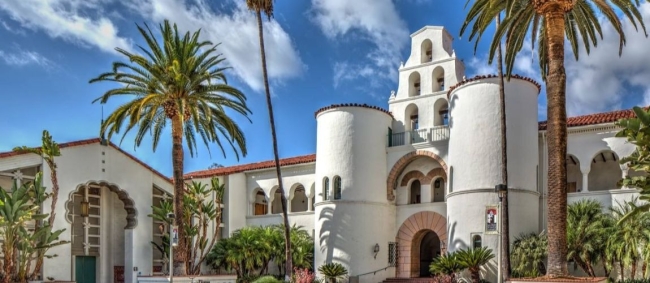 Administrators at the California State University System worried two years ago when the system set ambitious goals for increasing graduation rates. They were concerned that low-income students and students of color would be harmed by the new targets. One criticism, for example, was that students would be pushed into courses they were not prepared to take.
Instead, the nation's largest and most diverse public university system is seeing record levels of achievement and narrowed equity gaps among low-income and minority students.
"Everybody in our university community believes we should effectively serve students and improve graduation rates," said James Minor, the system's senior strategist for academic success and inclusive excellence. "People may have different opinions about how to do that, but everybody agrees with the goal. It's impossible to do the same thing we've done for the last 50 years and expect gains in graduation rates and closing equity gaps."
Preliminary data released earlier this month show the four-year graduation rate for first-time, full-time freshmen increased six percentage points over three years, from 19.2 percent in 2015 to 25.4 percent in 2018. The six-year graduation rate also increased by four percentage points, from 57 percent in 2015 to 61.1 percent in 2018. The system is scheduled to release final data later this month.
The graduation rate gap between students who receive federal financial aid, or Pell Grants, and peers who don't receive the aid decreased by one percentage point, from 10.6 percent in 2017 to 9.5 percent in 2018. Among African American, Native American and Latino/Hispanic students, the graduation rate gap narrowed by two percentage points from 12.2 percent in 2017 to 10.5 percent in 2018.
Graduation rates also increased for transfer students. The two-year graduation rate increased by seven percentage points, from 30.5 percent in 2015 to 37.6 percent in 2018. Four-year graduation rates for transfer students also increased four percentage points, from 72.9 percent in 2015 to 77 percent in 2018.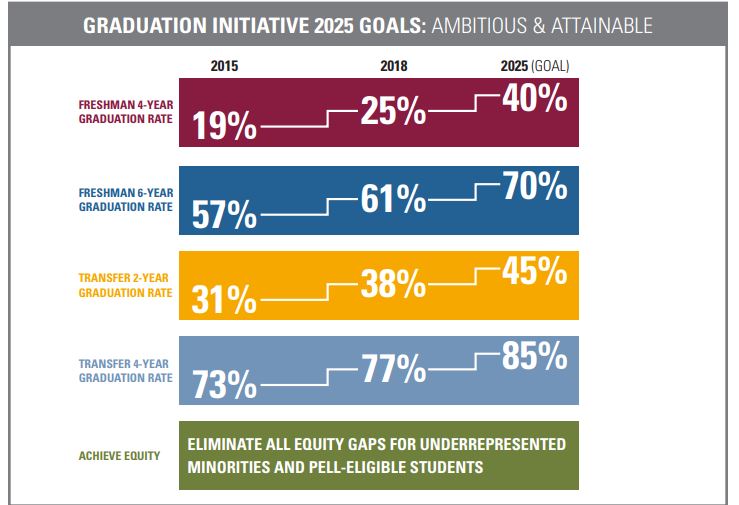 Minor attributes this success to Graduation Initiative 2025, which called for increasing the four-year graduation rate from 19 percent in 2015 to 40 percent by 2025. It would also raise the six-year graduation rate for freshmen from 57 percent in 2015 to 70 percent, raise the two-year goal for transfer students from 31 percent in 2015 to 45 percent, and raise the four-year goal for transfer students from 73 percent in 2015 to 85 percent.
The initiative also called for eliminating achievement gaps among students of color and those from low-income households.
Meanwhile, campus administrators are seeing their own success from the initiative. At San Diego State University -- one of the 23 universities in the Cal State system -- the graduation rate for Pell Grant recipients increased to 71 percent. Nationally, a little less than half of first-time, full-time Pell recipients earn a bachelor's degree in six years from the college where they first enrolled.
"We've been focusing on enhancing guidance and academic planning and making sure our first-generation students and [Educational Opportunity Program students] are entering early with a support system," SDSU president Adela de la Torre said. "And we're working with our community partners, the K-12s and community colleges."
De la Torre said there wasn't just one program that helped push graduation rates in a positive direction. The same is true for the larger Cal State system, which has implemented a few education reforms in the last couple of years, including moving away from placement exams and replacing noncredit remedial courses with credit-bearing classes that offer additional academic support.
Minor said the system received about $150 million, or $75 million a year, for the graduation initiative during the last two state budget cycles. But he said the funding alone didn't drive the graduation rate increases.
"When you take $75 million and spread it across 23 campuses, it's not game-changing money," he said. "It's enough for campuses to do things they otherwise would not. Campuses are investing percentages of their own budgets over and beyond what the appropriation is for student success."
The graduation initiative involved campuses systemwide using data to identify learning gaps down to the classroom level, Minor said. Cal State campuses also added 4,300 new course sections to open more seats in classrooms and reduce the time it takes students to graduate.
Minor said CSU administrators questioned students about why they stayed in college for an extra semester or an additional year.
"It wasn't because they wanted to hang out," he said. "They couldn't get the course they needed."
Individual universities also made changes that went beyond what the system mandated, Minor said.
San Diego State, for example, extended the requirement that freshmen live on campus to sophomores, said Sandra Cook, associate vice president for academic affairs and enrollment at SDSU.
"Data shows students who live in residence halls and have that structure do better," she said.
The university also created a center for commuter students that provides them a study and meeting space on campus and is building "learning communities" of students with similar backgrounds who attend the same classes and share academic advisers, Cook said. The hope is that these steps will improve students' academic outcomes.
System officials and Chancellor Timothy White say although they're pleased to see graduation rates increase and achievement gaps shrink, there is still more work to be done.
Cal State wants to improve student advising and make changes that will allow a greater percentage of students to have a degree plan before they register for their first term. The system also wants to improve coordination between various offices and departments so students aren't given conflicting information when they have questions or issues to address, Minor said.
"The opportunity to graduate from CSU should not be based on ethnicity or financial background," he said. "So even an equity gap of 1 percent in our mind is too large and we would look to close it."