You have /5 articles left.
Sign up for a free account or log in.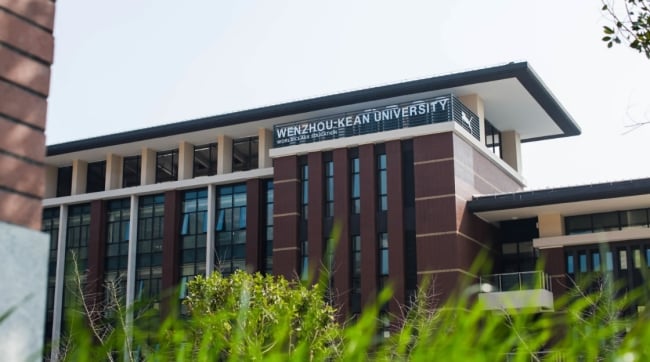 The Kean Federation of Teachers is raising alarms about a plan to change the fundamental terms of employment for faculty members teaching at Kean University's campus in China. Currently, faculty who teach at the Wenzhou-Kean University campus are employees of Kean, a public university in New Jersey. Starting July 1 they will be employees of Wenzhou-Kean.
Kean says that it will continue to control academics at the institution and that as Wenzhou-Kean has grown, it has become more efficient for its Chinese branch to pay faculty members directly. But James A. Castiglione, the president of the Kean Federation of Teachers and an associate professor of physics at the New Jersey campus, said the change raises a whole host of questions, including questions about how academic freedom will be protected and whether there will be changes to the pay, benefits and tenure status of faculty teaching at the Wenzhou-Kean campus. Kean says it intends to provide comparable pay and benefits to faculty at WKU after the change, but Castiglione said that since faculty will no longer be eligible for union membership and covered by the union's contract, there is no guarantee of that.
"The president says the only change is they're being paid by China, but it's a little bit like saying we're moving your address to the moon -- that's all, that's the only change, you're moving to the moon," Castiglione said. "There's a whole cascade of problems that flow from that."
Castiglione said the change will effectively make faculty members at Wenzhou-Kean employees of the Chinese government. A press release from the American Federation of Teachers New Jersey bears the striking headline "Kean U. Hands Over Overseas Faculty to Communist China."
"To say that you're an employee of Wenzhou-Kean versus an employee of the government -- there's no distinction," Castiglione said. "The government bought the land; it paid for the construction of the building; it provides the money that runs the university … If you go to the Wenzhou-Kean website and you print out an organizational chart of Wenzhou-Kean, what you'll see is that the very top of the organizational chart is the CCP secretary -- that is, the Chinese Communist Party secretary."
Kean's vice president of university relations, Karen Smith, said that Wenzhou-Kean is a joint initiative between Kean and its Chinese partner, Wenzhou University. She said Kean will retain academic control over the institution after the change in the employment structure. "That's part of the agreement for the establishment of Wenzhou-Kean University in the first place and that is what will continue," Smith said.
A letter from Kean president Dawood Farahi says that Kean will continue to set academic policies and that "senior academic managers" -- which Smith defined as administrators at the associate dean level or higher -- will continue to be employed by Kean even though the faculty they manage will soon be Wenzhou-Kean employees. (Castiglione was skeptical: "Does anyone really believe the Kean academic managers will have any authority?" he asked).
"To be clear, academic management, standards, policies, assessment and accreditation will be managed by Kean USA, with all senior academic managers remaining Kean USA employees," Farahi wrote. "Moreover, no Wenzhou-Kean faculty member can be appointed or reappointed without the recommendation of the Kean USA president/provost, which will only occur following the normal Kean USA evaluation process via the provost's office."
The letter does not specify the converse of that: whether approval from the Kean president or provost will be required for a faculty member to be terminated. Officials at Kean, which closed at 4 p.m. Thursday for snow, did not provide clarification on whether that would be the case.
"While we understand some people may purposely misconstrue information about this transition, the administration is focused on communicating the facts directly with faculty," the letter from Farahi states. "Our objective is to focus on what benefits our students both at WKU and Kean USA and to provide faculty at WKU with comparable salary, benefits and other privileges as those who work here at Kean USA. In a recent meeting Kean University leadership clearly stated that faculty will receive comparable tenure status, benefits and compensation in Chinese currency."
The letter continues: "It is worth noting that our sister institutions in China, [New York University] Shanghai and Duke Kunshan, are already using the local employment model, and have been successfully for a few years." A spokesman for Duke University confirmed that faculty hired at the Duke Kunshan campus are Duke Kunshan, not Duke, employees. Similarly, a spokesman for NYU said that NYU Shanghai, not NYU, employs faculty in China. 
Kevin Kinser, a professor and chair of education policy studies at Pennsylvania State University, said via email that faculty members at Kean "are right to resist this move, and I would expect this to get the attention of Kean's accreditor."
"Given China's increasing restrictions on free speech and dissent, I would be interested in how Kean is assured that the new model won't affect academic freedom," Kinser, an expert on international higher education, said via email. He said he was not comforted by the fact that other institutions with branch campuses in China have similar employment models.
"In fact, I wonder how they are addressing the exact same issues," Kinser said. "China is changing in terms of how open it is to Western ideas and challenges to [the] government agenda. This is new. Branch campuses can't assume that the original agreements still hold. In this case, Kean needs to understand whether it still has levers of control. And I think it owes it to its constituents and stakeholders to explain how it still maintains academic control and what it will do if the Chinese government tries to restrict faculty and student autonomy."
Kean's hiring policies in China have come under scrutiny before. In 2015 the faculty union raised concerns about job postings for two student affairs positions that stated preferences for Chinese Communist Party members. A spokeswoman for Kean said at the time that per its agreement for the campus, "All academic personnel are hired and employed by Kean University in accordance with the same laws, policies and practices at all Kean campuses. Operations personnel are hired by our Chinese partners in accordance with their laws."