You have /5 articles left.
Sign up for a free account or log in.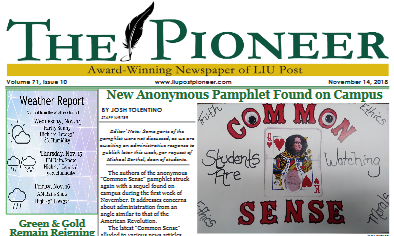 Long Island University has made deep cuts in recent years, reorganizing departments while pouring more resources into new disciplines that officials hope will bring in new students and revenue.
The result is a kind of turmoil that has engendered an unusual, low-tech protest: an anonymous pamphleteer this fall is papering LIU's Post campus in Brookville, N.Y., with homemade, hand-lettered screeds that skewer LIU's administration. The broadsides borrow the title of revolutionary-era author Thomas Paine's 1776 treatise: "Common Sense."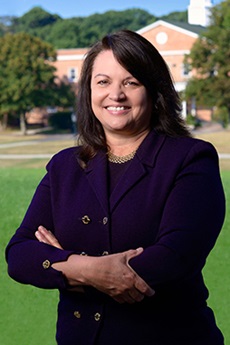 Paine argued -- anonymously at first -- that the colonies should fight for independence from King George III. In this version, the anonymous pamphleteer portrays LIU president Kimberly Cline (at left) as "Queen Kimmy," an out-of-touch royal who draws a "fat" $800,000 salary even as enrollment falters. (For the record, LIU's latest IRS filings show Cline's base salary at $761,066, with another $24,578 in "other reportable compensation.")
In one illustration, Cline is represented as a playing card Queen of Hearts, surrounded by the question "Truth & Ethics, Accountability & Morals -- Where have they gone?" In another, her face and those of other LIU officials are superimposed onto British soldiers in a rendering of the 1770 Boston Massacre.
The so-called Friday Night Massacre calls out Cline's Oct. 12 decision to enact what the pamphleteer calls "massive cuts" to spring 2019 classes. The pamphlets also note the distribution of 30 "death letters" to faculty, informing them that they'll be out of a job after the spring semester. (A faculty representative told Inside Higher Ed that the total number of instructors subject to impending layoffs or tenure denials is about 16 to 18.)
Found on tables, chairs and benches across campus, the pamphlets have also found their way under the office door of LIU Post's student newspaper, a top editor said.
The university is not amused.
LIU spokesman Gordon Tepper told Inside Higher Ed that the author or authors of the "anonymous, factually incorrect, disrespectful, and sexist trash should be ashamed of themselves. The fact that the author refers to a distinguished university president as 'Queen' or 'Royal Majesty' on no fewer than 20 occasions in this unsourced rant speaks to a disturbed individual who clearly has issues with women in authority."
Tepper said LIU "continues to make great strides as a national teaching and research institution, and while there is certainly opportunity to present alternative views in a collegial shared governance environment, there is no place for this kind of trash."
LIU did not make Cline available for comment, but instead offered an interview with chief financial officer Christopher Fevola, who spoke at length about the university's plans, calling Cline "a president that has completely transformed the institution" and has worked collaboratively with faculty.
In interviews, Cline has said Post has had "surpluses every year I've been here." She has also said the university's endowment has grown 267 percent, from $86 million to about $230 million.
Fevola last week said LIU's finances are strong. "We are more financially secure than we've been in our recorded history," he said. Any assertion that LIU is financially unstable is pure speculation, he said, "creating a narrative that frankly speaks to change and the reaction to change."
Jada Butler, co-editor-in-chief of The Pioneer, LIU Post's student newspaper, said she had fact-checked one of the recent pamphlets, noting that its assertions are "a little bit exaggerated" in places. But she said the treatises accurately reflect the sentiment of many students and faculty on the Post campus. "I think they're a little tired and exhausted of all of the things that are going on," she said.
Butler noted that the latest "Common Sense" pamphlet made the cover of the newspaper's Nov. 14 issue.
"The issues on campus, whether the administration intended to or not, have been timed poorly and piled up one after the other," Butler said. "It's just been an overwhelming amount of change going on at the school and students are deciding to speak up about it."
She noted that other forms of anonymous protest have taken hold on campus as well, including an Instagram account titled "Everything Broken at Post," which collects students' mobile phone images of broken bike-share bicycles, dorms in disrepair and the like.
Among other recent changes, Cline ruffled feathers on campus last month when she laid off the director of a popular adult education program -- much to the chagrin of many Long Island retirees, who wrote to the university to demand her reinstatement.
Cline also announced that she would consolidate varsity sports teams on LIU's two campuses, creating one united roster of teams. Athletes learned about the move after being called out of class to watch her Oct. 3 news conference, broadcast from Manhattan.
Butler said the news has thrown into turmoil the educational plans of hundreds of students. The planned merger would force athletes -- many of whom attend on scholarship -- to compete for a shrinking number of starting positions. Consolidating LIU Post and LIU Brooklyn's athletics departments also puts many students' futures in limbo, since Post sports compete in Division II athletics, while Brooklyn is a Division I institution.
"They dropped a bomb on us," freshman basketball player Liam Kunkel told the Long Island newspaper Newsday. "Nobody saw this coming."
Lauren Kloos, a sophomore volleyball player, told Newsday that she and her teammates protested during their first home game two days later by covering the "LIU" on their jerseys with white tape. Referees allowed players to warm up under protest, but asked them to remove the tape during the game.
LIU said it will honor all of its current athletic scholarships, even if students don't play or make their teams' rosters next fall. Tepper said via email that LIU "is committed to all of its student-athletes graduating on time, with a LIU diploma that will serve for years to come. The university will honor athletic aid awards for all student-athletes who remain at LIU even if they choose not to participate with an athletic team throughout the span of their athletic eligibility."
Though Cline has said the change had been in the works for at least a decade, the announcement was a shock to most students, especially for athletes who were already in the middle of their seasons, said Butler, the newspaper co-editor. "A lot of students needed to be consoled afterwards."
Michael Soupios, an LIU political science professor, said many students felt "betrayed" by the move. "The kids are very angry about that -- and their parents are angry."
Soupios, who also leads the faculty union at Post, said he gives Cline credit for pushing to turn the university's finances around. "In fairness to her, she did inherit a situation where there was a large deficit," he said. Soupios also said Cline has made smart hiring moves and has focused more aggressively on securing research funding.
But he said "hundreds and hundreds" of staff have been dismissed over the past several years, affecting student services, among other issues, and contributing to dysfunction on campus. "This is why the students are up in arms" and upset with Cline's administration, he said.
And Cline's admissions operation "has failed since the day they got here," he said, with declining numbers of incoming students most years. Post's first-year enrollment, which reached nearly 900 a decade ago, now sits at under 600.
"You can't play games in that operation," he said.
Fevola, LIU's CFO, said the university's plan is to focus on admitting higher-quality students -- he noted that the average SAT score of admitted students has risen, as have graduation rates. "The number of students or the number of faculty you have is not determinative of the quality, health or level of service of an institution," he said. Federal data put Post's six-year graduation rate at 47 percent (lower than the national six-year average of 59 percent for students at public institutions and 66 percent at private nonprofit institutions).
Soupios, who is in his 41st year teaching at LIU, called that line of reasoning "a cop-out."
"I see no signs in the classroom that we have a higher quality of students," he said. "This has nothing to do with selectivity. This has to do with incompetence in the admissions office."
Post's admissions office garnered unwanted attention last August, when Vice President of Academic Affairs Ed Weis became the target of a lawsuit filed by nearby Mercy College, which said he had poached promising first-year students, among others, upon leaving his job at Mercy last May. Cline led Mercy for six years before moving to LIU in 2013. Mercy is seeking at least $700,000 in the lawsuit. It had no comment on the litigation last week.
The university has clashed with faculty as well. In 2016, LIU locked out faculty from its Brooklyn campus over contract disputes. A year later, in 2017, Fevola said the university hadn't laid off "a single faculty member," adding, "we're promoting people and granting tenure."
Fevola reiterated that no faculty have been laid off -- actually, he said, hiring is up. "The pace at which we're hiring faculty is outpacing the rate at which faculty are retiring or leaving the institution to pursue other interests," he said.
Soupios, the political science professor, said those assertions "are infected with half-truths -- were people denied for tenure? Yes, people were denied. They're on terminal letters. They haven't been fired -- yet."
He said seven or eight faculty members who were up for tenure last spring were denied. Another nine or 10 probationary faculty received termination letters last spring. These instructors' last employment date: Aug. 31, 2019. So faculty members will likely lose their jobs through contracts that aren't being renewed.
"Essentially, tenure as a principle at LIU is dead," Soupios said. "You've got a whole lot of people on the steps up to the guillotine."
LIU last September surprised observers when it announced plans to build a new college of veterinary medicine -- it expects to open a new, 47,000-square-foot, $40 million facility in 2020.
Soupios said the vet school is, indeed, hiring faculty. "Everybody else is being contracted."
Fevola said LIU has "sunsetted" 60 programs that had total enrollments of just a few dozen students. The discontinued programs were "no longer serving the needs of our students and our faculty," he said. In their place, the university is in the process of creating "high-demand, signature, competitive programs," often in technical fields. "We're investing in areas of growth, as any responsible institution would," he said.
Soupios said he understands that changing priorities in higher ed are "the reality of the marketplace. But at the same time, that doesn't mean that you should come up with every opportunity to obliterate the arts and sciences, which are the backbone of every university."
If an institution wants to continue using the word "university," he said, it must keep its commitment to the humanities. "Otherwise just pick up your toolbox and be an auto mechanic at Apex Technical."
Over all, he said, Cline's moves have generated "a tremendous amount of ill will and lack of trust in the eyes of virtually every constituent" on campus. Faculty members, he joked, are "always grousing and complaining about administrations." But he said he'd "never seen it quite like this -- this is, as they say, sui generis, in a category quite by itself."
Butler, the newspaper co-editor, a journalism major who is scheduled to graduate in 2020, said she had been trying unsuccessfully to score an interview with Cline. After the first anonymous "Common Sense" pamphlet appeared, Cline agreed to meet with her.
She theorized that the pamphlets have had the intended effect, pushing Cline and others to engage more openly with the campus. "They're probably trying to get back ahold of the narrative," she said. Butler said LIU's dean of students has announced a series of listening sessions over the next few weeks as well.
Tepper, the LIU spokesman, said the listening sessions have no connection to the pamphlets.
So far, administrators have held two town hall meetings, with another scheduled for Nov. 29. "In the beginning it was all crazy, but now it seems like they're making an effort to fix it," Butler said.
When the newspaper editor finally sat down with Cline for the interview, the president asked what she could do to help put students at ease. "I told her, 'Seeing more of you, seeing more of the administration reach out and talk to students about how to fix this. You can't just ignore a fire burning right in front of you,'" Butler said. "They're probably trying to calm it down."