You have /5 articles left.
Sign up for a free account or log in.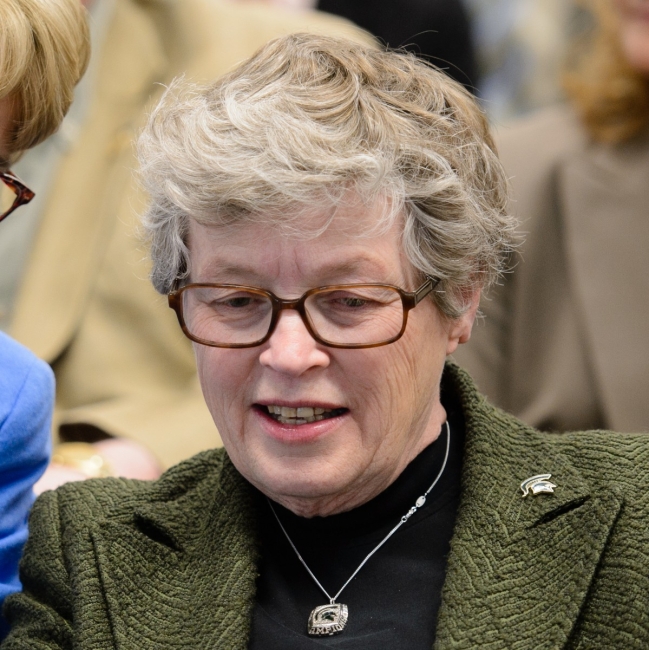 Michigan State University's former president Lou Anna K. Simon was charged on Tuesday with lying to police in their investigation of sexual abuse by Larry Nassar, the disgraced and now imprisoned university physician.
Simon resigned in January after revelations of the breadth of abuse by Nassar, who sexually assaulted hundreds of women both in his role as a former team doctor at the institution and with the U.S. gymnastics team.
As the scandal grew, Michigan State's board first stood by Simon, who claimed to be unaware of the worst of the allegations. But Nassar victims said they informed Michigan State officials of the abuse years before the institution acted.
The Michigan attorney general's office charged Simon with two misdemeanor and two felony counts. If convicted, she could spend four years in prison. Simon had initially told Michigan State police that she was aware a "sports medicine doctor" whose name she hadn't known had been the subject of a gender-discrimination investigation by the university in 2014. But the attorney general's office suggests that she knew it was Nassar and also said she knew more about the nature of the allegations than she admitted at the time. The charges stem from that alleged lie. In January, the office started investigating the university's handling of sexual assault reports against Nassar.
Michigan State said in a statement that it "was aware" of the charges brought against Simon and that she was taking a leave of absence from the university (she remained there as a professor) to focus on her "legal situation."
Lee Silver, Simon's lawyer, told The Detroit News that the charges have "no merit whatsoever" and are "completely baseless."
One of Nassar's victims said on Twitter that Simon deserved to be charged.
Two other officials, William Strampel, former dean of osteopathic medicine and Nassar's former boss, and Kathie Klages, former Michigan State gymnastics coach, have already been charged in connection with the case. Nassar has been jailed, serving 60 years for three federal child pornography convictions -- he has been sentenced to decades more on the sexual assault convictions in state courts.
Michigan State announced that it would settle with the Nassar's victims from the university to the tune of $500 million, the largest payout in history related to a university and sexual abuse by an official. The institution was forced to sue 13 insurance companies to get help in covering the costs of the settlement. The remainder of the settlement will come from a combination of cost-cutting, bonding and reserve funds, interim president John Engler has said.
This is not the first time a former university president may be sent to jail after being accused of looking the other way in a sex-abuse scandal.
Graham Spanier, the former president of Pennsylvania State University, who left in the wake of the Jerry Sandusky case, was convicted in 2017 of child endangerment. It was revealed he decided in 2001 to handle internally a report of Sandusky showering with a young boy, rather than reporting it to police or other officials. Former assistant football coach Mike McQueary had told Spanier and other Penn State administrators of the incident, and prosecutors decided their inaction left other boys at risk of abuse by Sandusky for years until the scandal broke.
In June, Spanier lost his appeal to a Pennsylvania Superior Court panel. At the time, he had been free on bail while appealing and had not served his two months in jail, followed by two months of house arrest.