You have /5 articles left.
Sign up for a free account or log in.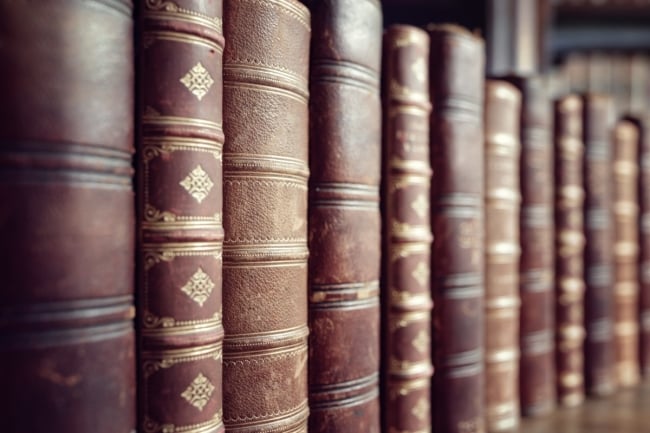 History has seen the steepest decline in majors of all disciplines since the 2008 recession, according to a new analysis published in the American Historical Association's Perspectives on History.
"The drop in history's share of undergraduate majors in the last decade has put us below the discipline's previous low point in the 1980s," reads the analysis, written by Benjamin M. Schmidt, an assistant professor of history at Northeastern University.
Some numbers: there were 34,642 history degrees conferred in 2008, according to federal data. In 2017, the most recent year for which data are available, there were 24,266. Between 2016 and 2017 alone, there was a 1,500 major drop-off. And even as overall university enrollments have grown, "history has seen its raw numbers erode heavily," Schmidt wrote, especially since 2011-12.
"Of all the fields I've looked at, history has fallen more than any other in the last six years," he says. The 2012 time frame is significant, according to the analysis, because it's the first period in which students who experienced the financial crisis could easily change their majors.
The data represent a "new low" for the history major, Schmidt wrote. While a 66 percent drop in history's share of majors from 1969 to 1985 remains the "most bruising" period in the discipline's history, that drop followed a period of rapid enrollment expansion. The more recent drop is worse than history's previous low point, in the 1980s.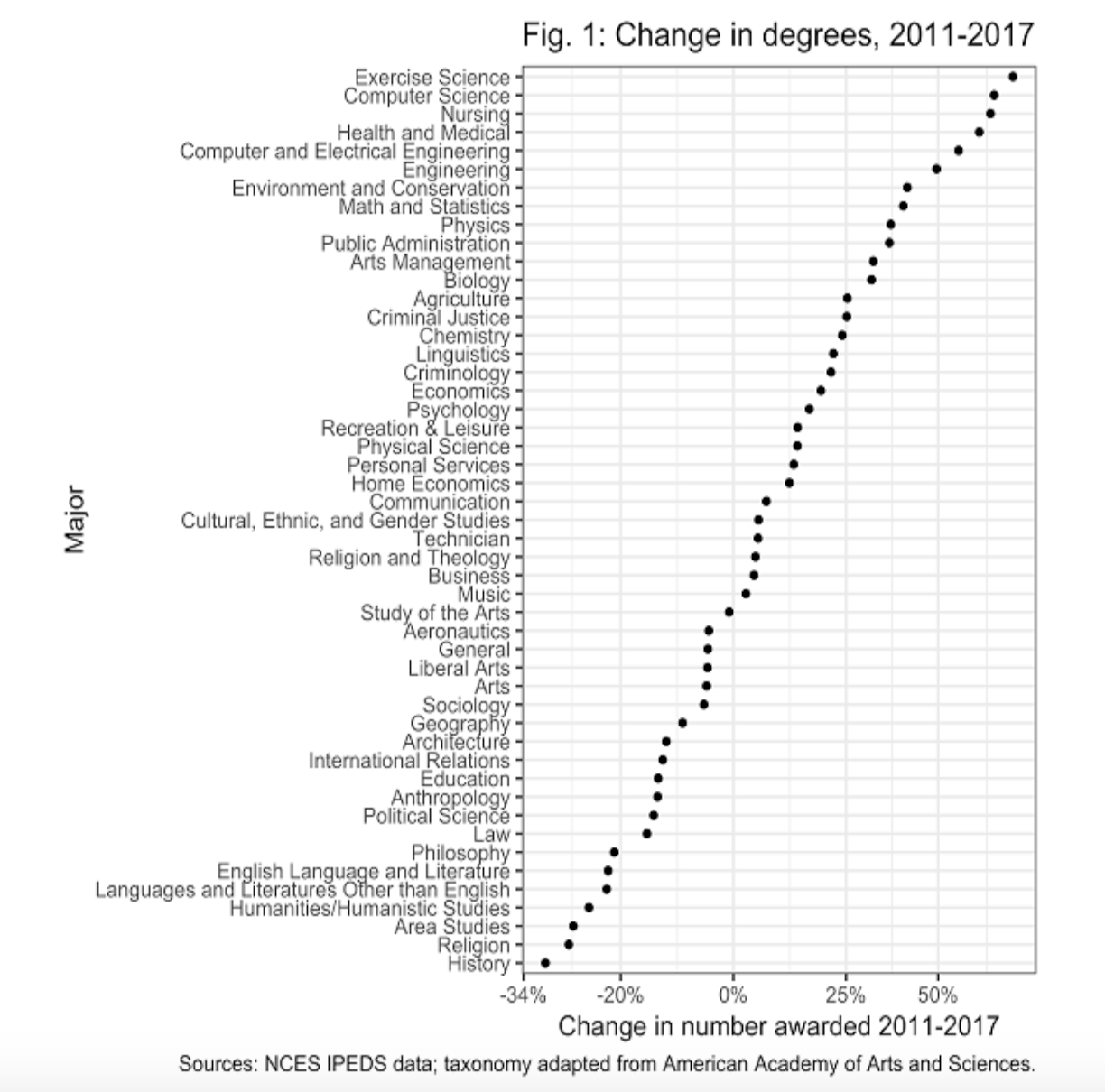 Source: Benjamin Schmidt/American Historical Association
Discussing history as a share of all majors, Schmidt says the picture is still somewhat grim. The current figure is about five degrees per 1,000 23-year-olds, compared to 12 per 1,000 in 1971 and eight per 1,000 in 1993. Still, he notes, five per 1,000 is still better than the "trough" of the mid-1980s.
The decline is observed among all demographic groups. But Schmidt says that the most profound loss is among Asian American students, who already were underrepresented in history relative to their share of all students. The drop among white students, who make up 71 percent of history degrees and 58 percent of all bachelor's degrees, is a bit less severe. Hispanic students, who are represented among history majors at the same rate they attend college, follow the overall trend, Schmidt says. African American and Native American students have seen the smallest declines. But women also appear less interested in history than before.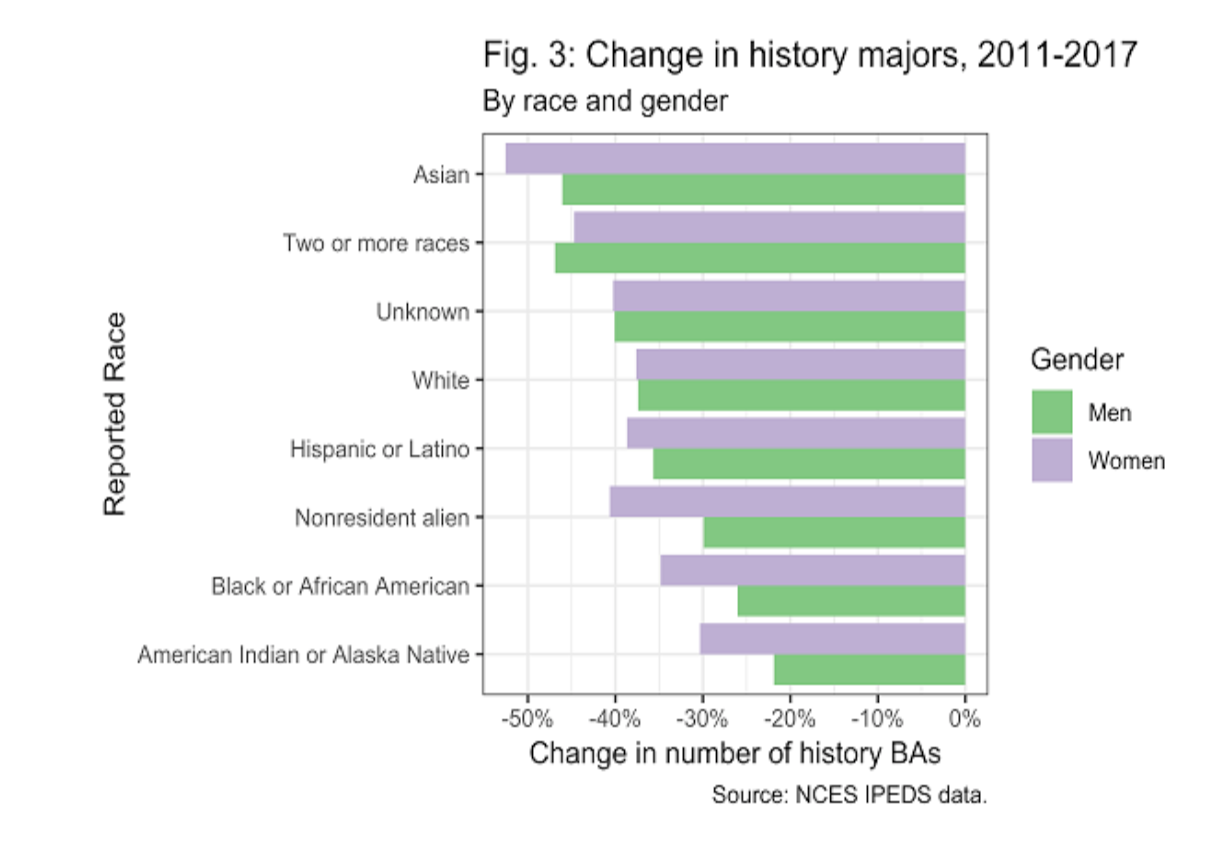 By institution type, these declines seem worst where history has previously been a popular major. Research institutions outside the highest-output group have seen the steepest declines, as have private campuses. One advanced analysis indicates what predicts big drops in history majors: being a research university, having a large number of Asian American or foreign students, and being private or having high tuition. Less steep declines, conversely, are associated with factors such as having more African American, multiracial or Hispanic students and being a historically black college or university (even controlling for having a higher share of black students). Schools in the Midwest seem to have experienced the greatest declines.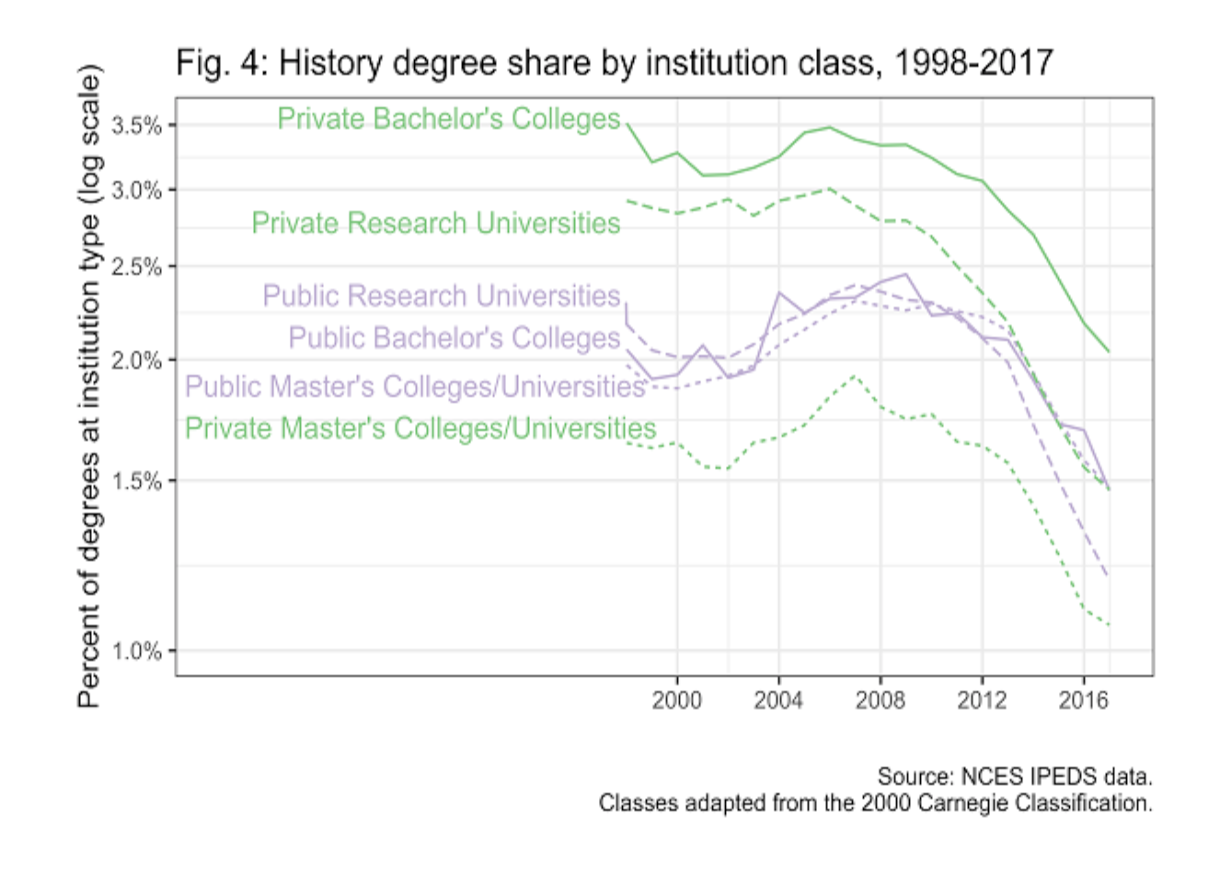 That the declines have continued among students who entered college well into the economic recovery shows that these shifts "are not just a temporary response to a missing job market," Schmidt says. Instead, there seems to have been a "longer-term rethinking of what majors can do for students." The supporting evidence? Other fields with significant declines since 2008 share traits with history. They include most of the other humanities and what Schmidt calls "many of the more qualitatively inclined social sciences," including political science, anthropology and sociology.
Data from the AHA and other sources indicate that history majors go into a variety of careers and that employers value what they bring to the hiring table. So Schmidt says that in many cases, "this anxiety over career prospects for history majors is probably misguided." The increasingly common practice of "lumping a wide variety of disparate fields together as STEM [science, technology, engineering and math] is probably giving students and their parents excessive expectations about the earning potential conferred by many science and technology degrees," he adds. "While engineers in their 20s can indeed make salaries that would make most full professors of history jealous, science, technology, and math majors are much more of a mixed bag."
He cites recently released data from the University of Texas system showing that history majors make less than most science majors after controlling for the university they attended, but appear to make more than many other majors -- including English, psychology, sociology and even a number of biology-based majors.
Ultimately, Schmidt says, whether through majors or course enrollments, "the long-term state of the discipline will rest on how it adapts to a cohort of students -- and their parents -- who are much less receptive to arguments for the liberal arts than previous generations have been." So it's important to look to departments that have found effective ways of communicating the history major's purpose, he says. During and after the 2016 election, there were anecdotal reports about a resurgence of history. But overall enrollment trends, like majors, suggest that that resurgence didn't translate to departments from the public consciousness. Still, some departments are doing well. Last year it was reported that history is again Yale University's top major for the Class of 2019, for example, after suffering a slump through the 2000s.
Alan Mikhail, incoming chair of history at Yale, on Monday shared comments he made to the AHA at the time about the department's successes. He cited four major strategies: rethinking course offerings, hiring new faculty members in specific growth areas, organizing campus recruiting events and, crucially, rethinking the actual major. Students are no longer required to take one set of courses, but rather pursue thematic tracks as part of a cohort.
"One important thing that came out from our conversations with students when we were considering changes was that the major lacked coherence or a logical path," called "regions" or "pathways," Mikhail told the AHA. "Students were conscious of, and perhaps envious of, the fixed path of requirements that their peers in the STEM fields experience."