You have /5 articles left.
Sign up for a free account or log in.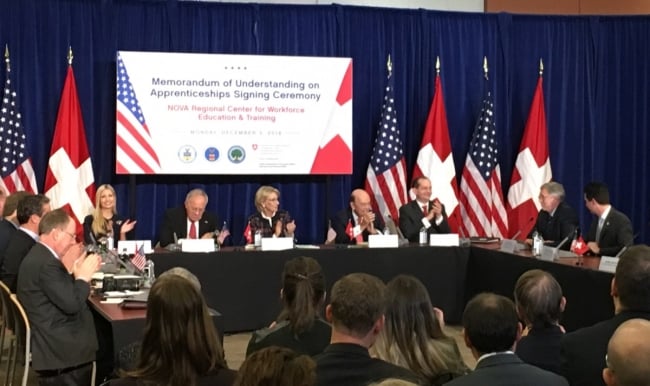 WOODBRIDGE, Va. -- Education Secretary Betsy DeVos and other top Trump administration officials on Monday visited a college classroom where students receive paid, on-the-job training -- and potential employment later -- after just weeks of classroom instruction.
The course at Northern Virginia Community College's campus here is part of Amazon Web Services' technical apprenticeship program for veterans of the U.S. military, which the college created last year. It's the sort of hands-on alternative to the traditional four-year degree that DeVos has been pushing for. The program also reflects the best aspects of worker training in Switzerland, DeVos said, where companies "don't ask for permission from the government to partner with educators."
The Swiss system of worker training has been something of a fixation for the education secretary. On Monday, after stopping by classrooms at the Woodbridge campus, she signed an agreement between U.S. and Swiss officials to exchange information and practices on apprenticeships. And 22 Swiss companies with U.S. operations separately pledged to support thousands of opportunities for apprenticeships or other forms of worker training in this country.
The hope is that models like the Amazon program can help the U.S. establish a system of apprenticeships that lets more students get an immediate payoff from postsecondary education without taking on serious loan debt. However, the current reality is that examples like the program at Northern Virginia Community College aren't common in the U.S. and are usually the product of a unique set of circumstances. And the region already had a high demand for workers with technical skills before Amazon announced it would locate one of two new headquarters there.
Many community colleges offer short-term certificate programs for training demanded by local companies. But few have the sort of relationship Northern Virginia Community College has with Amazon, which proposed the Woodbridge program. And a relatively limited number of companies are putting up the money or have the know-how to launch large-scale apprenticeship programs themselves.
"Scaling is the big challenge with apprenticeships," said Mary Alice McCarthy, director of the Center on Education and Skills at New America's Education Policy Program.
McCarthy said a strong national system of apprenticeships requires clear industry standards for skills training, a solid financing strategy and intermediaries who can connect employers with colleges.
The U.S. Department of Education believes the recent update to the Perkins career education law, passed this summer, can play a role in addressing that last component. Perkins allows states and local entities to use federal grant money to fund entities that connect businesses with colleges. That could mean paying local nonprofit organizations or business councils, or funding a position at colleges.
"One of the key components of the Swiss model provides that nexus between business and education," said Scott Stump, the department's assistant secretary for career, technical and adult education.
It's not just Amazon that is working with local colleges to prepare workers. In a roundtable after the signing ceremony Monday, Greg Scheu, president of the Americas for Swiss firm ABB, said the company has helped build curricula for classroom training in Michigan, North Carolina and Arkansas, where it has heavy concentrations of workers.
"The amount of training and retraining really requires a partnership with local universities," he said.
The federal government made has made new financial commitments to apprenticeships in recent years. For example, a September congressional spending bill included an additional $15 million for apprenticeship grants in fiscal year 2019. But McCarthy said the feds need to figure out a larger financing strategy to help make those local partnerships more viable.
"If we want these programs to be on-ramps to college degrees and continue advances in education, we need to figure that piece out," she said.