You have /5 articles left.
Sign up for a free account or log in.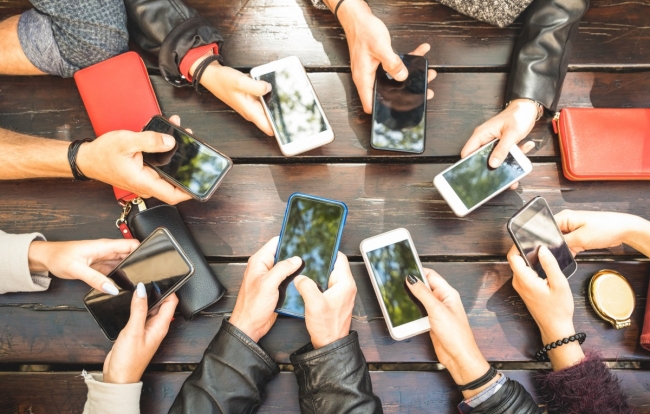 Istockphoto.com/ViewApart
As social inequality on American college campuses continues to spark debate, the fast-growing use of smartphone technology is raising new questions about the divide between poor and affluent students: Should all students have smartphones, whether or not they can afford them? Have smartphones become as important to student success as food and housing? Would having smartphones help low-income students be more academically successful?
Sara Goldrick-Rab, a Temple University professor known for her work addressing socioeconomic inequalities in higher education, set off a conversation about the necessity of smartphones in higher ed last weekend when she fired back at a Twitter comment suggesting that students wouldn't go hungry if they spent less money on expensive phones.
"I would love to see anyone attempt college these days without a functioning cell," Goldrick-Rab tweeted. For the many students who can't afford a computer, smartphones have become an essential work tool, she said. And they don't have to cost $1,200, as one commentator suggested.
Goldrick-Rab noted that not every student can afford a smartphone, but many have long been using them in place of more expensive computers.
"I think people think phones are just for music or videos," she said. But there is an enormous amount of work that colleges are asking students to do online, such as responding to emails, checking the learning management system and marking class attendance.
"Unless you're chained to your computer, you won't be connected to college the way you're supposed to be" without a smartphone, she said.
Matt Reed, vice president for learning at Brookdale Community College in New Jersey, wrote in a recent blog post for Inside Higher Ed about this debate that "smartphones have, in fact, become necessities" for students.
Computer labs aren't convenient for everyone, and smartphones allow students to work on the fly, he said.
"When assignments are posted online and required to be submitted online, it's churlish at best to regard internet access as extravagant," wrote Reed, who is a regular blogger for Inside Higher Ed.
Many professors agreed on Twitter.
Jessica Calarco, an assistant professor of sociology at Indiana University, posted a statement she intends to add to her class syllabus outlining why digital devices like smartphones are so important to college success and recognizing that some students are unable to afford them.
"Students take pictures of lecture slides, they write papers, they coordinate group projects, they check in for attendance -- there's a whole host of ways in which students are increasingly dependent on their smartphones," she said.
The syllabus statement encourages students to come forward if they are having problems with their devices that might impede their work. It also points them to useful resources on campus such as the tech-support hub in the library. She hopes the statement will "signal to students that we care and understand the struggle they're going through."
In Calarco's introduction to sociology course, almost all of the 250 students have smartphones, tablets or laptops, she said -- but not all of these devices are in good working order. Calarco describes this as a "new digital divide" between the students who can afford to maintain their devices and those who cannot.
Some universities have taken steps to level the playing field, said Calarco. Ohio State University, for example, has started giving all first-year students an iPad Pro. These initiatives are admirable but out of reach for many institutions because of the cost, Calarco said. In the short term, she suggests professors take the small step of making students feel "supported and seen" by including statements on digital access in their syllabi.
Many students turn to smartphones in class because they have older laptops that can't hold much charge, said Calarco. She said there are often students sitting on the floor in her class to be near one of the few electrical sockets in the wall. Those without working laptops could borrow them from the library, but Calarco notes students may feel embarrassed to do this. "There is a stigma," she said.
Professors and students generally agree working on a laptop or tablet is preferable to working on a smartphone, but given the choice to buy either a laptop or a phone, many students may opt for the relative value and dual functionality of a smartphone, said Rashida Crutchfield, an assistant professor of social work at California State University Long Beach.
In efforts to bring down course costs, many colleges have switched from using textbooks and paper printouts for reading assignments and other course work to digital solutions such as etextbooks and online lecture notes.
Crutchfield described smartphones as "an essential basic need for education."
"We don't make copies anymore, and students have to be able to look at these documents," she said. "A lot of us are assuming that students can easily jump on a computer, but smartphones are far more affordable, and a lot more flexible."
Crutchfield said it's a misconception that low-income students don't need smartphones.
"It's really difficult to communicate socially or professionally without a phone," she said, adding that the devices are particularly important for students who don't have a stable home. "If you don't have a phone, it's really hard to find a job."
Both Crutchfield and Lavelle Porter, assistant professor of English at the New York City College of Technology, like Calarco's idea of a syllabus statement and said they would consider incorporating it next semester.
"I think including a statement like that could encourage my students to talk about what tech they are using, and to let me know what limitations they may face," said Porter.
Porter said many of his students use smartphones in class and at home to complete assignments. Porter uses the college's mobile-friendly digital platform OpenLab to share class materials and assignments with students.
But he still wishes the college would provide students with laptops. "Our students have access to computer labs, but the demand gets high at the end of the semester," he said.
To accommodate students who don't have laptops, Porter says he assigns fewer papers and sets time aside in class for students to work on their writing.
Justin Draeger, president and CEO of the National Association of Student Financial Aid Administrators, said many colleges do consider the cost of digital devices when calculating the cost of attendance for students but may not specifically budget for smartphones.
"The cost of attendance would include not just books, supplies, transportation, room and board, it also includes any reasonable amount, determined by the school, for rental or purchase of computer equipment," he said.
There isn't data on whether smartphones are typically considered computer equipment by colleges, said Draeger, "but smartphones are getting more and more like computers, so I'd certainly consider that a justifiable expense."
Mark Kantrowitz, publisher and vice president of research for savingforcollege.com, doesn't believe many colleges would consider smartphones computer equipment equivalent to laptops or tablets.
"I don't know of any colleges that have an allowance for a smartphone purchase as part of their attendance -- I think many would consider it more of a luxury than a necessity," he said.
Kantrowitz said many students could get by with a cheap phone that doesn't have a touchscreen or come with an expensive monthly data plan.
"For academic work, a laptop or convertible tablet is going to be much more useful than a smartphone," he said.
Kantrowitz, who used to do data input research for palm organizers and other technologies, said while smartphones may never be an ideal tool for composing essays because of their small size, the lines between laptops and computers are blurring.
Universities, ed-tech companies and even the federal government are recognizing that students do rely heavily on smartphones and may not have access to desktop computers, he said. For example, the U.S. Department of Education recently released a mobile app to help students more easily apply for federal financial aid.
Even if colleges did allocate money for smartphones in their cost of attendance, Goldrick-Rab said students on financial aid would "still have unmet needs."
"The numbers are just too low," she said of financial aid awards. "The reality is the new economics of college have left students without the means to succeed."