You have /5 articles left.
Sign up for a free account or log in.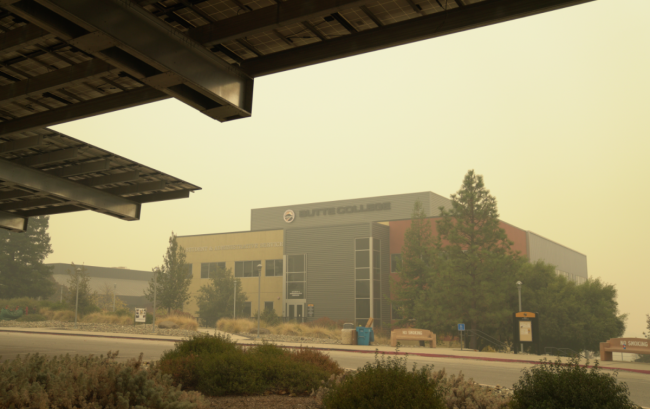 On the morning of Nov. 8, as Michael LeMaster was getting his 13-year-old son ready for school, a neighbor knocked on their apartment door to warn him: the flames of a massive wildfire were bearing down on their tiny town of Paradise, Calif.
"I didn't have a chance to grab anything," LeMaster said. "I just grabbed my son and said, 'We've got to get out of here -- now.' "
A computer science major at nearby Butte College, he climbed into the car, his son at his side, and drove. They fled to nearby Chico and haven't been back since.
Variations of that story played out thousands of times as the Camp Fire descended on Paradise. The wildfire briefly threatened the college, located 10 miles south of Paradise on nearly 1,000 acres -- most of it a wildlife preserve. But the college escaped serious damage. The fire merely damaged a well and the solar array that powers it. The college reopened after 18 days, and final exams are fast approaching.
But it likely changed the course of the college forever as students, staff and faculty members figure out what comes next.
Several hundred students and more than 100 staff and faculty members lost their homes. College officials fear that many will never return to the area or the college. And, as it has before in the past two years, the state's community college system stepped in to help Butte adjust to the next few uncertain months, itself adjusting to a "new normal" of destructive natural cycles striking its campuses.
LeMaster, like many of his classmates, is struggling to finish the fall semester from Chico, and he doubts he'll be back in January. A home he'd bought in Paradise with his now ex-wife burned to the ground. His apartment building is still standing, but authorities have yet to allow residents to return to the neighborhood. They were originally told they could return this week, he said in an interview, but rains and flooding postponed the all clear until next week.
For now, LeMaster and his two sons are staying with a sister in Chico "until I figure something out." Both boys are in school -- the older one now attends class nearby, but the younger one, who's 5, must go all the way to Oroville, 25 miles away. In their previous life in Paradise, the boys could walk to school.
"My priority is them," LeMaster said. "Until I find stability for them, I don't think I can devote any time to going to school."
While he has just two semesters left until he earns a degree, LeMaster said he's too distracted with putting his family's life back together to concentrate on studying.
"I'm still enrolled," he said, "but I don't want to commit and not be able to do it."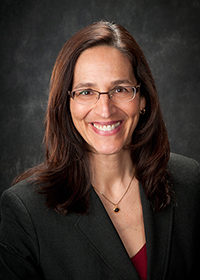 In an interview, Butte College president Samia Yaqub said many students will face similar choices in the coming months. She expects that many will bow out in January, after this semester finally ends.
"We will survive -- absolutely we will survive," Yaqub said. But how, and in what form -- and in what new role in a devastated part of Northern California -- is "a big unknown," she said.
Yaqub, who grew up in Beirut, Lebanon, and arrived at Butte fresh out of college 34 years ago as an instructional aide in an ESL classroom, said she's certain that Butte will lose students, faculty and staff. "There's just not enough housing for the displaced people in the short term," she said.
Like others, she wonders how many will return.
"People will need to go where they can go -- and that will impact our students for sure," she said. "The big question mark is what's going to happen in January, after the break. Who's coming back? Who isn't? And it's too early to tell right now."
Helping the Displaced
The fire burned 153,336 acres and destroyed 18,804 structures in rural Butte County, making it by far the most destructive and deadly wildfire in California's history. It killed at least 85 people, with another 25, most of them from Paradise, listed as missing.
As many as 50,000 people evacuated from the county now need housing, the Monterey Herald reported.
Of 1,471 students living in fire-affected areas, about 1,300 responded to a survey Yaqub sent out just after the college reopened in late November. It revealed that about half "have lost everything," she said. About one in four is staying with family or friends, and many have scattered to other cities or even other states -- Southern California, Wyoming, Utah or Oregon.
Others have been able to find temporary housing closer to campus. "It's really amazing to see how people are taking people in, taking strangers in, just because there are so many evacuees," Yaqub said.
Among faculty and staff members, about 130 have been affected -- 68 lost their homes, many in Paradise. Another 50 presume they've lost them but haven't been able to get back to the area to see the devastation. And another 20 rent or own homes in areas that authorities have declared uninhabitable.
The displaced include Patrick Christensen, a Butte College accounting instructor whose family lost their house in Paradise. He called the experience "surreal" but emphasized that he feels lucky to have gotten out early -- and to have quickly found another house he can afford.
While he's currently living with a colleague -- his wife and kids are staying with family members in Utah -- he's scheduled to close later this month on a house in Corning, Calif., about 40 miles northwest of Paradise.
"We had a huge amount of staff living up there," he said of the doomed town of Paradise. "We're just struggling to figure out, 'Can I afford to live in Chico? Am I willing to drive in from 30 or 40 minutes out each day?'"
Yaqub said "every single department" of the college has been impacted and many have lost everything, including two-thirds of Butte's automotive program faculty and two-thirds of the college's financial aid staff.
But in many cases, they have found a way to get to work since the college reopened Nov. 26. "They're putting the needs of others before their own," she said. "There are a lot of people who are showing up to work, even though they've lost everything."
Eloy Ortiz Oakley, chancellor of the California Community Colleges system, said he has been on the job just two years and has already been forced to visit three colleges plagued by wildfires -- not just at Butte but at Santa Rosa Junior College in Sonoma County and at Shasta College in Shasta County.
"This is unfortunately becoming the new normal for us," he said.
Oakley is able to give the colleges flexibility to change calendars and has sent financial aid officers to the affected areas to counsel students about their aid options. He has also pushed to bring in charitable contributions, and the system's board has moved to help the colleges maintain revenue temporarily, despite losing students to wildfires as well as other natural disasters.
"If they do lose enrollment in the coming semester [or] in the coming year, they will receive the same amount of funding," Oakley said. "For a place like Butte, it's a very big deal."
Christensen, the accounting instructor, pointed out that students have no such guarantee. Many, he said, will see wisdom in putting off college for a few years to earn high wages in what could be a booming construction cycle in Paradise.
"I think that's really likely for many of our students," he said.
Yaqub said the needs of Paradise will shape what Butte offers in the coming years, from training welders to builders to first responders.
"We might have some programs that get developed that are in association with the trades that are small now, that may turn into really large programs. It's too early to tell," she said. "I'm very confident that we will meet the challenge and we will continue to serve this community as we have. Short-term is the question mark, in terms of what we will look like, but we will be here."
'Hard to Endure'
The college was closed for 18 days as first responders used the campus as a staging area. When it reopened, Butte also opened a support center in Chico, where most students live -- the college has no campus housing. It offered advice in financial aid, mental health and academic advising. It also offered more basic necessities, like food and fuel.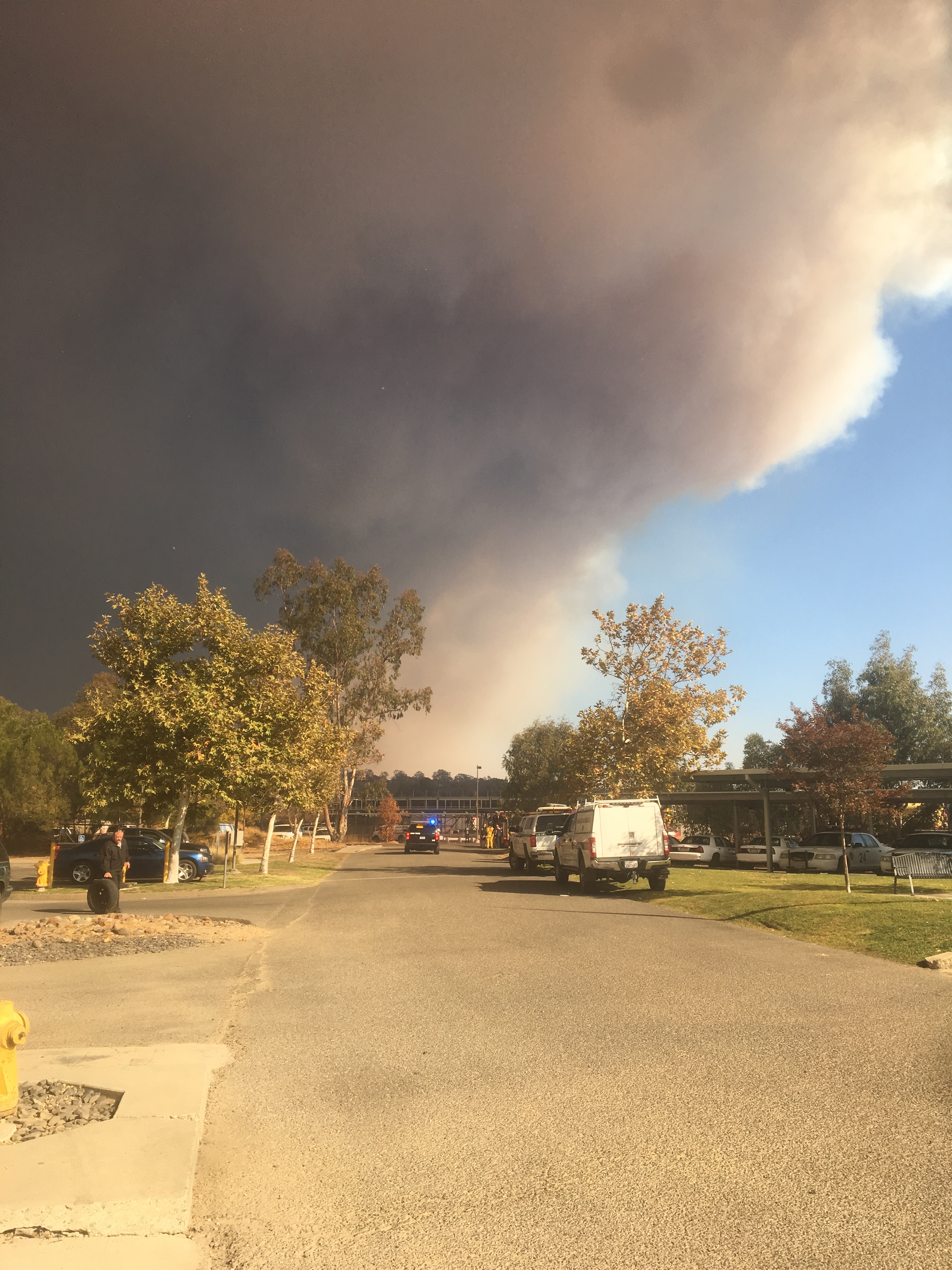 Linda Fisher, a nursing student whose rental home in Paradise burned to the ground, said the offer of groceries during those first two weeks "was amazing."
But Fisher, who has just a semester until graduation, doesn't know where she'll go next.
"We're still somewhat homeless and very much displaced," she said.
After they fled Paradise, Fisher and her sons, ages 9 and 4, lived in Sacramento for a few weeks, then Gridley, 70 miles north. On Tuesday night, she and the kids parked their trailer at a horse ranch near the college, but it has no hookups and is unsustainable for the long term.
"I don't know -- I'm really lost," she said, emotion rising in her voice. "Every week I'm at a new location."
Housing prices were already high in the region, but Fisher said landlords are now simply gouging prospective tenants with rents she can't afford.
The constant search for housing -- and the constant travel in pursuit of the next place to rest -- came to a head for Fisher last Saturday, when she and her sons survived a rollover accident that totaled her truck. "We're fine," she said, but added, "I don't know how we made it out alive."
Asked about her January plans, Fisher sighed. "I want to finish my last semester, but losing my home and losing my truck and not having any family up here … it's going to be very complicated."
She added, "I'm a really good student. This is very hard to endure this."