You have /5 articles left.
Sign up for a free account or log in.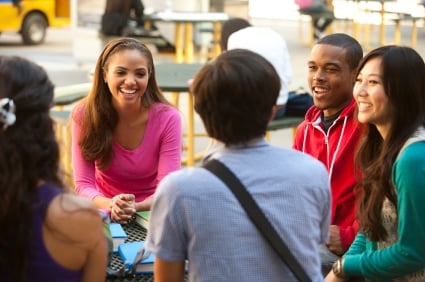 LONG BEACH, Calif. -- Colleges have been focused for more than a decade on accelerating the completion movement to increase graduation rates and improve student outcomes. Community colleges especially have worked on improving career opportunities for their students, reforming remedial education, encouraging students to attend full-time and offering tuition-free programs.
But achievement gaps between black, Hispanic and low-income students and their white and wealthier peers persist even as each group continues to graduate at better rates. Achieving the Dream, the national organization focused on student success, is encouraging colleges to put racial and wealth equity at the center of their efforts to help more students graduate. The group held its first Equity Institute last week during its 15th annual national conference and announced a new partnership with the Bill & Melinda Gates Foundation to eliminate equity gaps using adaptive learning technology in courses.
"We will never make progress in moving the needle on student success for students of color if we don't get real and understand the totality of factors that undermine their success on our campuses," said Shaun Harper, executive director of the University of Southern California's Race and Equity Center, who gave the opening speech at ATD's Equity Institute. "I'm delighted that Achieving the Dream is intentionally focusing on racial equity. It would seem to me that any attempt to improve student success and outcomes and experiences at community colleges -- especially given the racial diversity of community colleges -- will always be incomplete if it's not done through the prism of equity."
About 40 percent of all community college students who started their education in 2012 graduated within six years, according to the National Student Clearinghouse Research Center. But only 35.7 percent of Hispanic students and 27.5 percent of black students graduated from a two-year institution within that same time period. Furthermore, nearly 55 percent of black students who started at a community college in 2012 did not complete their studies and were no longer enrolled at any institution.
ATD's new partnership with Gates, known as Every Learner Everywhere, is introducing adaptive courseware to two-year colleges so they can stop students, especially minority and low-income students, from dropping out.
Gates is expanding the adaptive courseware to more colleges by providing $13.3 million to the initiative. The Western Interstate Commission for Higher Education (WICHE) is overseeing the Every Learner Everywhere network, which includes experts from groups such as Educause and the Association of Chief Academic Officers. Even as ATD prepares to begin connecting community colleges to the program, the Association of Public and Land-grant Universities has already been working with Gates to expand the technology to four-year institutions.
Adaptive courseware uses technology to personalize classroom instruction based on how students respond. The expectation is that racial and income-based equity gaps will decrease, especially in gateway math and English courses, and retention and graduation rates will increase, said Stacey Vanderheiden Guney, the director of Every Learner Everywhere for WICHE. The program is expected to launch this fall in Texas, Florida and Ohio and will eventually reach more than 200 colleges nationwide.
"We cannot support retention and student success and increasing graduation rates for people if we don't look at those first courses, which are traditionally seen as 'weed-out' courses," Vanderheiden Guney said. "When you are trying to serve a bunch of people from a variety of backgrounds, the use of the adaptive courseware, when effectively implemented, can allow for people to come up to the same speed and be supported in unique ways in the classroom."
Karen Stout, ATD's president, said the organization wants to make equity "actionable" for colleges. And that work begins with college leaders being honest about the racial and income disparities on college campuses.
Eduardo Padrón, the retiring president of Miami-Dade College in Florida, said racial inequality in education worries him tremendously because too many talented students of color are not earning a college credential when most well-paying jobs require one.
"Ethnic minorities are the work force of tomorrow," he said. "It's a national security imperative that the achievement gap is reduced every year until it no longer exists."
But there hasn't been enough recognition by national and state leaders of how racial disparities affect graduation rates among colleges, Padrón said.
At times, Harper said, it seems as if college leaders think closing the racial achievement gap will be easy and can be fixed with a single program or by spending a weekend participating in a diversity program. Some college presidents, provosts and faculty casually use the word "equity" without taking the time to develop a strategy for how they'll achieve equity on their campuses, he said.
"People understand the value of having equitable campuses, but they don't know how to do it, and that work requires very serious study," Harper said. "It requires a cultural change, collaboration, deep study, incentives, accountability and assessment."
The next, and difficult, stage for many colleges and faculty will be taking what they learned at the Equity Institute to their campuses and having honest conversations that address the achievement gaps for students of color and low-income students, Stout said.
Harper said there aren't many national education organizations that are attempting to combat racial inequity.
"This moment affords ATD an extraordinary opportunity to lead and to leverage its network to show other networks and associations and other higher education groups how to really institutionalize equity," he said.