You have /5 articles left.
Sign up for a free account or log in.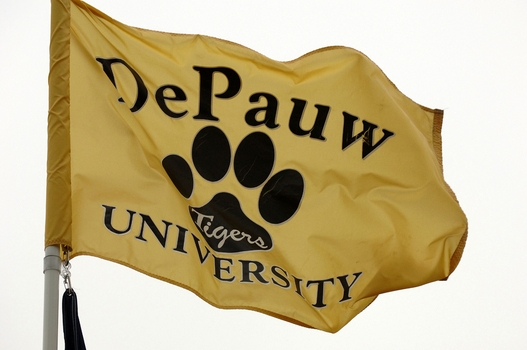 Indiana's DePauw University, facing flat enrollment and strained annual operating budgets, on Tuesday laid off 57 staff members through mandatory buyouts and offered voluntary retirement packages to about 100 full-time faculty members.
The 180-year-old Methodist institution in Greencastle, Ind., is using its relative wealth (an endowment of roughly $731 million) to try to ease near-term financial difficulties and improve its mid- and long-term viability. The university based its plan on an analysis showing that its employee base was much larger than it was 20 years ago, despite stable enrollment. It was also larger than that of the average of 14 peer institutions.
The buyouts, revealed to affected employees during a four-hour period Tuesday afternoon, will offer older faculty a long, voluntary and -- by some measures quite generous -- glide path to retirement. It would allow instructors to teach through June 2020, then pay out another two years of salary.
By contrast, the university is making the staff retirements mandatory, extending jobs for dozens of administrators and other workers only through this June. After that, workers will receive a lump sum equal to two weeks of base pay per year worked at the university, with a minimum payout equal to six months of salary.
DePauw will continue to offer tuition remission for dependents of full-time employees through 2024, if they're currently enrolled or plan to enroll this fall. They'll also be offered subsidized health care for several months.
Faculty and staff members alike qualify for the offers if their combined age plus years of employment at the university equal 65. So, for instance, a 50-year-old professor who has taught at DePauw for 15 years would qualify.
The moves are part of a bid to "strategically realign our resources," President Mark McCoy and the Board of Trustees chair, Kathy Patterson Vrabeck, said in a letter circulated at DePauw. The university hopes to save $4.3 million by eliminating jobs, with plans to save a total of $6.5 million in the larger employee restructuring. Bob Leonard, DePauw's chief financial officer, said the university anticipates paying for the buyouts with a one-time $8 million draw from its endowment. He said that is just an estimate because actual participation in the faculty buyout "is not known at this time."
In an interview, McCoy said about 100 faculty members qualify for the early retirement offer, but that he expects at most about 30 will accept it, with tentative plans to replace half of those retirees with younger instructors.
"We're not terminating anyone with tenure," he said. "We're not closing programs or departments or schools. We're trying to do this as kindly as we can."
Though McCoy said the faculty buyouts are voluntary, he can't rule out further cuts in the future. "We're hoping that enough faculty accept this voluntary buyout that we won't have to do anything further."
Paul Yakoboski, a senior economist at the TIAA Institute, in Charlotte, N.C., said outright layoffs of tenured faculty are rare. "You just don't see that," he said. But contract or non-tenure-track employees who qualify for the DePauw buyout might see the terms as "really attractive."
He couldn't say whether they are more generous than buyouts at comparable institutions, but he said the age-plus-service cutoff of 65 is "not atypical" in the private sector these days. For a 50-ish professor, Yakoboski said, "It's a very attractive offer -- [if] I'm 50, I don't necessarily want to retire. What are my prospects for employment elsewhere?"
Generally speaking, he said, the younger the employee, the more heavily the "psychosocial aspects of retirement" weigh -- that is, what the person might do for work after taking a buyout. "It boils down to, in some sense, if I'm interested in this and this is attractive, and I'm toying with the idea of retirement, in essence doing the math: Will this work for me in terms of finances?"
Data-Driven Decision
McCoy said DePauw employs about 40 more full-time faculty members and 125 more staff now than it did in 1999, even as student enrollment has remained "relatively flat."
"It became clear that we had staffed up pretty significantly over a period of time," he said.
A benchmark study comparing DePauw to 14 comparable institutions found that the university employs about 20 to 30 faculty members more than most of the others -- and that the percentage who are full professors is "outside the norm."
On average, he said, 27 percent of professors at comparable institutions are full professors; at DePauw, he said, it's 48 percent.
On the staff side, McCoy said he plans to lay off 42 full-time and 15 part-time workers. He also plans to leave 16 staff positions vacant.
DePauw faculty members have complained in recent years about tiny annual raises amounting to about 1 percent, as well as demands that employees pick up a larger percentage of health-care costs. Faculty members last November split on a no-confidence vote on McCoy, with four in 10 indicating that they had no confidence in him. The remainder were nearly evenly split on whether they supported McCoy or took no position at all.
At the time, a group of 20 faculty members said in an open letter that DePauw faces "serious financial challenges that require a viable long-term financial plan." Under McCoy's leadership, they said, the university "has seemingly moved from crisis to crisis."
DePauw enrolls about 2,200 students, but unlike many small liberal arts colleges, it enjoys a fairly healthy endowment, which in 2018 grew 9 percent to nearly $731 million, according to the NACUBO Commonfund Study of Endowments.
"We're doing this from a position of strength because we want to treat our people well," McCoy said. Giving staff at least half a year's salary and an extra four months to search for a job is the right thing to do. "By giving them the longest runway possible, we're giving them time to hit the job market at the time that the market is beginning to pick up," he said. "We made this as generous as we could."
Jeffrey McCall, a longtime communication and theater professor, said he's eligible for the buyout. He said he's weighing whether or not to accept it, but colleagues weren't really surprised by the news. "I think the mood on campus has been challenging for a couple of years," he said. Small raises and more expensive health plans have already signaled that the university needs to make "hard decisions" financially.
"There's been, I guess, an accumulation of everything," he said. "The climate has been tough the past few years, which is too bad, because this really is a fine institution."
Reached early Tuesday evening, McCall said it was too early to tell whether many of his colleagues consider the buyout terms generous enough, but he considers the buyout itself a kind of admission that the university had probably waited too long to take necessary steps to ensure financial security. Buyouts of the size McCoy presented are a "big step," McCall said. "Maybe we put off taking the smaller steps."
McCall said that drawing on the university's endowment to pay for the buyouts seems another sign of trouble.
"I don't think this has been a secret, that DePauw has been spending more out of its endowment over the years than what is probably financially reasonable," he said. "And that's not a long-term formula for success."
Ken Owen, DePauw's spokesman, said he is one of the staff members being let go -- and he doesn't have a choice in the matter.
"I really feel for my affected colleagues today," he said. "This is a very tough thing. The university is committed to making our transitions as smooth and productive as possible, but that doesn't change the reality that we're all in for some big changes."
Owen called the buyouts "a tough blow to a 41-year-long relationship I have cherished." In an email, he recalled that he first arrived on campus as a freshman in 1978.
A onetime TV news anchor in Indianapolis, he left a journalism career in 2001 to return to DePauw. "I did it in the hopes that I could make my alma mater -- a place I love -- more vibrant and help to build an even better future for the college. While today's news is tough, I must remember that these difficult decisions are designed to ensure that DePauw has the bright future that I envision for it. These are tough times for colleges like DePauw; I recognize the need for tough choices to navigate these difficult headwinds. But I still hurt for many of the co-workers I call friends."