You have /5 articles left.
Sign up for a free account or log in.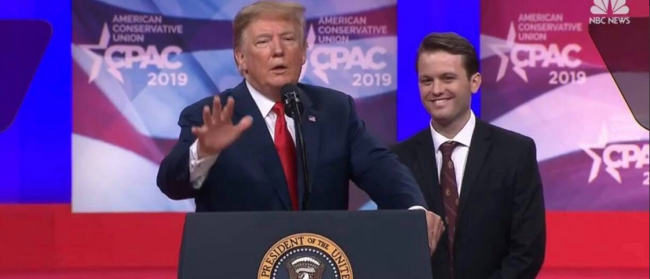 President Trump vowed Saturday to "soon" issue an executive order that would deny federal research funds to colleges and universities that do not support free speech.
"If they want our dollars and we give them by the billions, they've got to allow people to speak," said Trump in a speech at the Conservative Political Action Conference.
He did not describe how the executive order would work, or who would judge whether a college or university was not protecting free speech.
During his speech, President Trump brought on stage and praised Hayden Williams, who was punched last week when he was at the University of California, Berkeley, seeking support for the president and conservative causes and criticizing Jussie Smollett, the actor who is facing charges of false reporting to the police in a hate crime he claimed to have experienced.
Of Williams, President Trump said that he should sue Berkeley "and maybe sue the state." To loud applause, Trump said, "He took a hard punch in the face for all of us. We can never allow that to happen." And he added that after Williams sues Berkeley, "he's going to be a very wealthy man." The crowd at the meeting chanted "USA" as Trump made these statements.
Video has widely circulated showing Williams being punched.
Trump did not note that Berkeley arrested a man, Zachary Greenberg, for assaulting Williams. Neither Williams nor Greenberg are students at Berkeley. The university had permitted Williams to be on campus expressing his views.
Late Saturday, Berkeley released a new summary of what had happened, reiterating that the university had in this incident not wavered in its commitment to free speech or its willingness to take action in response to the attack on Williams. The statement said that events at the university have been "willfully distorted and inaccurately reported."
This is not the first time President Trump has used an incident at Berkeley to suggest that federal research dollars should be cut off over alleged denial of free speech rights.
In 2017, violent protesters (believed by university officials to be from off campus) set fires and damaged property at the university just before a scheduled appearance by Milo Yiannopoulos. President Trump tweeted:
What he didn't note at that time was that Berkeley officials had allowed Yiannopoulos to speak, calling off the event only amid the violence. Berkeley had defended his right to appear on campus (and he has appeared since), citing principles of free speech even as some on campus said he should be kept away because of views many find offensive.
Terry Hartle, senior vice president for government and public affairs at the American Council on Education, in an interview shortly after President Trump's Saturday speech, called the proposed executive order "a solution in search of a problem." He said that is because "free speech and academic freedom are core values of research universities."
While "controversies do arise," Hartle said that the norm is for universities to err on the side of promoting free speech. He asked how some federal agency in the future would try to enforce the executive order by determining whether a college had done enough to promote free speech. He predicted that an executive order would lead people to try to create free speech incidents just to stir up controversy.
And Hartle said that federal law gives religious institutions broad discretion about campus activities. "Would religious institutions be required to have speakers whose views were antithetical to the college?" Hartle asked. "Would Yeshiva University be required to host a Holocaust denier?"
Hartle also noted the lack of consistency of the Trump administration about free speech.
"As always in the current environment, irony does come into play. This is an administration that stifles the views of its own research scientists if they are counter to the political views of the administration, such as on climate change. And the president vigorously attacks people like Colin Kaepernick who exercise their free speech rights."
Peter McPherson, president of the Association of Public and Land-grant Universities, said via email, "Public research universities have a First Amendment constitutional obligation to protect free speech. It is an obligation they take very seriously and work hard to protect. Our campuses serve as important forums for the debate of diverse ideas. An executive order is unnecessary, as public research universities are already bound by the First Amendment, which they deeply respect and honor. It is core to their academic mission."
The Trump Administration Record
Before he was president, Trump called for the National Endowment for the Arts to stop supporting, and for museums to stop displaying art he considers to be "gross, degenerate stuff." And while he has been president, his staff has taken actions -- such as blocking critics from the Trump Twitter feed -- that have led to the administration being sued over First Amendment concerns.
Trump's first attorney general, Jeff Sessions, gave several speeches denouncing the squelching of speech on college campuses. But Sessions was silent about (and declined to answer questions on) squelching that was done at the behest of Republican politicians, such as when the University of Kansas took down an artwork featuring the American flag after GOP leaders in the state demanded that it come down.
The Trump administration's officials talk regularly about Berkeley. The administration has been silent as Republican legislators in Tennessee have for years tried to kill a student-organized "Sex Week" at the University of Tennessee at Knoxville -- an event that does not use state funds.
Views of Groups That Focus on Free Expression
Among organizations that promote free expression on campus, the response to President Trump's Saturday speech was tepid.
The Foundation for Individual Rights in Education released a statement that said in part, "While we are glad that this important national issue has the president's attention, we do not currently have any more information on the details of the executive order. We are looking forward to learning more about this initiative in the coming days."
Jonathan Friedman, project director for campus free speech at PEN America, said via email, "We need to see the text. On the surface the government reaffirming the importance of free speech on campus is appropriate and essential, particularly at a time of serious threats to open discourse. In practice, new and proposed measures ostensibly intended to protect speech can yield unintended negative consequences for speech, which we've documented in our work. While we at PEN America reserve judgment until a draft of the order is released, we believe that any government action on this issue should be approached in a thoughtful, nonpartisan manner, upholding the universal principles of free speech and academic freedom."
Debra Mashek, executive director of Heterodox Academy, said via email that "we need diversity and dialogue, not decrees."
Added Mashek, "Heterodox Academy encourages individual colleges and universities to advance common-sense policies and practices that promote teaching, learning and discovery. Higher ed would not benefit from a blunt, top-down, partisan decree that politicizes the academy's core values of open inquiry and academic freedom. Governments cannot legislate campus cultures. In order to create classrooms and campuses that welcome diverse people with diverse viewpoints and that equip learners with the habits of heart and mind to engage that diversity in open inquiry and constructive disagreement, colleges and universities must harness their own values, histories and capacities."
Could Solomon Amendment Be a Model?
Many in higher education questioned how the executive order might work. Two proponents of the measure, however, say that the Solomon Amendment provides a model.
In an article in National Affairs last year, Frederick M. Hess and Grant Addison, both of the American Enterprise Institute, called for federal funds to be cut off to American colleges that do not support free expression on campus. They said that the precedent for this could be the Solomon Amendment, the 1996 law that barred federal funds from going to colleges and universities that did not permit military recruiting or Reserve Officer Training Corps programs on campus. The law came at a time when some colleges were barring the military from campus, citing its policies (since lifted) of discriminating against gay people. The U.S. Supreme Court in 2006 upheld the constitutionality of the amendment, which was challenged by law schools.
While there was no dispute that some colleges barred the military, in the case of free expression, some institutions (such as Berkeley) denounced by President Trump can point to evidence that they in fact support free expression.
"New federal guidance in this area has a chance to make free inquiry and free speech relevant to the broader scientific research community in a fashion that it has not been previously," says the article. "The slumbering, silent middle on campus may awaken when accomplished researchers bringing in millions in 'indirect' costs suddenly recognize that the ideological crusades of their colleagues may imperil their laboratories and research projects. Campus leaders who have found it easy to virtue signal by indulging students and faculty demanding constraints on speech will now have a fairer fight on their hands, and they will need to be worried about their biochemistry and engineering faculty departing for institutions eligible for federal funds."