You have /5 articles left.
Sign up for a free account or log in.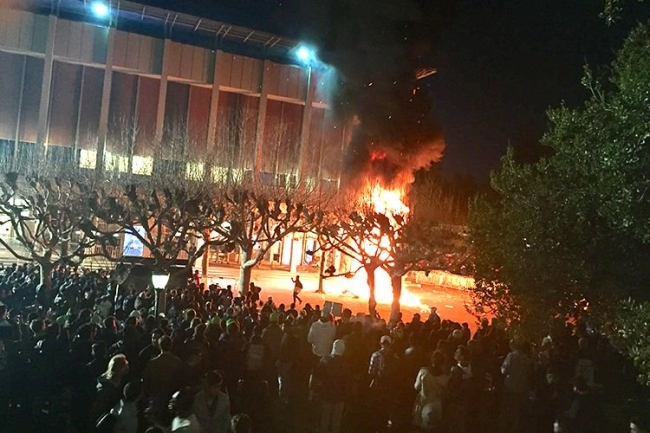 The University of California's Berkeley campus has a storied history of protests and free speech. But Wednesday night it was roiled by violence surrounding a planned appearance by the highly controversial Breitbart writer Milo Yiannopoulos -- and the show did not go on.
Berkeley police canceled the speech by Yiannopoulos after, they said, "an apparently organized violent attack and destruction of property" forced them to evacuate Yiannopoulos to protect him and the hundreds of protesters and audience members. The Berkeley statement blamed the violence -- which included fires, the throwing of Molotov cocktails and fireworks thrown at officers -- on a "group of about 150 masked agitators who came onto campus and interrupted an otherwise nonviolent protest."
The much larger group of nonviolent protesters appeared to include many students and faculty members. But it was the outside protesters who led to the event being called off. Authorities said that those protesters set fires, threw rocks and fireworks at police officers, and "attacked" some members of the crowd, who were then rescued by police officers.
"Campus officials said they condemn in the strongest possible terms the violence and unlawful behavior that was on display and deeply regret that those tactics will now overshadow the efforts of the majority to engage in legitimate and lawful protest against the performer's presence and perspectives," the university's statement said.
UPDATE: Even though Berkeley resisted calls to rescind the invitation to Yiannopoulos and set up security to permit him to speak, President Trump went on Twitter this morning to condemn the university, blame it for the violence and suggest that its federal funding be cut. He tweeted, "If UC Berkeley does not allow free speech and practices violence on innocent people with a different point of view -- no federal funds?"
Yiannopoulos has been stirring campus controversies for a year now -- and his Breitbart connection has become more controversial, given that website's links to Donald Trump. A Yiannopoulos appearance at the University of California, Davis, was called off amid protests -- despite a strong push by the institution to enable the event to take place, even as officials criticized Yiannopoulos's message. A man was shot and seriously wounded outside a Yiannopoulos appearance at the University of Washington last month.
Wednesday night's protests focused as much or more on the president and his policies, which many of the protesters derided as "fascist."
Like many campuses in this recent string of incidents surrounding Yiannopoulos appearances, Berkeley had ramped up its police presence and taken significant measures to guard against violence.
Berkeley officials also issued several statements both condemning the rhetoric Yiannopoulos typically uses and rejecting calls that the university prevent him from speaking. In the statements, the university noted that the campus Republican group invited Yiannopoulos and only that group could disinvite him.
In a message to the campus last week, Chancellor Nicholas Dirks rejected the idea that Yiannopoulos was promoting serious political debate. "In our view, Mr. Yiannopoulos is a troll and provocateur who uses odious behavior in part to 'entertain,' but also to deflect any serious engagement with ideas. He has been widely and rightly condemned for engaging in hate speech directed at a wide range of groups and individuals, as well as for disparaging and ridiculing individual audience members, particularly members of the LGBTQ community."
But Dirks also said that Berkeley would be wrong to bar Yiannopoulos from campus. "Consistent with the dictates of the First Amendment as uniformly and decisively interpreted by the courts, the university cannot censor or prohibit events or charge differential fees. Some have asked us whether attacks on individuals are also protected. In fact, critical statements and even the demeaning ridicule of individuals are largely protected by the Constitution; in this case, Yiannopoulos's past words and deeds do not justify prior restraint on his freedom of expression or the cancellation of the event."
This week, Berkeley officials also expressed alarm over plans announced on the Breitbart website to use the Yiannopoulos appearance at Berkeley to start a campaign against campus efforts to help students who lack the documentation to remain in the United States. "There are concerns that he will be employing the strategies of using pictures and personal information of Cal students during his speech, which, as you know, is simultaneously being live-streamed, therefore making these images widely available and subsequently putting students at risk," said a message from the university's student affairs office.
But journalists and other described a roving band of protesters who invaded the campus hours before the speech was to occur and rampaged.
Twitter and other social media were filled with images of the violence.