You have /5 articles left.
Sign up for a free account or log in.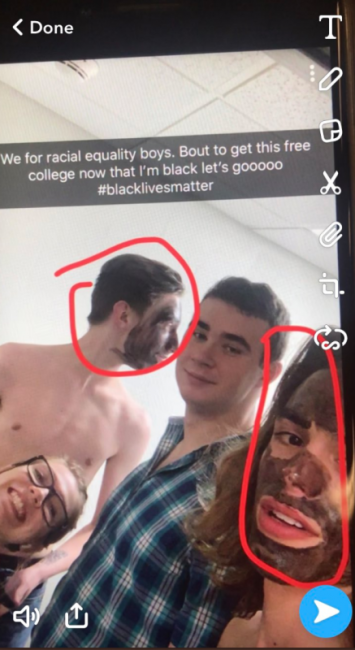 When the National Anthem played at the University of Tennessee at Knoxville men's basketball game on Tuesday, at first it seemed like everyone in the stands, most dressed in the bright orange of the institution, rose.
But there was contingent, dressed in all black, that did not.
Those students, roughly 40 to 50, according to local media reports, remained seated in protest. This was a display against administrators' response to a social media posting of students in blackface that has circulated campus and inflamed race relations.
During the game, students chanted slogans: "Hey, hey, ho ho, racism has got to go" and "No justice, no peace, no racist UT." Most of them left during the second half of the game, holding their right fists in the air in protest, a similar gesture to athletes, both college and professional, who have knelt during the anthem as a demonstration against racism.
The blackface episode stung all the more because it unfolded following the revelation that prominent Virginia politicians, the state's governor and attorney general, both Democrats, wore blackface in college. (The governor, Ralph Northam, initially said he was pictured in his medical school yearbook in blackface, but he later walked back the admission.)
And the scandal with the Virginia officials has led other colleges to audit their yearbooks, sometimes unearthing the unscrupulous and prejudicial pasts of both university leaders and the institutions themselves -- so students engaging in blackface now seemed particularly egregious. Tennessee's governor, Bill Lee, for instance, was pictured in his college yearbook from Auburn University wearing a Confederate uniform.
Citing constitutional considerations, university officials have said that they are unlikely to expel anyone over blackface. Administrators said that the First Amendment prevents them from removing the students, but at least one, Ethan Feick, is no longer enrolled, the university said Wednesday. Federal privacy laws prohibit officials from sharing more, they said.
The incident raises a slew of issues for Knoxville, as it also comes amid accusations by President Trump that public universities do not protect free speech, particularly speech with a conservative bent. He vowed recently to sign an executive order that would deny federal research money to institutions that do not support free expression. Trump has also repeatedly called for everyone attending athletics events to stand for the National Anthem.
Administrators' responses at Knoxville seem counter to Trump's theory that public universities do not respect free speech. Despite the mounting pressure for them to act and kick the students out, they have not yet buckled to the demands, despite the expulsion of all the students seemingly being the option the public favors the most. The decision also leaves Knoxville officials in a tough position of wanting to support diversity -- and the minority students hurt by the situation who perceive that administrators are disregarding their concerns -- but not open themselves to a legal challenge.
In late February, a Knoxville student posted online an image from Snapchat. It was a picture of four students posing, two wearing black face masks (part of a skin-care routine) with a caption that read: "We for racial equality boys. Bout to get this free college now that I'm black let's gooooo #blacklivesmatter."
The post not only mocked the Black Lives Matter movement but also played into the harmful stereotype that black students are only admitted to college because of their race and not on their merits, said Julian Hayter, an associate professor of leadership studies at the University of Richmond.
Anger abounded as the photo went viral on Twitter (it's been retweeted more than 3,500 times). A student created a Change.org petition pushing for the removal of the students in the image and asking Knoxville to enact a zero-tolerance policy against racism and hate speech. It has since been signed by more than 5,100 people.
"Blackface in the name of free speech is racism," Shaun Harper, executive director of the University of Southern California's Race and Equity Center, said in an interview with Inside Higher Ed. "There is no other name for it. I wouldn't be at all surprised if this is an example of the free speech that Donald Trump wishes to protect. It is highly likely that he would [not] denounce this, which is shameful. College presidents and other leaders owe it to their black students and black employees to denounce and actively address this insidious form of racism."
Knoxville's chapter of the National Association for the Advancement of Colored People condemned the incident.
"Despite ongoing efforts within our university to enhance opportunities consisting of culture competency for staff and students regarding diversity, there is clearly more work to be done and we are not on the right track -- we cannot, and will not, stand by to watch these situations continuously occur on our campus," a statement from the organization reads.
The university in a statement called the screen grab "repulsive" and "abhorrent" and organized a forum Monday to discuss race and the controversy with the campus.
At that meeting, Vince Carilli, vice chancellor for student life, told the crowd of about 200 people that the university would be "hard-pressed to expel a student for expressing their First Amendment rights," a statement that drew the ire of the attendees, The Knoxville News Sentinel reported.
Carilli noted that no decision has yet been made on whether to discipline the offending students.  After Carilli's remarks at the forum, one student, George Johnson, told the News Sentinel that he was "heartbroken" and that he could no longer take pride in UT Knoxville.
"You failed if you believe that the First Amendment is the equivalent of protecting someone from blackfacing," Johnson said in an interview with the newspaper.
Tuesday was the protest at the basketball game, a home game against Mississippi State University. The protest was organized by the UT Diversity Matters Coalition, which was founded in 2016 after the Office of Diversity and Inclusion was potentially one of the targets of state legislation that would have cut funds for diversity in higher education.
Caitlin Lloyd, a junior at Knoxville and one of the student organizers, told Inside Higher Ed that the protest "was a necessity."
Knoxville's response was "reactionary," Lloyd wrote during an interview with a reporter on Facebook.
"Our campus admin continues to address racism through releasing statements of condemnation, yet they never actively create change around these issues," Lloyd wrote. "We are tired and we have had enough of just receiving emails. Our administration has to do better. It needs to."
A Knoxville spokeswoman directed a reporter to a statement from the Office of the Chancellor posted Wednesday.
According to the statement, the university will immediately start requiring ongoing cultural competency, inclusion and bias training for employees. A student training will begin with orientation in the summer and extend through the first week back during the academic year.
The Faculty Senate approved new general education requirements earlier this week, too, that will include classes on global citizenship. A new committee has been formed of professors, staffers and students that will study the university's policies.
Lloyd wrote that she believes the students in blackface should be expelled "or otherwise disciplined in a constructive manner." She said that she thinks that the students violated the conduct code, specifically a section about causing harm to other students. Some of her peers have skipped class because they mentally didn't feel they could attend, Lloyd wrote.
"We have all cried together, screamed together," Lloyd wrote. "This has directly harmed our well-being … our welfare. This, hence, justifies our want to have these students expelled."
Hayter, the professor from Richmond, said that Knoxville can't continue to treat diversity as "a token issue."
Hayter called the university's handling of the incident "clumsy" and said that freedom of speech doesn't protect the students from consequences -- even by the university. Knoxville's conduct code does seem to forbid such actions, and punishing the students would send a strong message, Hayter said.
"I'm a proponent of college intellectual diversity and freedom of thought," Hayter said. "But ultimately, what we're talking about here is behavior and language that is chock-full of racial stereotypes that were intended to hurt. I think that has a profound influence then. If people want to hide behind the First Amendment, and unapologetically, they need to think long and hard [about the] kind of students they want on this campus."
When other students have engaged in racist behavior, they have left their institutions, sometimes of their own accord and sometimes not.
Two former students at the University of Oklahoma withdrew from their institution after a video surfaced of them using a racial slur and in blackface. Officials at Oklahoma said the students voluntarily left but never clarified whether administrators encouraged them to do so.
A University of Alabama student, however, was apparently expelled after a racist rant she recorded went viral online. Constitutional scholars Inside Higher Ed interviewed said the student would have a strong case for a lawsuit.