You have /5 articles left.
Sign up for a free account or log in.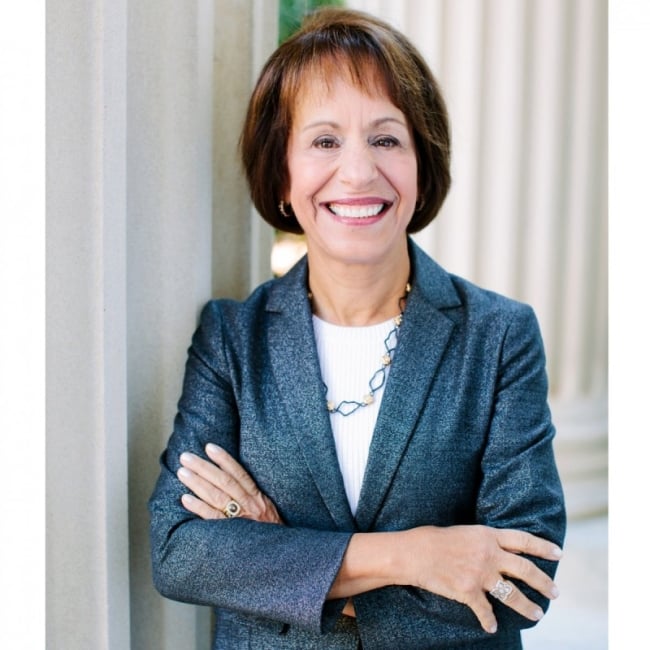 Two months after being unceremoniously ushered from a public research university struggling with Confederate history, Carol L. Folt landed at a private research university out west grappling with its own set of challenges.
Folt, who in January decided simultaneously to resign as chancellor of the University of North Carolina at Chapel Hill and to remove the remnants of a toppled Confederate monument there, will be the new president at the University of Southern California. USC's board announced Wednesday that she will become the university's 12th president on July 1.
The decision comes as USC finds itself staggering under multiple scandals in recent years. Just last week the university was one of several prominent institutions named as federal authorities announced indictments in an admissions scheme that allegedly allowed wealthy and privileged parents to buy their children's way into college by taking advantage of athletic recruiting and by cheating on standardized tests. USC has also been rocked by sexual assault allegations against a campus gynecologist and charges of drug use by its medical school's now-former dean.
That string of scandals led to the resignation in August of the university's president of eight years, C. L. Max Nikias. The university had first announced in May that Nikias would be stepping down, leading faculty members to circulate a petition asking why he remained in office months later.
A USC trustee and alumna, Wanda Austin, has been serving as interim president since August. She was also a member on the search advisory committee that helped pick Folt.
Some prominent USC alumni voiced hope that Folt would usher in a new era of change at USC -- and possibly continued turnover among administrators and board members. Meanwhile, in announcing Folt's selection, USC leaders emphasized moving forward and integrity.
"As I have come to know Dr. Folt and how she thinks, it is clear that USC has chosen a brilliant, principled leader with clarity of purpose and integrity to lead the university forward and upward," Rick Caruso, chair of the USC Board of Trustees, said in a statement. "Ours was a global search, and we spoke to over a hundred diverse and world-class candidates. Dr. Folt stood out from the very beginning as a courageous and compassionate person who always places the well-being of students, faculty, staff and patients at the heart of all she does."
Folt looks forward to meeting with faculty, staff and students, she said in her own statement. She called those groups "the lifeblood" of every great university.
"Of course, I also am aware that our community is deeply troubled by a number of immediate challenges," she said. "I assure you that we will meet these challenges together, directly, decisively and with honesty and candor. This is a moment of responsibility and opportunity, and we will seize them both."
Folt has steered a major university through scandal in the past. Before being ushered out the door in the wake of her Confederate statue decision at Chapel Hill, she oversaw UNC's flagship campus as it navigated a massive scandal involving athletics and academic fraud stemming from before her time there.
Chapel Hill held fake classes for almost two decades between 1993 and 2011, giving thousands of students credit for courses they never attended. Many of the students who benefited from the fake courses were athletes. But after the scandal broke, the university spent millions of dollars fighting the National Collegiate Athletic Association's case against it, even while admitting it engaged in academic fraud.
The NCAA ultimately said it couldn't conclude the courses had been intended to benefit only athletes and did not punish UNC. Chapel Hill's accreditor placed it on a yearlong probation ending in 2016 because of violations in the case.
USC noted that Folt helped to commission an independent investigation of the scandal and put in place dozens of reforms.
Only time will tell how much of that experience could be useful at USC. Immediately after last week's admissions scandal broke, the university said two employees had been terminated and that it was identifying any funds received in the scheme. It has also blocked students allegedly involved in the scheme from registering for classes or acquiring transcripts as it reviews their cases, and it has said applicants tied to the scheme will be denied admission.
Many of those with ties to USC supported Folt's selection Wednesday but said more needs to be done to clean up the university.
"I think it's great, because we needed to move on," said Lloyd Greif, president and CEO of Greif & Co. and a 1979 graduate of the USC Marshall School of Business who is a member of the school's Board of Leaders. "Carol is going to get a baptism by fire at USC, because there are a lot of things broken at the institution that need to be fixed, and they need to be fixed yesterday."
Greif is the namesake of the Lloyd Greif Center for Entrepreneurial Studies at USC's business school. He called for more transparency, accountability and overhauling the entire university governance system.
Changes to senior leadership need to be made starting with the provost and working down, Greif said. He didn't spare trustees from his calls for change.
"She's going to have to quickly figure out who she can rely upon and who she cannot," Greif said. "I think there is further change that needs to be done at the administration level, and frankly, I would look at some members of the board as well as the leadership of the board."
Folt is no stranger working at an institution with an unsettled governing board. The conflict that played out at UNC regarding the Confederate statue stemmed in part from a state law making it difficult to remove a statue from campus -- but also from tensions with the Board of Governors, the governing board for the 17-campus UNC system.
In December, Folt backed a plan that would have housed the statue in a history center. It was a middle-of-the-road approach that seemed to leave unhappy both opponents of the statue and members of the Board of Governors who wanted it restored to its former place on campus. The system Board of Governors soon blocked the plan.
That led to Folt ordering the statue's remnants removed until its future could be decided. She cited safety, community well-being and the need for a productive education environment.
At the same time, she announced plans to resign after Chapel Hill's commencement in May. The next day, the system Board of Governors moved up the date of her departure to the end of January.
It's not clear whether Folt had already applied for the USC presidency as the tensions played out at Chapel Hill. A USC presidential search listing said that candidates should apply by Dec. 1 "for best consideration." It wouldn't be unheard-of for a candidate to be added into a search later in the process, however.
On the whole, Folt posted a mixed record with faculty members, activists and board members at UNC. She apologized for the university's role in slavery while speaking about its 225th birthday this fall. But some felt she initially went against faculty members' will when she backed the plan in December to place the statue in a history center. After she did remove the statue, many faculty members nonetheless cheered her actions.
USC faculty members voiced support for her selection.
"Carol Folt's entire career, as both a faculty member and leader, embodies a commitment to all aspects of academic excellence while always putting people first," said Yaniv Bar-Cohen, president of the USC Academic Senate and professor of clinical pediatrics and medicine at the Keck School of Medicine, in a statement.
Antonio Bento is a professor of public policy and economics who is the director of the USC Center for Sustainability Solutions. The center was founded last spring, so much of its existence has coincided with unstable or interim university leadership.
Now he is excited that Folt, who has a doctorate in ecology, is USC's new president.
"Without the president, we've been a little bit paralyzed," he said. "Having an environmentalist appointed as president of the university is, in my opinion, incredibly good news."
Folt was also a noted fund-raiser at UNC, overseeing the university as it kicked off an attempt in 2017 to raise $4.25 billion over the next several years. She also presided over the university as it brought in more than $1 billion in federal research funding for the first time in 2017.
Originally from Akron, Ohio, Folt attended Santa Barbara City College and transferred to the University of California, Santa Barbara, where she earned a degree in aquatic biology and then a master's in biology. She earned a doctorate in ecology from UC Davis and did her postdoctoral work at Michigan State University before moving to Dartmouth College. She rose to the level of interim president there before heading to UNC.
She was Chapel Hill's first woman chancellor. She will be USC's first woman president.