You have /5 articles left.
Sign up for a free account or log in.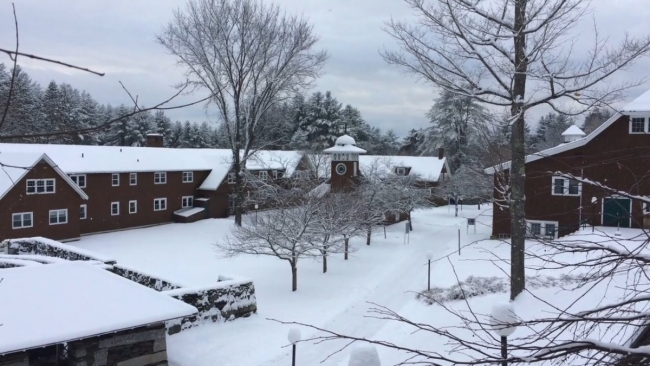 Foremost among Goddard College's three principles is this: "The most fundamental fact of life is change."
To survive amid a tumultuous time in higher education, the tiny private Vermont institution faces that very challenge: Change or die?
The well-known alternative college was founded 81 years ago when a group of educators, envisioning a democratic community built around "plain living and hard thinking," bought a sheep farm in the northern Vermont town of Plainfield.
Goddard has produced several generations of artists, musicians and activists -- in its heyday, it educated the playwright David Mamet and the jazz saxophonist Archie Shepp. It was an early home base for the jam band Phish and has assembled a who's who of great American writers -- among them Raymond Carver, John Irving, Tobias Wolff, Frank Conroy and Richard Ford -- as instructors.
Goddard has spent more than half a century developing a low-residency model that brings most students to campus just one week each semester. The college, which hasn't used traditional letter grades since the 1930s, doesn't offer traditional courses -- students "co-create" their curriculum each semester with the help of advisers and spend most of their time in independent study.
Beloved among a set of artistic, civic-minded alumni, neighbors and admirers, Goddard is now at risk of closing, its auditors warning that steadily declining tuition revenue could doom it. The college is now in the thick of a budget-cutting, fund-raising fight for survival, months after its accreditor placed the college on probation, warning that it doesn't meet financial management and governance standards.
Goddard has a new president, Bernard Bull, who is steeped in the history of alternative, experimental education. And he accepts the realities of an accreditor that is getting tough with colleges that don't take financial sustainability seriously.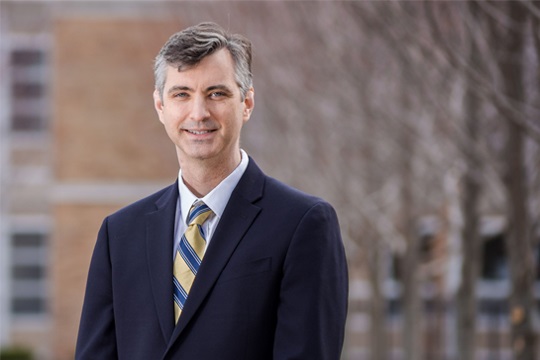 "I'm approaching this with a measure of vigilance and awareness that we were on probation for real and important and legitimate reasons, just in terms of concern around our financial stability, long term, and governance," said Bull.
"I think the main question with Goddard is: 'If they're a cat, are they on life seven, eight, nine or 10?'" --Virginia Sapiro, Boston University
The college has made "significant steps" since last September, he said, when the New England Commission of Higher Education voted to place Goddard on probation for up to two years. That followed NECHE's finding that the college "does not now meet the commission's standards on Institutional Resources and organization and governance." It remains accredited during the probation.
Since then, Bull said, Goddard has raised record amounts in donations from alumni -- as of March 6, the college had exceeded its fund-raising goal for the year and had raised more than in any year in the last decade, he said. He declined to provide specific totals.
"It's not millions of dollars," he cautioned. "And we're a tuition-dependent institution. What that does speak to is the amount of support that we have from the alumni for Goddard's future."
He added, "We are not where we want or need to be for the long term yet, but we're definitely on that track."
Goddard has cut a handful of full- and part-time positions as it strategizes about how to build enrollment -- Bull declined to provide enrollment details, but the college's marketing director late last year told the news site VTDigger that 409 students had enrolled last fall, about half as many as in 2010.
Despite its challenges, Bull, who arrived in November from Concordia University Wisconsin, where he was an education professor, vice provost of curriculum and chief innovation officer, said he plans to move his family, including two teenage children, to Vermont at the end of the school year. Bull took the job after Goddard's previous president, Robert Kenny, declined to renew his contract.
In an email, Kenny declined to talk specifically about Goddard's troubles but said it is "a tremendous asset and unique place for students to experience truly progressive, learner-driven education. I hate to see Goddard under the duress that many small colleges are experiencing, but it is a small college."
Kenny, who is now vice president for finance and administration at Randolph College in Lynchburg, Va., added, "I shudder to think of the adverse effect on the higher education landscape of a scenario in which truly progressive institutions are lost."
Highly Dependent on Tuition
These days, closures among small New England colleges are nearly endemic. In Vermont alone, three colleges have announced just this year that they will close: in January, Green Mountain College said the spring 2019 semester will be its last. On March 4, Southern Vermont College said it would close its doors, unable to bounce back from a January decision by NECHE that it was considering withdrawing accreditation based on the college's finances. Most recently, the College of St. Joseph announced that it will shut down at the end of the semester.
Boston University scholar Virginia Sapiro, who is writing a book on the "ecology" of higher education in the U.S., including the birth, death and rebirth of colleges, has written recently that demographics play a role: Vermont has seen the largest population decline of any state, she noted. Vermont is already a small state, of course, with a relatively large number of schools and colleges per capita, "some of them proudly iconoclastic, many with a history of resource challenges. It should not be surprising that Vermont has suffered a large number of losses."
Sapiro said a few key factors determine whether small private institutions in Vermont and elsewhere live or die. Most colleges that fail, she said, are small, private and relatively nonselective, with "very particular or unusual missions" and graduation rates that are often as low as those at nonelite public universities. Federal figures show Goddard's graduation rate at 39 percent, worse than the national average of 66 percent at private nonprofit institutions and 60 percent at all institutions. Goddard graduates' median earnings 10 years after entering were also lower than average, at $25,400.
In fiscal year 2018, the most recent available, Goddard reported $9.6 million in total revenue. Of that, $8.2 million came from net tuition, fees and housing, totaling about 85 percent of revenue.
It reported a $646,975 deficit. The college in 2017 borrowed $2.1 million to build a wood-chip plant, unveiled last November, that heats much of the campus. It replaces 23 oil-burning heaters, the college said.
Goddard's tiny $1.3 million endowment, created less than a decade ago, provided little income last year.
In its most recent financial disclosure, the college's auditors noted the deficit -- the previous year it totaled $116,581 -- and said a "steep decline in operating cash flow, as well as the loss in current year operations, can be attributed to steadily declining tuition revenue. Given this decline in the college's cash flow, there is substantial doubt about the college's ability to continue as a going concern."
Auditors said Goddard's plans to reverse declines in enrollment, deficits and cash flow would be essential to the college's continued operations. They noted that the college now has a fully staffed admissions department "after a year challenged by vacancies," and that enrollment had stabilized in the past year.
Sapiro said Goddard, like many colleges of its size and general profile, has survived past crises, but that it's not clear how many more it can outlast. "I think the main question with Goddard is: 'If they're a cat, are they on life seven, eight, nine or 10?'"
NECHE probation allows Goddard to remain accredited for two years while it puts its finances in order -- and to retain the ability to remain eligible for federal funding, including student financial aid. That is key to Goddard's survival, college officials said in their recent filings: federally funded student assistance, grants and loans represented about 75.2 percent of revenues from students in 2018, the college noted.
Goddard officials noted, "A reduction or related change in the federally funded student assistance programs could adversely affect the ability of the students to pay the tuition and other costs of attendance. This, in turn, could adversely affect the college's revenues."
'They All Came Because of Goddard'
Goddard's advocates would say there's something about the place that can't be replicated and shouldn't be lost.
"Goddard historically is very important to Vermont and to the community, not just in Plainfield but surrounding communities," said Susan Stitely, president of the Association of Vermont Independent Colleges. Stitely also lives nearby and said Goddard has brought dozens of important artists to the area -- in addition to Mamet and Shepp, other alumni include novelists Piers Anthony and Walter Mosley and memoirist Mary Karr.
Journalist Jesse Jarnow, in his 2016 book Heads: A Biography of Psychedelic America, noted that most of the members of the psychedelic rock band Phish attended Goddard in the 1980s -- guitarist Trey Anastasio and drummer Jon Fishman transferred there from the University of Vermont, Jarnow wrote, and keyboardist Page McConnell, already at Goddard, earned $100 for bringing in the two new recruits.
The trio would go on, in Jarnow's words, to take advantage of "the finest $5,400-a-year DIY education a loving parent can purchase for his or her curious, open-minded, self-motivated child."
The band would take over the campus music building on the edge of the woods for several winters. Anastasio's 1988 senior thesis, now a collector's item among Phish fans, was an essay and hourlong art-rock concept album titled The Man Who Stepped Into Yesterday.
"They all came because of Goddard," Stitely said.
In 2014, Goddard students selected alumnus Mumia Abu-Jamal as their commencement speaker. Abu-Jamal, who was imprisoned following his conviction for killing a Philadelphia police officer in 1981, finished his bachelor's degree in prison, where he also recorded his videotaped speech -- despite protests from law enforcement groups.
While Goddard's self-directed, highly personalized education is not for everyone, Stitely said, "It's important to have those options for people who are mature and know what they want to do and can craft their own type of degree."
Seeking Partnerships
Avram Patt, a Goddard alumnus and former Goddard trustee, recalled arriving at the college in the early 1970s, after two years at Columbia University, which was then embroiled in strikes that closed the Manhattan campus. He'd dropped out of Columbia and was working at odd jobs but never stopped thinking about returning to college. He'd grown up in the Bronx but had spent summers in the country. Patt heard about Goddard from a friend, who described it as a different kind of education and a way to "get out of the city and into the mountains."
Patt enrolled as what passed for an English major. At the end of his first semester, in 1970, the group Bread & Puppet Theater moved from its original home on New York City's Lower East Side to a farm adjacent to the Goddard campus. They needed student apprentices, and he applied. He soon learned that what they needed most was a bus driver, so he learned to drive a bus. Patt graduated two years later, with a self-created major in the mythology of the American West. But his experiences with the theater troupe led him to an early career developing the public transportation system in central Vermont.
He'd go on to do antipoverty work in state government and ultimately to Washington Electric Co-op, where he'd become general manager -- "which is not what I thought I'd be when I grew up," he said.
Patt recalled that after he took the job, he placed a notice in Goddard's alumni newsletter that read, "I may be the only utility CEO ever to have graduated from Goddard." He waited for others to say they, too, ran power companies. Nobody ever did.
Patt and his wife, also a Goddard alum -- she created a major in early childhood and environmental education and dance -- already make an annual contribution to the college "that's very much on the high end" of what they can afford. But when the call went out for more, he said, they gave more.
Bull said alumni, as well as students, staff, faculty and friends of the college, "have stepped up and given -- some have given for the first time. Others who have given in the past have offered to help out more than they usually would. So it's been wonderful. We're continuing an aggressive fund-raising goal for this year."
In addition to the cuts, Bull said he's developing potential strategic partnerships with other institutions, including two-year colleges and professional associations -- he wouldn't immediately say which ones -- whose employees or members "could really benefit from what we have to offer."
"We don't expect that we will do everything alone -- this is not a Lone Ranger endeavor," he said.
Goddard is also considering offering noncredit continuing education and hosting events on campus, Bull said. "It's certainly a diverse set of strategies that we're leaning into."
"There is no public debate that we need to win. There are ample people who are not satisfied with the traditional system who want something different, or better, or that better aligns with their own values." --Bernard Bull
Bull said Goddard's survival matters. "If there are not colleges that have an alternative model that aligns with it, they may go into the standard system and do quite well, as many do. But maybe they want to find a community that resonates with those same values."
Actually, he said, Goddard's small size works in its favor: in a nation of more than 320 million people, each fall Goddard recruits fewer than a thousand prospective students. "So we don't have to have the majority population."
Perhaps most importantly, Bull said, he sees room for many different kinds of education models. "There is no public debate that we need to win," he said. "There are ample people who are not satisfied with the traditional system who want something different, or better, or that better aligns with their own values."