You have /5 articles left.
Sign up for a free account or log in.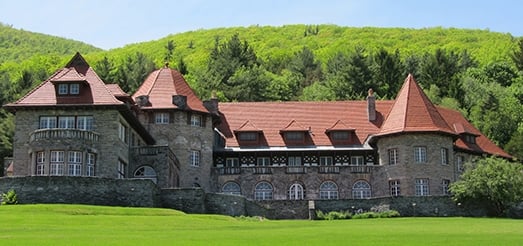 Southern Vermont College on Monday became the latest small New England college to announce that it is closing its doors.
President David Rees Evans said the decision came after the New England Commission of Higher Education in January caught college officials off guard with the news that it was considering withdrawing accreditation based on the college's finances. The college has spent years bouncing back from a pair of financial setbacks and has worked to trim a deficit that recently totaled $2 million.
The accreditation announcement prompted college officials to halt the search for new students "in the heart of recruitment season," Evans said. While putting the brakes on recruitment was "the right thing to do," he said, "What that did was effectively doom us."
At its Jan. 25 meeting, NECHE voted to ask Southern Vermont to show cause why it shouldn't be placed on probation or have its accreditation withdrawn. NECHE also said it would take up the matter at its Feb. 28 meeting, noting that the college risked not meeting its standard for institutional resources.
Evans said NECHE's announcement forced the college to lower enrollment projections by 90 students, from 365 to 275. Southern Vermont currently enrolls 332 students, down from a peak of about 500 in 2012.
He said trustees, faculty members and other advisers, meeting on Feb. 22, decided that without a larger freshman class, they didn't see "a financial way forward with the college," the Bennington Banner reported. In a letter to campus, Evans said the board on Friday voted "with sincere regret" to close the college at the end of the spring semester. On Saturday, he said, the college received word that NECHE had indeed voted to withdraw its accreditation effective Aug. 31.
In an interview, Evans said the move to halt recruiting came out of fear that if Southern Vermont closed, it risked lawsuits from stranded and prospective students, much like Mount Ida College in Massachusetts, which closed suddenly last April and is the subject of a lawsuit, filed in November, by former students who alleged that college officials misrepresented how dire the college's finances were.
While NECHE officials had visited in October, Evans said, they postponed action on accreditation. Then, in January, officials said NECHE was considering action on Southern Vermont's accreditation. "That was the first time they said anything about the possibility of withdrawing accreditation, which is to say the leadership team were pretty surprised by that, frankly," he said.
Barbara Brittingham, NECHE's president, said that while "individual actions" in the case may have caught Southern Vermont officials off guard, "the fact that the commission would be very concerned would not necessarily be a surprise."
Evans said that in the wake of the Mount Ida closure, "I do think that the standard of scrutiny is changed." Accreditors like NECHE are feeling pressure from states to raise an alarm before colleges' finances reach a critical stage. "I think NECHE is frankly squeezed between [states] and the schools that they're accrediting."
For her part, Brittingham agreed. "I think there are higher expectations than in the past, and I think the commission feels that," she said.
Susan Stitely, president of the Association of Vermont Independent Colleges, said accreditors like NECHE "do seem to be looking more closely at institutions, and it is kind of a catch-22 -- it raises alarm bells about the institution," which can hasten its demise. Accreditors "have to do their job, but it creates problems for the institutions."
She noted that another small Vermont college, the College of St. Joseph, faces a tight NECHE deadline to improve its finances or risk losing accreditation. Such arrangements may hold colleges accountable, but they can also hasten their closure.
"I understand they have to protect the students," Stitely said of NECHE, "but it also causes some harm in advance, because people are more skeptical" of colleges once they're on call. "It's a double-edged sword."
'New England Is in a Bad Way'
Evans on Monday said the feeling on the Southern Vermont campus was "a combination of anger and grief" over the closure news. "There was a lot of sorrow in the faculty and staff meeting," he said. "Of the places where I've worked, this is by far the most mission-driven institution I've been part of."
He said a 2012 accreditation dispute in the college's nursing program saw enrollment decline by about 80 full-time students. Two years later, the program earned a new accreditation from the Commission on Collegiate Nursing Education, the Banner reported.
"I would stand by the quality of our nursing program now, which I think is exceptionally good," Evans said. "That has all been fixed in the last six or seven years."
But enrollment has taken longer to recover. "Because of the reputational issues, that sticks around," he said.
Perhaps worse was the 2013 death by suicide of James Beckwith, the college's chief financial officer, who ended his life after federal authorities accused him of embezzling $850,000. He had served as interim president while then president Karen Gross was on leave. Evans has said the college ultimately lost as much as $1 million in the episode, despite an insurance settlement and restitution from Beckwith's estate.
But more broadly, the college, like most in New England, is suffering from a demographic dip that is seeing fewer students graduate from high school. "New England is in a bad way -- especially the rural parts of New England," Evans said. Vermont's high school population, which typically supplies about one-third of Southern Vermont's students, is "plummeting -- and we haven't even hit the 2026 'baby bust' from the recession."
While Southern Vermont has made efforts to broaden its recruitment area, bringing in athletes from California and Texas, for instance, "It hasn't been enough to kind of fill in the gap."
Those students are also harder to retain, for several reasons -- one of which is cold weather. "They come here and they encounter the New England winter, which lasts and lasts and lasts," he said.
In addition to Mount Ida, several other regional colleges have announced that they'll close or are facing financial crises.
Green Mountain College in nearby Poultney, Vt., announced in January that it will close at the end of the spring semester. Goddard College, also in Vermont, is in the process of shoring up its finances as part of a probation arrangement with NECHE.
Newbury College in Brookline, Mass., announced in December that it would close at the end of this academic year, after 56 years in the Boston area. Atlantic Union College, northwest of Boston, announced that it would close later this year. The college, affiliated with the Seventh-day Adventist Church, lost accreditation in 2011 and stopped operations for a time but reopened in 2015.
Hampshire College in Amherst, Mass., said last month that it won't admit a freshman class this fall -- it's looking for a strategic partner to continue operating but has also announced layoffs.
Evans said Southern Vermont will work with students who need only a few classes or other requirements to graduate. He said the college has created a teach-out agreement with the Massachusetts College of Liberal Arts and is working with other transfer partners, including Norwich University and Castleton University.
But Gross, who served as the college's president from 2006 to 2014, said flatly, "I think it's too early to have a funeral for Southern Vermont College. As Yogi Berra said, 'It ain't over till it's over.' And I think there are options and opportunities out there to save the college. And I appreciate that that sentiment may run counter to what's being shared on campus -- and in fact I do not know what's being shared on campus -- but from my perspective, it is too early to close the curtain, and I would encourage a swift effort to explore a myriad of opportunities that may exist."
Gross, now a Washington-based author and educator, said episodes like the nursing accreditation and the 2013 embezzlement took their toll but should not have brought the college down. "They have long tails, but I am surprised, stunned and saddened by the quick demise of the college," she said.
The sudden closure, she said, "is very sad for faculty and staff -- this is very sad for alums. This is very sad for donors. But the people that I care about most are the college's students, many of whom are first-generation, Pell-eligible students who truly found an academic home -- those are the students I care about. Those are the students we need to protect, and those are the ones that are hurt when colleges like this close."
She urged Southern Vermont "not to give up hope."
NECHE's Brittingham isn't so sure. "Is there something that could come along and keep Southern Vermont College going?" she said. "It's hard to think that's a realistic possibility at this point."