You have /5 articles left.
Sign up for a free account or log in.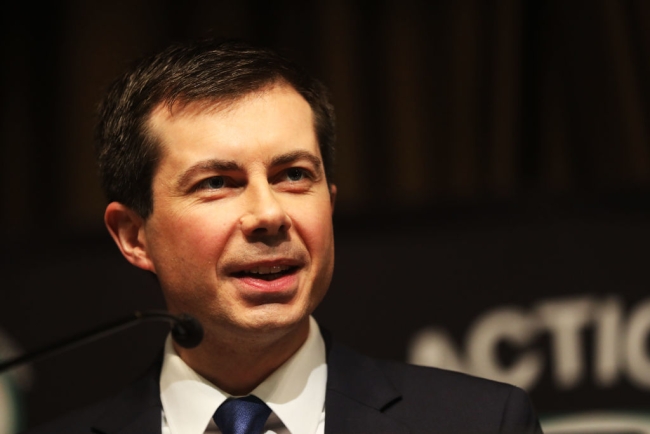 Pete Buttigieg, the South Bend, Ind., mayor who has built a national media profile since launching his bid for the Democratic presidential nomination, put himself at odds this week with a national movement behind free college.
Buttigieg, a Harvard University graduate and the son of two University of Notre Dame professors, said in an appearance at Northeastern University Wednesday that he believed in making college "dramatically more affordable" by expanding Pell Grants and incentivizing states to spend more on higher education. But he stopped short of supporting a universal program to address college affordability. In the early days of the campaign, Buttigieg has surged to third place in recent polls of Iowa Democrats and posted impressive fund-raising numbers and crowd sizes as well.
"Americans who have a college degree earn more than Americans who don't," he said. "As a progressive, I have a hard time getting my head around the idea of a majority who earn less because they didn't go to college subsidizing a minority who earn more because they did."
Senator Bernie Sanders, who announced in February he would seek the party's nomination, made free college a central plank of his 2016 Democratic primary campaign. And candidates including Senators Elizabeth Warren, Cory Booker, Kamala Harris and Kirsten Gillibrand have signed on to legislation that would make public college in the U.S. free or debt-free.
But other than Buttigieg, only Senator Amy Klobuchar, a Minnesota Democrat, has said she opposes free college since announcing a presidential run. Klobuchar, who said she supported free community college, said in February forum, "I wish -- if I was a magic genie and could give that to everyone and we could afford it, I would."
Buttigieg also called for examining student loan refinancing -- a policy some education researchers have found would be regressive -- and "robust ways to have debt forgiven" for graduates who enter public service.
The South Bend mayor has mentioned in interviews that his husband, a middle school teacher, is still paying off student loan debt.
The Progressive Change Campaign Committee, a political action committee that supports objectives like debt-free college and Social Security expansion, called on Buttigieg to clarify his position and to back the goal of zero debt for all college graduates.
"Especially if people with college degrees earn more, that's all the reason to allow more working-class people to go to college and graduate with zero debt -- and candidates like Elizabeth Warren know that instinctively," the group said in a statement. "A progressive tax code means the rich pay their fair share so that others have opportunity, and Elizabeth Warren's wealth tax on ultramillionaires would pay for things like universal childcare and allowing students to graduate without debt many times over."
Polling released by the Campaign for Free College Tuition on Thursday found that roughly three-quarters of respondents have consistently supported states providing free college tuition for academically qualified students. The same results found more support for states, rather than the federal government, creating free college programs. Other polls have suggested that many working-class white people are skeptical of the value of higher education and are thus not likely to be excited about free college.
Wesley Whistle, education policy adviser at Third Way, said that Buttigieg's comments show he understands problems with student debt and college affordability are more nuanced than a universal approach would allow.
Third Way, a center-left think tank, has consistently opposed free-college proposals. In a policy memo last month, Whistle and Tamara Hiler, the group's deputy director of education, argued that Congress should triple the size of the Pell Grant and enact a federal-state partnership to reverse declines in state spending on higher education.
"If we're going to spend a massive amount of money, the first thing we should do is address the students struggling the most -- and address the real cost of college," Whistle said.
Beth Popp Berman, an associate professor of sociology at the University at Albany of the State University of New York, said in a series of tweets Thursday that Buttigieg's arguments against free college could be used to undermine all sorts of public services. She said it relies on a cost-benefit framing of government spending that ignores the broad social benefits of college education.
Public services create solidarity, community, and meaningful civic culture. That's the real reason we have fire stations, and high schools, and parks, and libraries. Because they create the kind of society we want to live in.

— Beth Popp Berman (@epopppp) April 4, 2019