You have /5 articles left.
Sign up for a free account or log in.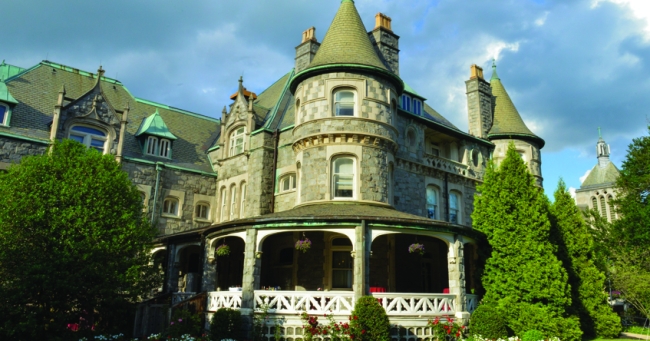 Private colleges that fret about affordability are increasingly turning to a new strategy: cutting sticker prices steeply while also trimming financial aid. So-called tuition resets are being deployed mostly at small institutions, both as a way to show that they're responsive to market pressures and as a way to grab students' attention.
A new analysis by economist Lucie Lapovsky finds that tuition resets can actually boost enrollment if done carefully and deliberately -- and with enough time to develop an institutionwide plan.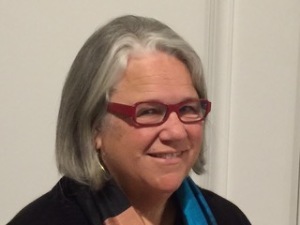 Lapovsky, a former president of Mercy College and onetime vice president for finance at Goucher College, looked at data from 24 private colleges that lowered their published tuition price between fall 2010 and fall 2016. Then she looked at IPEDS data for each one.
The size of the resets varied, from 10 percent or less at Alfred University, Brewton-Parker College, Grace College and Theological Seminary and others to more than 40 percent at Converse, Utica and Rosemont Colleges.
Judging their overall success as a strategy is difficult to determine, she said. For one thing, resets are never true pricing experiments, since colleges can't openly charge different groups different prices simultaneously. Researchers can't ask "What if?" because there's basically no control group.
That said, Lapovsky found that if colleges are seeking larger freshman classes and more transfer students, the data are "positive although not overwhelmingly so."
Half of colleges and universities she studied had freshman enrollment increases in the year in which the reset was initiated, as compared with the previous year. Only 43 percent had freshman enrollment increases one year later, compared with the year before the reset, while fully two-thirds had a larger freshmen class two years later.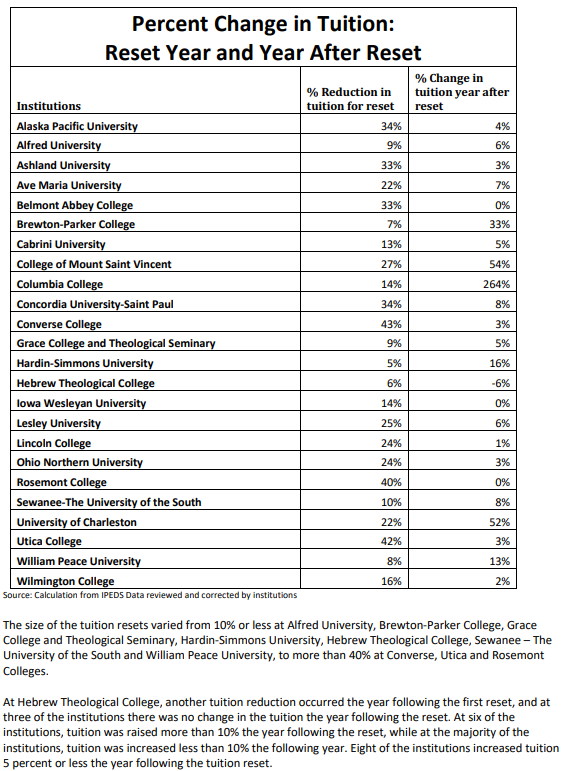 Resets may hold more promise for transfers, with larger transfer classes at more than half of colleges the year of the reset and at 60 percent in both of the two years after the reset.
Lapovsky said colleges that successfully reset tuition do it openly and deliberately -- they should settle on the price change at least 18 months before the first target class enrolls. That allows time to educate trustees "so they understand the rationale for the price change and are in favor of it when it comes up for a vote," she wrote.
Colleges should publicly announce the reset tuition at least 11 months before it goes into effect and plan a "significant" marketing campaign around the change, educating not just admissions and financial aid staff but high school counselors at feeder schools.
For currently enrolled students, she recommends sending a personal note to each student and his or her parents, explaining the reset and its impact on their bottom line.
In the end, though, a simple reset, on its own, may not be successful, she said. Along with a lower advertised tuition, Lapovsky, said, colleges must work to get financial aid and admissions personnel to understand the new realities of reset tuition. "I think that you need a lot of practice in focusing students on the net price, rather than the size of the award," she said in an interview.
Psychologically, she said, students and families react powerfully to "the bragging rights" of higher tuition accompanied by a large financial aid award. So she recommends that colleges using resets offer students as many "nonpecuniary" benefits as possible to make an admission offer feel more prestigious: honors lectures and dinners at the president's house, for instance. "Things that cost little or nothing," she said, "but that give parents bragging beyond the size of the award."
Colleges may also need to change recruitment strategies, going after students who are more focused on price than their current applicant pool -- that typically means recruiting students who aren't just looking at private colleges but at their high-performing public competitors as well.
It may take a year or two to break through to this new demographic, Lapovsky said -- actually, she noted, this may explain why enrollment growth seems to lag in the first year or so.
College officials have noted that families of late are becoming "much more strategic and much savvier" about college pricing. That could have an effect on resets, since parents who research net prices, financial aid and discount rates won't necessarily be impressed by lower, newly reset tuition rates.
"As much as they may find it glamorous to have the big award," Lapovsky said, "you go to the $50,000 school and they give you $25,000 -- or you go to the $30,000 school and they give you $5,000. Which do you choose?"